Music notes | Bethel artist enters Brave New World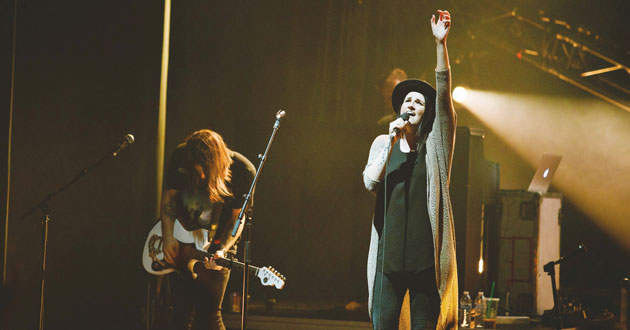 Redding, California-based Bethel Music has released the debut album of its artist Amanda Cook. Brave New World features 13 original songs which the label describes as "melodic and ethereally rich atmosphere of worship."
Bethel Music, affiliated with Bethel Church, is known for its worship music and a committed community of songwriters.
The album showcases her song, "You Make Me Brave," which became the anthemic title track to Bethel Music's Billboard Top 10-selling album released last year. The message and process of writing, recording and leading the song in worship, Cook said, gave her the opportunity to explore what it is like to live in a world without anxiety, a world absent of fear in the presence of God's perfect love.
"If we were on a ship in the ocean, every water drop in that ocean is a testimony of His nature and His goodness," Cook said. "The vastness of that picture is what I want people to encounter in this album. These songs are droplets, and they are precious to me, because I've spent time in that water. I hope that these water droplets invite people in. We have a kind God, a merciful God, a God who doesn't hide his heart in pieces. I want to expose the little pieces I know in my heart to be true." www.bethelmusic.com
Tree 63 releases long-awaited album
South African rock band Tree63 emerges from its seven-year studio hiatus on Sept. 11 with the release of its new album, Land.
The project follows a series of reunion events last year in South Africa and a successful Kickstarter campaign earlier this year.
The project features "The Storm," which the band released as part of its Kickstarter campaign. Vocalist and guitarist John Ellis calls the anthem an honest look at man's need for something bigger than himself as the lyrics capture a man treading water while crying out to God after being swept overboard.
"My own recent experience leads me to the realization that even though we believe we will reach our destination across the hazardous sea God asks us to cross, it won't be an easy voyage, and often we arrive shipwrecked and battered," Ellis said. "The guarantee, however, is that we at least arrive."
Other songs on the album, "Ship" and "Standing on It," continue with the stormy sea theme, creating what Ellis called "a kind of Jonah-like deliverance tale." www.tree63.com
Manifesting light
Manafest, whose talents as a singer, rapper, songwriter, author and skater, keep him busy, has released "Shine," his third single from his Reborn album.
The song features the signature rock vocals of longtime Manafest collaborator and Thousand Foot Krutch frontman, Trevor McNevan. Like its two predecessors, the lead single/video, "Let You Drive," and the albumn title track, "Shine" is available as an immediate downloads with each iTunes pre-order of Reborn. The album was set for release on Oct. 2.
"Shine" is about living each day to maximum capacity and 'beaming your light' along the way.
"My artist name, Manafest, means to shine a light in a dark place, and when something is made manifest, it's because of the light," the artist said. "I believe life is a gift and we owe the debt of love and to shine as bright as we can while we have breath in our lungs. Trevor nails it with the metaphors in the chorus: 'Shine in the light, glow in the dark, strike like a match on a burning heart.' That's what we do with our music in hopes of shining light into peoples' lives when they're in those dark moments." www.thefuelmusic.com