Music Score | Rock band drives home anti-slavery message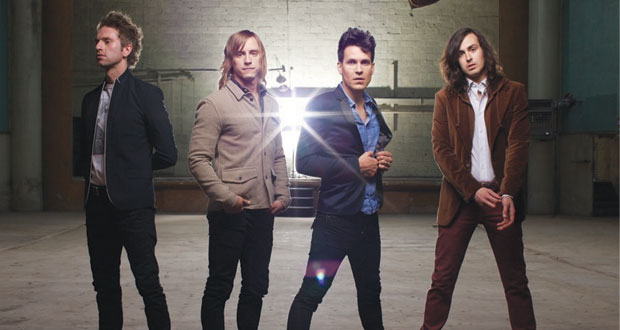 Christian rock band Remedy Drive has shifted gears in preparation for the September release of Commodity, a new release dedicated to highlighting the travesty of slavery and trafficking.
Its title single from the album released in May, debuting at No. 12 and by mid-June climbing to No. 7. Penned by founder and frontman David Zach and his brother, Philip, the song is a powerful declaration of war against slavery and trafficking. Philip is producing the album.
The four-brother band's new mission was inspired by David Zach's recent trip to Southeast Asia with The Exodus Road, a nonprofit coalition fighting sex slavery through covert investigation and rescue, prompting the band to commit their music and ministry focus to help combat human trafficking.
"Commodity," the debut single and title cut from Remedy Drive's forthcoming studio recording and most important release to date, debuted at No.12 and Most Added on the BDS Christian Rock chart last week.
"During this next chapter of Remedy Drive, we are going to do everything in our power to raise awareness and to fund rescue," David Zach said. "I went undercover with The Exodus Road in the red light districts of several cities and am going to continue to go back because I believe freedom can only be achieved when we 'develop a kind of dangerous unselfishness,' as Dr. Martin Luther King Jr. said.
A Kickstarter campaign to complete the Commodity project, the band's 10th, ended with $27,710 in pledges, which outpaced its goal of $20,000.
"We want to make a concept album on liberty, to shine a light on slavery, to protest oppression and to empower rescue," the band founder said. "We want to add to the soundtrack of the resistance. My hope is that this album will sound like a captive's dream of liberty—a defiant reminder, against all odds, that in the King's Kingdom the oppressed can find refuge, the marginalized can find hope, the child soldier can find safety, and the trafficked daughter in the red light district can return to her innocence again as a princess of the Realm." www.remedydrive.com
Tribbett in local HOB concert
Kirk Franklin, who already partners with the House of Blues nationally for the weekly Gospel Brunch Shows, will present Tye Tribbett in concert July 29 at the San Diego venue. Doors open at 6 p.m., with the show starting at 7 p.m.
Tribbett, who earned eight Stellar Gospel Music Award nominations, won for Male Vocalist of the Year. His latest album is "Greater Than." In addition to his vocal prowess, Tribbett is a songwriter, keyboardist, choir director and producer.
Tickets are $29.50 to $46.
Dinner before the concert is available for an additional cost.
The concert hall is located at 1055 5th Ave. www.houseofblues.com
SoCal producer releases Spanish album
San Clemente resident Phil Sillas, the Dove Award-winning producer who has worked with Natalie Grant, David Foster, Aaron Neville, Jaci Velasquez and Plus One, has released Mi Corazón Canta, Cantos de Alabanza Vol.2 (My Heart Sings, Songs of Praise, Volume 2). The album debuted at No. 1 on the SoundScan – Spanish Christian Music chart and No. 5 on the Billboard – Latin Pop Album chart.
The album contains 12 songs originally written by Hillsong, Chris Tomlin and Israel Houghton, among others. The songs have been translated as "the official and authorized Spanish versions" and are performed by Nic Gonzalez (Salvador), Jessica Cabral, Omar Galarza, Lily Cruz, Aaron, Barbosa, Aaron Encinas, Mark Gutierrez (GB5), Josh Lopez, Harry Samuel and Alfonso Hernandez.
"Once again it is an honor to offer these wonderful songs that have impacted so many congregations around the world, and now in Spanish. Our desire and goal remains the same … to highlight the ever-growing influence of the Hispanic church in today's worship." www.tsgrecords.com
Hide the Word in song
Grammy and Dove Award-winning CCM recording artist Steve Green has released his ninth project for children.
"Hide the Word: Bible Songs for Kids," is designed to make memorizing God's Word a part of everyday life.
Green wrote the music and adapted the Bible verses for all 15 tracks on "Hide the Word," using some of the Bible's most familiar promises, including John 3:16-17, John 14:6 and Psalm 23:1-3 ("The Lord is my shepherd….").
In addition to featuring Green on lead vocals, the CD also features a children's choir with individual kids quoting the verses. Green's granddaughter, Addy, made her recording debut on the project as well.
"In the Scriptures, God has told us all we need to know for life and godliness," he said, adding, "What's more, the songs are just plain fun!" www.stevegreenministries.org
Earth care topic of new DVD
Maranatha! Music and the global organization, The Eden Reforestation Projects, have teamed up to release A Convenient Answer, an educational DVD that promotes the protection, restoration and care of the environment.
The interactive Bible-based study offers a solution and care strategy that heals the environment while encouraging others to overcome poverty and oppression.
"Eden Projects employs thousands of impoverished nationals in Ethiopia, Madagascar and Haiti to plant million of trees each month at only 10 cents per tree," said Steve Fitch, president and founder of The Eden Projects.
"This simple cost-effective plan is transforming the workers' lives even as they restore healthy forest systems," he said adding that the DVD provides an honest look "at the negative consequences when we neglect creation, and how the people of God are uniquely positioned to make the world a much better place."