Music score  |  Baloche goes live with new project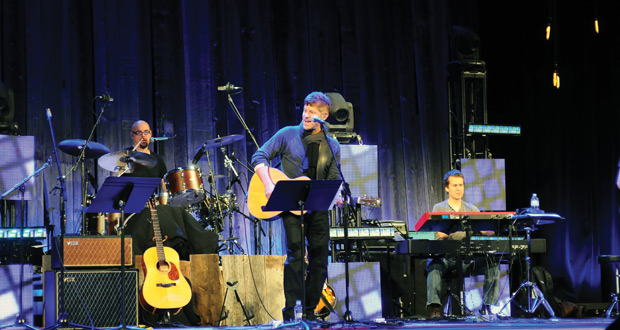 A collection of the latest Christian music news, music videos, new releases, band profiles from Refreshed.
Baloche goes live with new project
Paul Baloche, whose worship songs are among the most popular in recent years, was scheduled to release LIVE, a new deluxe CD/DVD, on April 1. The Integrity Music project was recorded live with a congregation of 1,000 worship leaders from across Canada during one of the artist's "LeadWorship" workshops in Ontario; it includes new anthems, classic hymns and familiar choruses.
"Raw, spontaneous, and unpolished," Baloche said. "Our hope was to capture a true and honest expression of worship to our God."
It includes new songs co-written by Baloche with Matt Maher, Brenton Brown and Aaron Shust, along with the Easter-inspired, "He Is Risen," co-written with Graham Kendrick. The song was pre-released on iTunes as a Digital Deluxe Single that included a video. www.leadworship.com
Sending a pure message
Sixteen-year old singer and songwriter Levi Mitchell, a former member of Los Angeles–based Boy Band Project, has launched a new website to promote abstinence.
His Pure Till Marriage site offers 10 reasons to refrain from sexual activity until marriage. Guests can use the site to pledge to remain pure until marriage and offers those who have already had sex an opportunity to start out fresh with new pledges for abstaining.
According to Levi, who also models and dances, more than 1,200 people viewed the site during its first hour of operation after the young solo artist tweeted about it. Nearly 200 people made pledges in that first hour. www.puretillmarriage.com
Rapper goes 'Mental' with album
Christian rap/hip-hop artist KJ-52, whose single "Tonight" was the most-added radio song the week of its Feb. 3 release, will debut its newest album Mental April 29 underThe Paradigm Collective label.
The band kicked off its House Party Tour: 20 Nights of Purpose on Jan. 31. The tour originally included an April 15 date in Coronado, but it has since been scrapped. Southern California fans can catch the group in Irvine for their June 21 concert at Verizon Wireless Amphitheater. www.kj52.tumblr.com
Curbing teen suicide
Michael Sweet, singer/songwriter/guitarist for the multi-platinum rock band Stryper, has released his debut single, "I'm Not Your Suicide," the title song from his upcoming solo album with Big3 Records. The album is due to hit the streets on May 6.
Proceeds from the release of the single will benefit Childhelp.
Sweet, who wrote the lyrics to "I'm Not Your Suicide" as a way to illustrate a positive alternative to hurting children, said he felt compelled to partner with Childhelp after discovering that nearly half of all children who have been abused consider suicide.
Through his partnership with Childhelp, Sweet's goal is to raise awareness of the National Child Abuse Hotline, which offers 24/7 professional crisis counseling, and to champion the organization's "Speak Up Be Safe" program, a child abuse prevention program for children in grades 1 to 6. www.MichaelSweet.com
Top gospel song CD
Maranatha! Music makes David Letterman and his Top 10 list seem obsolete with its latest compilation in the Top 25 Series CDs. Top 25 Gospel Songs 2014 Edition, released March 18, boasts all original artist recordings from some of industry's most popular Gospel artists.
"It's not easy to narrow down the top 25, but we've created an album we feel is today's best of the best, and we couldn't be more proud," said Randy Alward, president and CEO of Maranatha! Music.
Featured artists include Tamela Mann, Tye Tribbett, Israel Houghton & New Breed, Anthony Brown & group therAPy, Mary Mary, Fred Hammond, Dottie Peoples, Micah Stampley, Charles Jenkins & the Fellowship Choir and Chicago Mass Choir.
Since its inception, the Top 25 franchise has sold nearly 2 million units. www.MaranathaMusic.com
Yancy devotional
Eclectic singer-songwriter Yancy, nicknamed "Queen of Diversity" for her varied styles, has released Jesus Music Box: The Devotional!, based on last year's album by the same name.
The 12-week devotional for pre-teens matches a different chapter to each song on the album. The book, distributed by Elevate Entertainment, covers a variety of topics, including standing up for Christ, how God provides, prayer, why we worship, the promise that God is always with us and more.
Yancy said every time a student hears one of the songs from the album, they will be reminded of the daily devotional lessons and the Scriptures upon which they are based.
"I love breaking down the message of the songs and helping underline and highlight those subjects and thoughts with Scripture from God's Word," said Yancy, who previously released a successful devotional book tied to her Rock-N-Happy Heart album. "I'm excited to help students grow in their faith by encouraging them to spend time in the Word and prayer daily."