Music Score | Switchfoot's eventful year includes 4 Dove nominations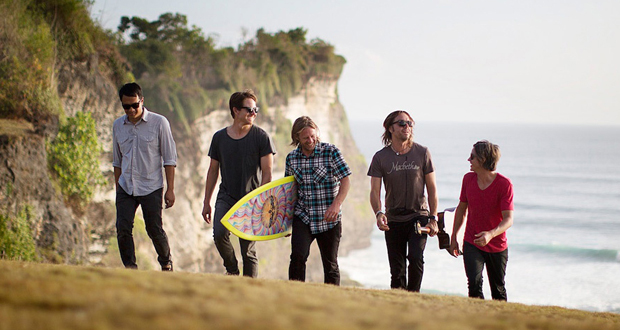 San Diego rockers Switchfoot, who appear Nov. 1 at SDSU's Open Air Theatre, have been nominated for four GMA Dove Awards, including Artist of the Year. The 45th annual awards will be presented Oct. 7 in Nashville. The show will be broadcast for the first time on Trinity Broadcasting Network, opening up access to the show to 100 million homes, according to USA Today.
In addition to Best Artist accolades, the band is also nominated for Rock/Contemporary Album of the Year with Fading West; Rock/Contemporary Song of the Year for "Love Alone is Worth the Fight"; and Long Form Video of the Year for the Fading West album.
The video nomination is not entirely surprising since Switchfoot released a companion feature-length documentary called "Fading West." The documentary, filmed at some of the world's most notable beaches, includes stunning cinematography highlighting the band's passion for surfing and music while exploring their struggles trying to balance their growing families, faith and life on the road. www.doveawards.com
Crowder brings tour to La Mesa
David Crowder, whose signature sound of electronica and folk music led to a national following for the David Crowder Band, brings his concert tour to San Diego in promotion of his first solo album, "Neon Steeple Tour."
The concert will be held 7:30 p.m. Nov. 1 at Skyline Church in La Mesa. His show, presented by Transparent Productions, includes performances by All Sons & Daughters and Capital Kings. Tickets are $25 to $40.
A season of sorrow and grace
Entrenched in her own season of sorrow, singer-songwriter Lara Landon released her third album, "There is Grace" on Sept. 9. The album dropped just weeks after the unexpected death of her father. The Southern California artist canceled pre-release promotion to tend to her family, but decided to go forward with the planned album release.
"He was and is my biggest fan and supporter and he would want me to," Landon said in a statement.
Among the songs featured on the album is "I Want to Know You," which she penned for and shared with her father before his passing. A video tribute at his memorial service included that song.
"I've been working on this album for two years with my own hopes, reasons and expectations for it, but I had no idea the very songs I wrote would be what I needed to hear myself right now," she said. www.LaraLandon.com
Powerful amen
Integrity Music releases Before Amen: A Worship Collection, the musical companion to the book from bestselling author and pastor Max Lucado, "Before Amen: The Power of a Simple Prayer," on Oct. 7.
The album offers songs that that were chosen to complement the just-released book and provides a musical backdrop for prayer and personal devotion. Lucado is also showcased giving inspirational messages.
Featured artists on the 13-track recording include All Sons & Daughters, Michael W. Smith, Kari Jobe, John Mark McMillan, Brian Doerksen, Kathryn Scott and Soul Survivor, as well as brand-new songs from worship leaders Paul and Rita Baloche, Planetshakers and Darlene Zschech.
Come on in
Oct. 7 is also the release date for Come on In, the latest offering by country crunkers Whosoever South. Country crunk, pioneered by the Georgia-based trio, combines hip-hop and country. It's a fun sound that complements the free-spirited, hospitable vibe of southern living.
"My hope for this album is that folks will be introduced to a new style of music and lifestyle, but most importantly they will be introduced to my Savior, Jesus Christ," said group member Rowdy Eunice.
The trio produced three underground albums before last year's breakout record Goin' Home. www.whosoeversouth.com