Music Score  |  Touring with 'No Plan B'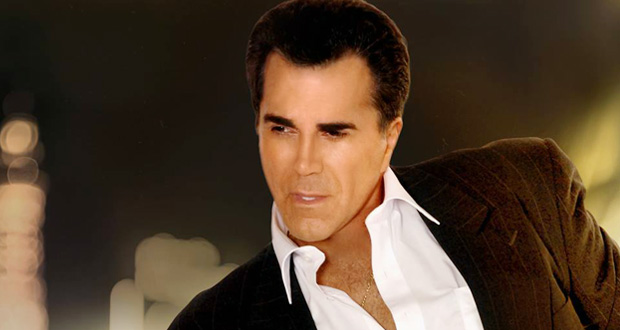 Touring with 'No Plan B'
Veteran Christian performer Carman, who earlier this year solicited prayers for terminal cancer, will set out on his "Live Across America Presents: No Plan B Tour" on May 29.
A week after posting his prayer request, Carman announced to fan that his cancer was in remission.
The tour is promotion of Carman's new studio album "No Plan B" and marks the end of his 10-year hiatus from touring. The album releases May 27 on his independent label Norway Avenue Records and Capital Christian Distribution.
"The main message of the whole album can be found in the title track, 'No Plan B,' which is how I've lived all these years," said Carman. "Even if I only have a few more on this earth, I'll still be preaching, giving altar calls, winning souls for the kingdom and singing the songs that have the power to bring deliverance into people's lives, whether it be in front of 20 people or 20,000 people."
The album and tour were funded through an online Kickstarter campaign, which Carman launched last year after using social media to share his cancer diagnosis. www.carman.org
Gospel Festival returns to Del Mar Fair
The San Diego County Fair's 10th Annual Gospel Festival, a daylong tribute using five stages, will be held June 28 at the Del Mar Fairgrounds.
The Grandstand Stage headliner will be award-winning gospel artist Fred Hammond. A singer, songwriter, bassist and producer, Hammond earned a 2008 Grammy Award for Best Contemporary R&B Gospel Album for "Free to Worship."
He has also earned six Dove Awards, including Urban Album, Contemporary Gospel Album, Contemporary Gospel Song and Inspirational Album, and four Stellar Awards for Producer and Male Vocalist of the Year. Three of his albums—Love Unstoppable (2009), God, Love & Romance (2012) and United Tenors (2013)—reached No. 1 on the Top Gospel Album chart.
Other gospel groups and solo acts will be added in the coming weeks.
The Grandstand show is free with fair admission for unreserved seats, but reserved seats may be purchased for an additional fee.
For more information, visit www.sdfair.com.
Music benefits the 'storks'
Artist Garden Entertainment singer-songwriter Holly Starr has wrapped up a 23-city tour with national youth speaker Bob Lenz, where she performed her latest single "God Is."
Starr said the song offers a clear view of God's characteristics.
"It is a deep desire of mine to simply share with others the character of God, to be a voice of encouragement to the church, and a voice to share about who God is with those who might not know Him," she said. "He is our promise. Our refuge. Our strength."
Her recently completed "Save the Storks" tour raised money for and awareness of local pregnancy resource centers.
Starr is known for her loyal online fan base. The music videos for Starr's previous singles "Don't Have Love" and "Through My Father's Eyes" have collectively exceeded 1 million YouTube views to date. www.hollystarrmusic.com
Making the rounds
Husband and wife team Seth & Nirva have taken to national media appearances on such shows as TBN's "Praise the Lord," CBN News, and Fox News' "Spirited Debate" to promote their debut project I Need You.
The album showcases seven pop, R&B and worship-oriented selections.
Seth Ready, who got his start as a background singer for Kirk Franklin, has shared the stage with Chris Tomlin, Donnie McClurkin and CeCe Winans. Seth co-produced I Need You with Matthew Edwards and Marlon Smith.
Nirva Ready has worked as a background vocalist for Mandisa, Natalie Grant and Nicole C. Mullen, and is featured as a singer and dancer in TobyMac's Diverse City band. www.sethandnirva.com
Writing her own story
Francesca Battistelli, whose single "Write Your Story" peaked at No. 4 on Billboard's Hot Christian Songs list after her live performance earlier this year on "Good Morning America," is hoping for a similar outcome for her studio album, If We're Honest, which was scheduled for release April 22.
Advance publicity for the project, produced by her longtime collaborator Ian Eskelin, a Grammy-nominated and Dove Award-winning producer, says the album "reveals her most intimate and accomplished musical statement yet and showcases her trademark pop and soul-infused sound."
Battistelli's two previous albums, debut release My Paper Heart and sophomore project Hundred More Years, hit No. 1 on Billboard's Christian Album chart. With her most recent release in 2011, she garnered Artist of the Year, Female Vocalist of the Year and Pop/Recorded Song of the Year at the Dove Awards. www.Francescamusic.com
Taking down burdens
Nashville-based recording artist Erica Lane, whose music has been featured in nearly a dozen film and television soundtracks, including the recent Gospel for Asia's movie, "Veil of Tears," has released a new EP.
Produced by Grammy and Dove award-winner Bryan Lenox (Michael W. Smith, The Katinas, Enrique Iglesias), Take Your Burden Down, features five songs, including the new radio single, "Burden."
A former Miss Houston and Top 10 U.S. Miss World, Lane is a prolific vocalist and songwriter, known for her blend of inspirational lyrics and sweeping ballads and energetic performances. She has performed at events with such notables as Jon Voight, George Lopez and Chonda Pierce.
An aspiring actress, Lane starred in the family-friendly reality TV series, "Inspired Ambition" and appeared on the 2005 TBS series "Daisy Does America," produced by Courtney Cox and David Arquette. www.EricaLane.com