Switchfoot: Balancing faith, families, music and the love of surfing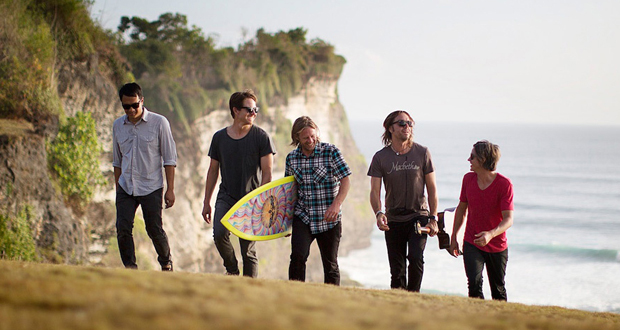 Jon Foreman took his usual place on stage, in front of his Switchfoot bandmates as they launched out on yet another tour, this one designed to rediscover their passion in the midst of growing demands at home. This time, traveling to some of the world's best surfing spots, they decided to chronicle their adventure in a documentary as they searched for inspiration for their ninth album, "Fading West."
After rocking their Australian audience, Jon left the stage, read an urgent text from home and found himself rocked—and the cameras were rolling.
His infant daughter Daisy needed emergency surgery and he was 30 hours away. The rock cacophony that propelled the band to sales of more than 5.5 million records over their 17 years together abruptly gave way to ear-numbing silence as Jon's bandmates, including brother Tim, solidified their relationship without words.
The intimacy of the moment is captured in "Fading West," the band's first foray into film and a complement piece to the namesake album. Directed by Matt Katsolis and filmed during Switchfoot's 2012 World Tour, "Fading West" released Dec. 10 on a variety of digital platforms. The band celebrated with a performance on the Tonight Show with Jay Leno.
At its core, the film captures the emotional intersection of balancing their first loves: faith, families, music and their love of surfing, a bond that has kept them connected as they've grown from young adults to family men.
The film shows their humanity, sometimes lost in the whirl of rock star success. In that agonizing space between reading the text and catching a flight back home, for instance, the camera catches Jon sketching his daughter's face.
"When things go wrong you ask yourself, 'How can there be a good God?' Jon ponders aloud. "I think the conclusion that I come to is that both faith and doubt are equally logical choices in the face of tragedy."
As Jon looks toward home, the band cancels several shows and regroups by calling in a friend to fill in for Jon while he is stateside.
"Faith is to say, 'Yes, a future will have pain' but there's a meaning and a purpose deeper than that pain," Jon adds. "For me, that is my choice, to believe rather than doubt."
Regrouping overseas
Following Daisy's successful surgery and her parents' prayers for discernment, Jon rejoins Switchfoot in South Africa. As he returns to the tour, home remains sharply in focus as the group gets to work on writing songs for the album, which releases Jan. 14 through Atlantic Records/Word.
"The point became, 'What are we going to do to push ourselves?'" Jon said of the earliest stages of the album's creation. "Could we take ourselves somewhere we'd never been before, yet achieve a feeling of comfort at the same time? How do we go to a new place that feels like home?
"For a long time, home was a place of failure because it meant that we didn't have any shows. When you drop out of college in your early '20s and all your friends are getting jobs and you're the guy who lives with his parents, it's way better to be on the road. Only recently did I feel like home was a place where I could feel comfortable and content."
In creating the film, Switchfoot and its director Katsolis took inspiration from Irish rockers U2 and their 1988 documentary "Rattle and Hum," which also follows the exploits of the band, and from the 1966 film "The Endless Summer," which follows the global search of two surfers. "Fading West' was shot along legendary surf breaks in Australia, New Zealand, Africa and Bali, where the Foreman brothers "breathe fresh life into their songwriting and sound by harnessing the spirit of their stunning surroundings and mining new emotional depths."
"The idea was to surf, write songs, play music, and see what ideas came," Tim said.
From kids to gigs
The result is part rock documentary, part surf film and part travelogue as the camera captures the  incredible movements of the ocean, the frenetic energy of  the band's live shows, giddy rehearsals with their children, and quiet moments of reflection.
"We set out knowing that we were going to document whatever happened," said drummer Chad Butler. "Whether that ended up being the demise of Switchfoot or the rebirth of something new, we were going to document it, one way or the other. We had two themes: surfing, music and how they intersect. And looking for inspiration for a new record was the motivation to chase those themes. I feel like we succeeded in finding the means to make a record based on and inspired by the ocean."
As part of its 52-date fall tour, Switchfoot opened its act with the film, followed by a stripped-down but still rocking live performance by the band.  Besides its San Diego show, the band sold out venues in Los Angeles, Seattle, Denver, Portland, Phoenix, St. Louis, Atlanta and two dates in New York.
The film is available on iTunes, Amazon, Instant Video, Cable Movies on Demand, Google Play, Xbox Video, Sony PlayStation, CinemaNow and Vudu.
Serving others
In addition to their commercial success, Switchfoot has raised hundreds of thousands of dollars to aid homeless in San Diego through the Switchfoot Bro-Am Foundation, which hosts an annual surf competition and concert.
Switchfoot will hit the road again soon with dates to be announced.
For more information, including a "Fading West" trailer, visit www.switchfoot.com.
— by Lori Arnold