Balboa Park Centennial | The preacher in the ballpark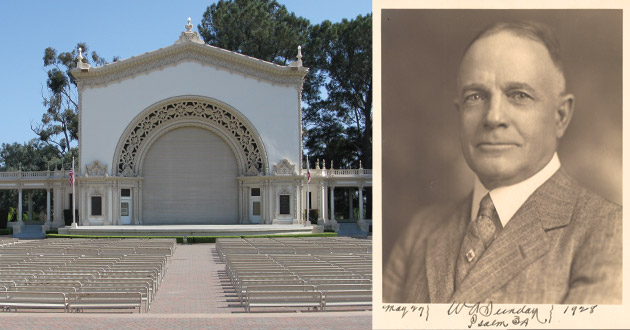 100 years ago ballplayer-turned-evangelist Billy Sunday preached at the Organ Pavilion in Balboa Park
This year marks the centennial of San Diego's 1915 Panama-California Exposition, which celebrated the completion of the Panama Canal, the city of San Diego as the first American port of call, early 20th century innovations and the beauty of Spanish culture. Businessman John D. Spreckels contributed the magnificent Organ Pavilion, and a committee invited renowned speakers. Between two U.S. presidents – Teddy Roosevelt on July 27 and William Howard Taft on September 16 – was August's keynote guest, ballplayer-turned-evangelist "Billy" Sunday.
William Ashley Sunday (1862-1935) was the last of three sons born to William and Mary Jane Sunday. Weeks after his birth, his father died in the Civil War and "Billy" largely grew up in soldiers' orphans' homes. While working at an Iowa furniture store, he was discovered on local ballfields by Chicago White Stockings' legend Adrian "Cap" Anson. By 1883, the MLB rookie outfielder remained a mediocre hitter – but as Al Spalding observed, "People love to see him run." He also, nursing childhood wounds and trying to fit in, often ran with a rough crowd.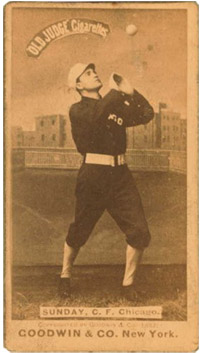 An 1887 "Old Judge" baseball card shows Sunday in uniform. That was his first year as a Christian. "Tanked up" at State & Madison streets in Chicago, a band from Pacific Garden Mission inspired his conversion: "Goodbye boys… I'm going to Jesus Christ. We've come to a parting of the ways."
In 1888, he married Helen "Nell" Thompson—a gifted Presbyterian who would later travel with him, managing ministry commitments. He played baseball through 1890, as speaking opportunities grew. In the Spring of 1891, Nell counseled him to turn down $500 a month from Cincinnati's team in favor of $83.33 a month from the YMCA, honoring God. Gradually moving from small towns to urban "tent meetings," over the next several decades millions heard the fundamental gospel coupled with calls for women's rights and educational reforms.
Billy Sunday was invited to San Diego, August 7-10, 1915, as America's most renowned preacher. The word was clear: this nation's might and beauty lay not merely in human industry but in moral and spiritual commitment. As San Diego History Center's Matthew Schiff has observed, "Expositions and the larger World's fairs were a great way to reach large, diverse audiences in those days, and a wonderful way to advance a message."
On October 27, 1917, during eight weeks of LA meetings, he returned to San Diego – visiting the brand-new Camp Kearney, praying with and encouraging America's WWI troops. In 1931 he was again in town, ministering to Depression-era gatherings.
A woman in one of my churches, converted under Sunday's preaching, recalled "coming forward" when he picked up a large wooden chair, exclaimed "Do this to sin!" and smashed it on the platform. From Billy Sunday, timeless coaching for the Game of Life!
— by James D. Smith III
Rev. Dr. James D. Smith III is Professor of Church History at Bethel Seminary San Diego, and Associate Pastor at La Jolla Christian Fellowship.