Acting out | CCT/CYT founders celebrate 35 years of community theater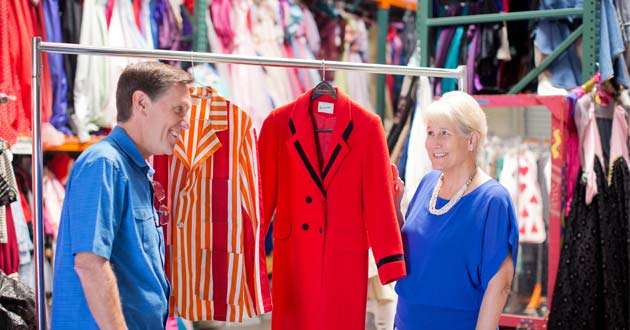 Thirty-five years ago, Paul Russell stood in the rock-hewn amphitheater as the cast and crew rushed around in preparation of their opening night of "The Sound of Music."
After spending weeks preparing the troupe for the play, the drama teacher was heartsick with the realization that there was more drama off set than on.
Shortly after paying a $25 permit fee to secure usage of the otherwise free venue, Paul and his wife, Sheryl, quickly realized just how primitive the Mount Helix amphitheater, with its cement seats and a dirt orchestra pit, really was.
"We signed not realizing there was no electricity, no running water, no bathrooms," Paul said. "So we had to bring in long extension cords. We had to borrow electricity from the neighbor's house down below and run extension cords so we put our lights on sawhorses, those garage clamp-ons. The whole thing looked like a horror movie, with lights shining up your nostrils and eye sockets. It was just horrible. It was awful.
"The truth is we couldn't find a theater that was cheap enough because we had no money and Mount Helix, back then, was a county park and we could use it for free. That's why we thought, 'Perfect!'"
The Russells cobbled together resources for the production, operating everything out of the garage.
"I have a copy of our first audition notice," Sheryl Russell said. "It looks like a ransom note. We cut-and-pasted it on our kitchen table."
Sets for the epic musical were designed from Montgomery Ward, while performers were strictly confined to circles drawn on the stage, lest their voices not be picked up by choir mikes that dangled from ropes.
With those pre-production details worked out, the Russells headed confidently into the opening night. Once they arrived, however, they discovered that the portable toilets would not make it by curtain time. Thanks to a patron, they borrowed a Winnebago, which allowed them to offer accommodations to guests—one at a time.
In the rising chaos, Paul did the only thing he knew to do—he headed to the foot of Mount Helix's landmark 35-foot cross.
"Mother Superior had forgotten her lines," he said, adding that he stood there thinking, "What is going on? This is so bad. I am so embarrassed."
He walked to the top of the cross and said, "Lord, I am so sorry we started this. Please forgive us. We'll never do it again."
Despite the hiccups, about 5,000 people turned out for the inaugural show.
"For some reason people came and loved it," Paul said, removed long enough from the painful embarrassment to offer up grateful laughter.
 • • • •
The Russells decided to initiate a community acting program as a way to add extra income to their growing family while they both had summers off from their teaching jobs. He taught drama at Christian High School and Readers Theater at San Diego State. She taught business at Christian High.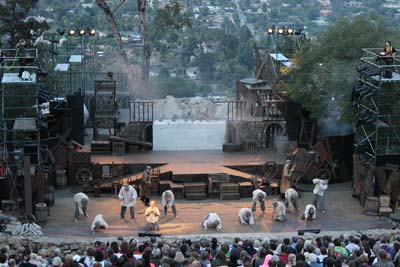 "He said, What if we put on a play this summer because the other teachers are going to paint houses or sell air conditioners and I don't want to do that," Sheryl recounted. "So, being the naive young mother that I was, with two little baby boys, I said OK."
The curtain was raised on Christian Community Theater.
Her husband's dream to start his own drama ministry emerged four years earlier when the couple attended a five-week Readers Theater workshop in London as part of his work with SDSU.
"He came home and was just sharing that it had such an impact on him," Sheryl said. "It was brand new. I was the must-see show (of the season) but the content was just the opposite message that we wanted to really live out in our lives.
"He remembers standing on the street corner in London in front of this theater saying, 'God, if you can use me in this industry, with just the opposite message, just use me.'"
By then, Paul's passion for Jesus and drama was fully developed after intersecting early in his life. As a young child, he often preached sermons from a step stool.
"I was just mimicking Tim LaHaye because he was our pastor," Paul said.
As he got older, Paul auditioned for numerous plays, including taking a shot at singing the title song from "The Sound of Music."
"I sounded ridiculous because it's a girl's song," he said. "Here's this seventh-grade boy whose voice hadn't changed…"
He was eventually cast in several roles in junior high and became even more involved with high school musicals at Crawford High School.
Unlike her husband, Sheryl said she inherited no talent in acting or singing, though she earned an "A" in speech class. As a student at Kearny High, Sheryl pursued her interest in business, which she parlayed into a teaching post at Christian High.
The couple met at what was then Scott Memorial Baptist Church, where noted pastor and best-selling author Tim LaHaye served as senior pastor. In addition to the Christian school system, LaHaye went on to establish what is now San Diego Christian College.
Paul said LaHaye encouraged him to develop plays and street dramas that could be presented while hanging out at the beach or along local bike tours.
"They were farcical and silly but they talk about a man's soul," he said.
 • • • •
After the initial run of "The Sound of Music" concluded, it was lights out for the Russells, who were discouraged and ready to find something else to fill their summers—until a dinner meeting with a Lakeside pastor.
"He said, 'This is what God's called you to do. You need to keep doing this; it's touched so many lives,'" Paul recalled.
The Russells scoffed.
"No," he told them, "it's not just about the audience. It's about the people that were involved in the cast."
Lost in the planning was the fact that 47 different churches were represented through the cast, crew, orchestra, house management and parking volunteers.
"This truly was a Christian community coming together and unifying around something that we could all agree on," Paul said. "So let's put on a show, versus arguing over the doctrinal issues of are you dipped or dripped or whatever.
"We continued doing it and it continued to grow," he said.
The Russells were also approached by area parents who were concerned that budget shortfalls at local districts were resulting in the termination of arts programs in the schools.
"The parents said, 'You've got to do something for our kids,'" Sheryl said.
So the following year, they launched Christian Youth Theater. The program, offered to children ages 8 to 18, featured a series of classes three times a year, with students from each session producing a full-fledged production. They had 24 participants.
Four years after launching CYT, Paul was able to come on staff full time, and they moved into their first office space, a whopping 300 square feet of freedom.
"We thought we had arrived," said Sheryl, who handles the logistics for the nonprofit.
"I'm definitely the business side," she said. "I don't sing. I don't act. I like to dance, like tap, but I'm not a performer."
In San Diego, CYT operates five regions: South County, East County, Central San Diego, North County Inland and Tri City out of Carlsbad. The ministry has also expanded outside of San Diego, with a total of 25 affiliate programs across the country. Inquiries keep coming in and several more locations are expected to be added this year.
The ministry has also begun work on adapting their program for several international programs in China and Africa. With the increased demand, the nonprofit split into two separate entities: CYT Inc., the national branch, which employs both of the Russells, and CYT San Diego, which has its own staff.
After several more moves CCT and company landed in a 26,000-square-foot warehouse in El Cajon that houses all of the costumes and props needed for their repertoire.
Once again, though, CCT is looking for new digs to move to when their lease expires next year. This time they are praying to find something more centrally located, and are about to launch a capital campaign in hopes they can purchase a permanent home. Reaching the goal will not be easy, a lesson they have learned over the years. Sheryl notes that it can be difficult to compete for donations with other solid nonprofits that are "saving starving children or abused children."
But she believes that CYT addresses the same problem, only from a different angle.
"We really believe the arts keep good kids good," she said. "We're keeping them so busy they don't have time to get in trouble. We are being proactive so they don't end up being abused."
 • • • •
While there is no discounting the impact that CCT and CYT has on the 20,000 or so children served annually through its programs, the ministry has also transformed the Russells as they have learned to overcome obstacles, including a lawsuit filed by several Mount Helix residents who challenged the hilltop shows because of noise. Although CCT prevailed, the legal bills topped $90,000.
"In your mind you are going, 'OK, what is the Lord trying to teach us here?'" Paul said. "Does He really want us off the hill? Or does He want us to persevere even through hard times? Or how is He going to provide the means for us to pay back our attorneys?
"There have been so many, times when we've been very, very close to shutting the doors and then God touches somebody's heart and a new door opens, we take another pathway, and it's certainly nothing of what we did. I think He keeps reminding us of that all the time."
For Sheryl, the ongoing lesson has been trust.
"I think the credit goes to God, because I shouldn't really be doing what I'm doing," she said, adding that her duties go well beyond her business degree.
"It's just been by saying 'OK, let's do it' and partnering with Paul and learning as I go. The greatest change for me personally is taking the risks that I'm uncomfortable with, taking on challenges that I never dreamed I would be doing. And yet, to me, that just shows it's the Lord, because He's the one working through you."
Paul admits to learning his own lessons, sometimes more than once.
"I don't have to be involved in it for the process to work," he confessed. "That to me is comforting, but it's also humbling. I think, 'Well I've got to do it for it to really be successful,' and God's going, 'Get out of the way, get out of the way and let Me do it.'
"So many times I've gone to programs in another city or here in town and I've had nothing to do with it and it's touching lives and bringing families back together and kids are making commitments to the Lord in a powerful way and families are being blessed and it has nothing to do with me. I think that's a very healthy thing and I get the privilege of being a part of it."
Learn more at www.cytsandiego.org.