Stopping the pain | Domestic violence victim is silent no more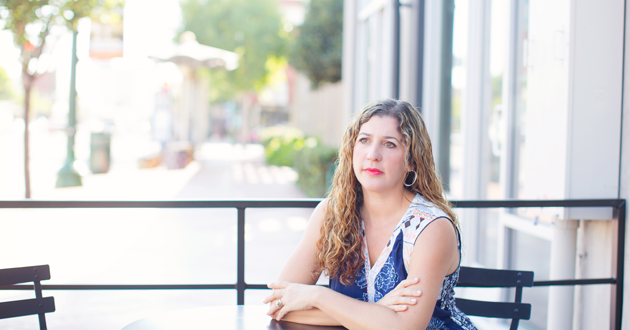 Jessica Yaffa was finally turning her life around. She left a years-long abusive relationship after her former husband, Trent*, punched their son in the face while she held the young child in her arms. She had a new job, visiting clients in the field. It offered security and freedom from a desk. And, after not receiving child support from her ex, she was pleasantly surprised when he called to tell her he had money for her.
"When I arrived and he opened the door I could immediately smell alcohol on his breath," Yaffa said. "This was the first indicator there could be a problem. I also learned that no one else was home, which was a second red flag."
There was small talk as he joked with her about her new job.
"Then he grabbed me in a bear hug and wouldn't let go," she said. "As I tried to pull away he squeezed harder. He then threw me on the ground, pinned my arms and legs."
The attack escalated and Yaffa was raped and sodomized.
"As I screamed for help he said, 'Don't make me hurt you,' which I knew he was capable of, so my screams turned to tears and begging him to stop. When he finished he insisted I wanted 'it' too, that it was consensual. I didn't argue. I just wanted out of there."
Though "disheveled and a mess," with scratches on her arms and legs, Yaffa kept her appointment with the client then picked up her son and dropped him with a neighbor. She then drove to the local police station. By then, black bruises had developed along her inner thighs.
"They transported me for a physical exam after what felt like hours of questioning" she said. "The district attorney picked up the case quickly and I spent the next few months being victimized all over again by the defense."
Although the immediate threat diminished after her ex was convicted and sentenced to 29 years, the repercussions remained.
" I felt dirty, used, trashy, and afraid. I began sleeping with any man that would have me, just to feel like I was seen, pretty, desired, or needed."
After each encounter, Yaffa only felt worse about herself and her life.
The experience tapped into childhood insecurities that annihilated her sense of worth, making her easy prey for a domestic thug.
"I was always hyper-sensitive to my appearance and felt unattractive from a very young age," she said, adding that she also felt disconnected from her father, who was a stickler when it came to academics.
"I didn't get great grades, nor was I interested in politics or global events," Yaffa said. "As my brother came along, he was the exact opposite of me. I watched my dad grow in affection towards him and longed for the connection they had."
. . . .
When Jessica met Trent in her high school English class she was smitten with the attention.
"His possessive behavior, extreme jealousy, accusations, his need to be included in all of my social activities, and desire to know where I was at all times were interpreted as 'love' and felt really good to a then-16-year-old girl with low self-esteem," she said.
Over time she began self-protecting by avoiding situations that could result in confrontations.
"Anytime I wanted to go anywhere it became a huge fight full of accusations, and therefore it was usually easier to just cancel," she said, adding that she avoided "social gatherings where other men would be because I knew this would cause a blow-up."
The verbal and emotional abuse turned physical about two years into their relationship.
"I did a very good job of keeping my family in the dark because I knew if they found out what was happening they would forbid me to be with him," Yaffa said. "Early on, my parents were afraid to push too hard because they feared I'd run off with him completely if they did."
Later, as Yaffa entered young adulthood, her widowed mother was focused on her own issues, trying to stay afloat as she raised Yaffa's younger brother as a single mom.
"I'm not sure what they could have done differently," she said. "I was so lost."
The isolation continued at college as her friends began distancing themselves as they witnessed signs of abuse.
"I did have one longtime best friend who was also in an abusive relationship, and therefore we were of no help to one another," she said.
The intensity only magnified after the birth of her child.
"During abusive episodes my son would cry for me and he would physically prohibit me from comforting him," Yaffa said. "I was watched through the blinds when doing laundry, had cameras in the apartment, and was followed to the grocery store."
Despite the chaos in her home, Yaffa said she focused on trying to be the "only stable force in my young child's life."
"I feared that I would die, and at times I wanted to," she said. "My greatest fear was that he'd kill me and leave my son to be raised in an abusive environment."
The transformational moment came when Trent hit her son during a heated confrontation.
"Although it took me a while to make preparations to leave, it was in that moment that I knew I had to," she said.
. . . .
Yaffa met Jesus in 2007 when she began dating the man who is now her husband.
"He had been pursuing me for months, and I finally gave in," she said. "Once we got together he asked if I'd come to church with him. Once I stepped foot into church I never looked back."
Several weeks after visiting church with her boyfriend, Yaffa attended a women's ministry event where she received a promise.
"God spoke to me on this particular night about using all I had endured for good," she said, though she admits she had no idea what that would entail.
Four months later she launched HEALING (Honoring, Empowering, and Loving Individuals Needing Guidance), a domestic violence ministry at Rock Church. It's believed to be the first ministry of its kind in San Diego County. Since then, the ministry has served close to 10,000 people.
She also wrote "Mine Until: My Journey Into and Out of the Arms of an Abuser," a no-holds-barred account of her experiences. She also created a workbook for therapists called "Help Me, Help Her: A Therapists Guide to Treating Victims of Domestic Violence."
As demand for her voice grew, Yaffa, 40, launched No Silence No Violence, a national non-profit that provides resources and aid to victims of domestic violence and sexual assault. The non-profit also works to change perceptions of domestic violence in an effort to change culture.
"We actually have a Bible Study that talks about God's view on domestic violence," she said. "We use Bible stories, verses, and other Christian materials to help women move past feelings of guilt and shame and into a place of peace and surrender."
She has also partnered with Practical Recovery to open a treatment center for women who are misusing alcohol, illicit drugs or prescription drugs to self-medicate as a way to cope with the traumatic stress of toxic, abusive or violent relationships.
Yaffa, who has a degree in sociology and works as the director of admissions and community education for a substance abuse treatment facility, said she is committed to tackling the issues that make women—and men—vulnerable to abuse.
Although the majority of her clients are women, Yaffa said they do refer male clients to Christian therapists trained in handling their unique issues.
"Unfortunately, the stigma that already exists around domestic violence is worsened when a man comes forward," she said. "Men are ashamed to report, seek help and admit they have no control over what is happening. We work to eliminate that shame, while empowering them with resources, guidance and support in the same way we do our women."
Regardless of her clients' gender, Yaffa said the vision of her ministry is to "speak worth and value into every person that God allows us to step in front of so that they may know where their worth comes from and where it doesn't. When we believe we are worthy because He says so, we don't need to look for that validation from another human being, nor do we need to control them."
It is a lesson that Yaffa personally learned after deciding she didn't want to walk the path alone anymore.
"God has always been there," she said. "I could have died 100 times over and he protected me in those moments. Because of this I can step out of bondage and not fear the future."
That future includes her ex-husband's scheduled release from prison in 2025. But the thought of that doesn't fill Yaffa with foreboding.
"I choose not to live in bondage or fear. God has, and will continue to be, my protector," Yaffa said. "I am strong, resilient, courageous, and anointed. Where I was full of shame, I now walk free. I didn't want anyone to know my 'secret,' yet today my testimony is my greatest gift."
It's a gift she gratefully passes on to others by reminding them they are not alone, either.
"It's OK to be sad, angry, lonely, confused, and afraid," she said. "I have learned to acknowledge where I am and be kind to myself in those moments, rather than trying to escape them."
The key, Yaffa said, is not staying in the pit.
"No matter how stuck you may feel, God provides the resources we need in order to walk according to His will," she said. "There is hope."
. . . .
Although other congregations have begun similar ministries, Yaffa said many churches are still reluctant to address the issue of domestic violence. Some Christian bookstores have declined to carry her memoir and even when she's been invited to speak she's been asked more than once to "tone it down." Yaffa said she believes silence is an unnecessary enabler.
"Survivors often say, 'I had no idea there were others out there,' 'I'm not alone or crazy,' 'If she can do this, I can do this,'" she said. "All of those moments make this worth doing."
Yaffa said that churches are in a unique position to not only address the dark side of domestic violence, but to wipe it out with the light of the gospel, the one true prescription for redemption.
"What we don't talk about we don't have to address," she said. "This happens to Christians. (Let's) talk about it, have resources available, and be sure you have church council that understands the delicate nature of abuse within Christian households.
"It is when we can move out of the darkest places and into light that He is truly glorified. So many of us are dealing with, or have dealt with, abuse at some level. We need to create safe spaces to talk about it without judgment or fear of shaming. We fight against that enough on our own."
— by Lori Arnold
*Name changed
Related information: Domestic violence by the numbers
---
One factor victims often cite in staying in an abusive relationship is that they feel alone. But as society—churches included—has become more aware of the epidemic, more and more resources have emerged to provide for immediate needs through safe havens, as well as long-term programs to help survivors rebuild their lives. Here's a sampling of local and national resources:
Emergency help
San Diego Domestic Violence Council — 1-888-385-4657, www.sddvc.org
National Domestic Violence Hotline — 1-800-799-SAFE (7233), www.thehotline.org
National Sexual Assault Hotline — 1-800-656-HOPE (4673), www.rainn.org
Stalking Strike Force — (619) 515-8900, www.sdcda.org
Battered Women's Services — (619) 234-3164, www.wrcsd.org
National Organization for Victim Assistance — 1-800-879-6682, www.trynova.org
Shelters
Big Sister League — 115 Redwood, San Diego, (619) 297-1172, www.bigsisterleague.org
San Diego Rescue Mission — 120 Elm St., San Diego, (619) 687-3720, www.sdrescue.org
YWCA of San Diego County — 1012 C St., San Diego, (619) 239-0355, www.ywcasandiego.org
San Diego Family Justice Center — 1122 Broadway, Suite 200, San Diego, (866) 933-4673, www.sandiegofjc.org
Center For Community Solutions — 4508 Mission Bay Drive, San Diego, (858) 272-5777, www.ccssd.org
North County Solutions for Change — 722 W California Ave., Vista, (760) 941-6545, www.solutionsforchange.org
Community Resource Center — 650 Second St., Encinitas, (760) 753-8300, www.crcncc.org
Women's Resource Center — 1963 Apple St., Oceanside, (760) 757-3500, www.wrcsd.org
Programs and resources
No Silence No Violence — North County San Diego, (858) 413-6063, www.nosilencenoviolence.org
Break the Silence against Domestic Violence — 4010 Sorrento Valley Blvd, Suite 400, San Diego, (855) 287-1777, www.breakthesilencedv.org
Counseling
Christian Women's Counseling International — Non-public address in Lemon Grove, (619) 920-9977, www.christianwomenscounseling.com
The Counseling Center at North Coast Church — 2405 North Santa Fe Ave., Vista, (760) 724-6700, ext. 239, www.northcoastchurch.com/connect
Care Counseling at Rock Church — 2277 Rosecrans St., San Diego, (619) 226-7625, www.sdrock.com/ministries/domesticviolence/carecounseling
Church ministries
HEALING at Rock Church — 2277 Rosecrans St., San Diego, (619) 226-7625, www.sdrock.com/ministries/domesticviolence
FOCIS at New Harvest San Diego — 3060 54th St., San Diego, (619) 326-8450, www.newharvesteastsandiego.org
Journey Community Church DV Support Group — 8363 Center Drive, Suite 6C, La Mesa, (619) 464-4544. www.journeycommunitychurch.com/careministries/caregroups
The church and domestic violence
www.kprz.com/11596483/
www.lifewayresearch.com/2014/06/27/pastors-seldom-preach-about-domestic-violence
www.focusministries1.org/pastorstools.asp