Leading actress in Columbine movie says role helped her grasp God's love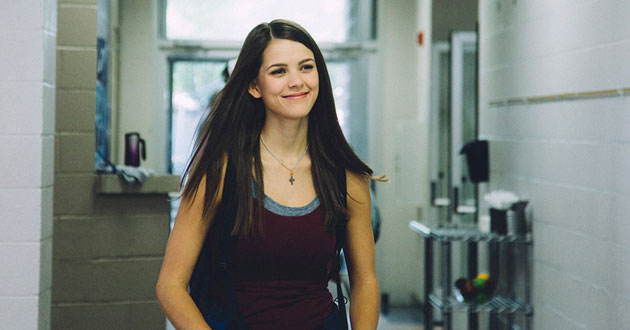 Masey McLain knew God intended her to play the true-to-life movie character Rachel Joy Scott, a Columbine victim, even when the part first went to someone else.
"I'm Not Ashamed," a PG-13 movie that opened nationwide Oct. 21, stars McLain in her first leading role. The PureFlix film, directed by Brian Baugh, co-stars actress Jennifer O'Neill, Sadie Robertson of "Duck Dynasty" fame, singer Jaci Velasquez and Nancy Stafford from the TV series "Matlock."
The story of Scott's life unfolds in the final months leading up to the shooting at Columbine High School in Colorado on April 20, 1999, an event noted as the deadliest high school shooting in the nation's history. Twelve students and one teacher were killed.
Filming was intense, at times, McLain said. "I knew deep down that God had called me to this," she said. "I really had to rely on Him and just trust every day that, 'OK God, if You've called me to this, I know You'll give me everything I need today."
McLain is the daughter of Marty and Stephanie McLain of Villa Rica, Ga., where her father serves as teaching pastor at West Hills Church. Marty McLain is a 2002 doctor of ministry graduate of New Orleans Baptist Theological Seminary.
Rachel Scott's "yes"
A survivor who was with Scott the day of the shooting told authorities that one of the two shooters approached Scott as she lay bleeding from three gunshot wounds and asked if she still believed in God. The fatal shot followed her answer of "yes."
Scott's faith and courage inspired the founding of the nonprofit organization Rachel's Challenge and the publication of several books including "Rachel's Tears," a celebration of her life by her father, Darrell Scott, based on Rachel's drawings and journals showing her hopes of impacting the world for Christ.
McLain said she learned the role had been given to someone else months into the year-long process but felt God telling her to "be still" and wait. Weeks later, McLain received the phone call informing her she had landed the leading role.
"It really was the Lord," McLain said.
Portraying Rachel
As filming began, Beth Nimmo, Scott's mother, presented McLain with a box of the original journals and writings penned by her daughter.
"Even before I got to set, [Nimmo] called me and told me how proud she was of me, before we even met," McLain said. "She said she knew God had called me to do this."
As McLain scoured the journals daily, she discovered she had much in common with Scott, including a love of acting. As Nimmo watched the filming, she complimented McLain on getting Scott's persona correct, McLain said, adding, "She told me, 'I think I'm looking at Rachel.'"
As a film more about how Scott lived than how she died, its impact is tangible, Marty McLain said. "People leave impacted by this movie. The testimonies that we are getting from this movie are unbelievable. We've had people whose children have struggled with suicide or cutting say they want to follow Jesus now."
Reviews of Masey McLain's acting are positive, though the Christian-themed movie, like many in this genre, has its critics. But an Oct. 21 review in The Guardian, a British publication, praised McLain saying, "She is undeniably a terrific, warm and engaging performer."
While loss and tragedy are a part of Scott's story, Masey McLain said God has brought good out of the pain and draws from it a lesson for believers.
"The hope that we do have is Jesus, so no matter what happens or how we die or when we die or what we go through, He is our constant hope," McLain said. "In view of eternity, that's everything."
A window into God's love
Marty McLain was watching as the emotionally charged shooting scene was filmed when he realized his wife was nowhere in sight. He found her at the end of a hallway, alone.
"You're glad that your daughter is able to do a role like that because of the impact and significance of the movie, but at the same time it's hard to watch," he said.
Before filming, Masey McLain worried about the final scene as well.
"I was really scared about that scene," she said. "Everyone felt the weight of what we were doing that day."
That morning, God brought the New Testament story of Stephen's martyrdom to mind, McLain said. She read again how Stephen saw God's glory and saw Jesus at the right hand of God, a Scripture passage that came to mind throughout the day.
"I'll never forget that day. I feel like God kind of gave me a window into what happened that day. It was unlike anything I've ever experienced," McLain said.
"It's hard to explain, but I've never felt the love of God that strongly before in such a tangible way," she said. "I just knew in those last moments that Rachel had to have known how much God loved her, and [like Stephen], Rachel saw the glory of God and experienced more than anything the arms of God wrapping around her."
Scott was a typical teenager with struggles of her own but was committed to loving others as Christ loved, McLain said, noting that Scott's example of being the "hands and feet of Jesus" is a lesson she intends to follow.
"[Scott's life] makes me think about not wanting to just pass through life, but truly see people and to run to the broken," McLain said.
McLain's potential for a bright career was noted by the writer for The Guardian who wrote, "The sky is the limit for her."
As McLain considers the future, she acknowledges her hope that God will continue to bring opportunity and determination to pursue a vocation in acting.
"I love film acting. I would love to continue in it," McLain said, adding that new roles may soon appear. "Be on the lookout," she said with a gentle laugh.
— by Marilyn Stewart | BP