New show 'Frankly Faraci' spotlights famous people 'whose faith is their foundation'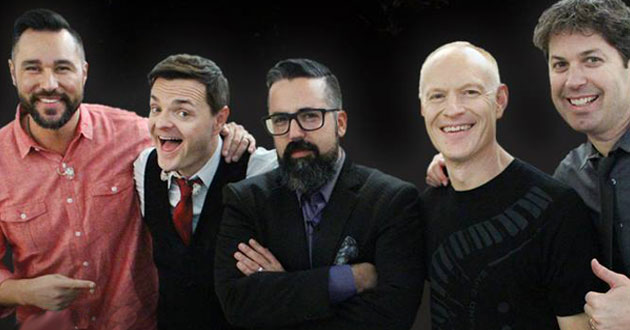 A veteran journalist with a wide-ranging background will host the Dove Channel's first original series beginning March 21, and he hopes it changes how the world views people of faith.
Matthew Faraci's new show, "Frankly Faraci," will give a behind-the-scenes look at high-profile people within entertainment, music, sports, business and politics who say their faith makes them tick.
The Dove Channel is a Netflix-type streaming service that carries only family-friendly programming.
"I want kids to see real role models, people who they can honestly look up to," Faraci told Christian News Journal.
In Season 1, Faraci interviews The Piano Guys, the sketch comedy group Studio C, YouTube sensations Daniel and Lincoln Markham of What's (In)side?, former NFL linebacker Bryan Schwartz and his wife Diane, and hip-hop artist Propaganda. Each episode is 22 minutes.
"We know that families all over America are going to enjoy Matthew's heart-felt interviewing style and his uncanny ability to get people to talk about their true passions," said Erick Opeka of Cinedigm, which owns the Dove Channel. Opeka is the executive producer.
Faraci is president of the marketing agency Inspire Buzz, and has had stints in journalism, politics and even comedy. He calls himself a "comedian turned journalist turned political strategist turned back to journalist."
Story continues below video
CNJ recently spoke with Faraci about the new show. Following is a transcript:
CNJ: Why did you want to launch a show?
Faraci: I want to take people on a journey with me, one in which they meet incredible people who are doing big things in the world, and are driven to do so by their faith. The common perception is that faithful people are angry and judgmental, or maybe "Ned Flanders" do-gooders, but reality is that some of the most amazing, cool, fun-loving, and free people I know are people whose faith is their foundation. This show is about introducing those people to the world in a way that they haven't been seen before, and giving viewers a window into their true hearts. I want to launch this show because I'd like to watch this show!
CNJ: What do you hope to accomplish on "Frankly Faraci"?
Faraci: It's rare that you get to do something in entertainment that's actually unprecedented. I'm not sure why nobody has done a show like this before, but it's an incredible honor to be a part of the project that blazes new trails. This show will inspire you, it will uplift you, and everyone in the family can sit around and watch. I want kids to see real role models, people who they can honestly look up to, and I hope to hear stories of how young people are inspired to take a new path because of the example of someone they see on the show. It's high time we tell stories of people who are bringing positive into the world, and do so in an authentic way so people can truly understand that God can use anyone who is willing to be a part of His plan. If "Frankly Faraci" changes the world and brings joy to people, I'll be thrilled.
CNJ: People who know you know you have a passion for entertainment, including film and TV. What can you tell us about how Frankly Faraci will interact with the entertainment industry? Can we expect, for example, actors and actress and even directors and producers?
Faraci: "Frankly Faraci" features authentic, heartfelt, behind-the-scenes interviews with inspirational figures in entertainment, music, sports, business and politics who are actively focused on doing good and bringing positivity into the world. You'll see people from the entertainment world in Season One. For example, we sat down with the cast of the family-friendly sketch comedy sensation Studio C. And yes, we'll have all kinds of actors, directors, and producers, too.
— by Michael Foust
Michael Foust has covered the entertainment industry for more than a decade. Follow him on Twitter @MichaelFoust or on his website: MichaelFoust.com