Second chance | Marine who lost legs in IED blast finds purpose on the slopes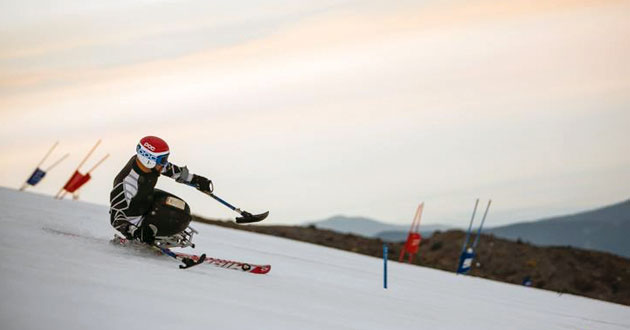 Sgt. Joshua Elliott and his wife had just been transferred to Camp Lejeune, North Carolina after serving in Japan, Iraq and San Diego. Elliott had barely checked into his new unit when a friend asked him to take a squad leader position with a platoon he was leading in Iraq.
As a combat engineer, Elliott's job was to serve as point man for the platoon, using a metal detector to find and mark improvised explosive devises, clearing the way for the his team members as they followed him into various neighborhoods.
In April 2011, three months after landing in Afghanistan, Elliott and his team entered a corner building that would become their staging post and point of safety. Several guardian angels—soldiers who used large guns to cover their team from rooftops—were preparing to take their positions.
Elliott escorted the guardian angels to their perches.
"As I was walking back off the roof of this building, seemingly on the same path we all just previously walked on, I stepped directly on an IED," Elliott said.
It took a few moments for the sergeant to realize that he was the one who had detonated the bomb.
"I remember being mad at the person who set it off," he said. In the seconds that followed, as he catapulted through the air, Elliott said he entered the "five-minute flight."
"Time doesn't really slow down," he said, but it feels like it because the brain shifts into overdrive, passing more information than usual from short-term to long-term memory.
"Around the pinnacle of flying through the air it dawned on me that I might have been the one to set off the IED," he recalled. "As I fell out of the sky I distinctly recall watching the roof of the building go by as I fell through the hole the bomb had just made."
The force of the bomb thrust him straight up in the air, and then straight back down through the hole. He landed in a sitting position on the rubble of what just a few seconds earlier had been a roof.
"Sitting, bleeding out on this mound, breathing in the dirt and smoke after the blast, I knew that if I didn't make some kind of noise, if I didn't call out in the dark, I didn't know if anyone would have found me in time. From an outsider's view, there was a big explosion, then Sgt. Elliott was gone."
He thought of his friends looking for him in pink mist, the slang term war veterans use when a body is vaporized and there is little to look for or find.
"Truthfully I believe I would have been pink mist had that bomb been in the ground versus the roof. Because it was in the roof and I was a heavier force, much of the blast went down into the room below.
Two of his fellow Marines found Elliott and the unit began a series of tasks to try to save him. A Navy corpsman put tourniquets on both legs on the left arm.
The patrol leader called in an evacuation helicopter. Others cleared a landing area. Some provided security or assembled a makeshift gurney. They kept talking to the sergeant to keep him awake.
Everyone on site knew that if Elliott had any chance of survival, the evacuation helicopter needed to make a prompt rescue. It didn't seem fast enough.
"The helicopter that landed was run by the British, and they waited to leave the base until they had all the information they could about my injury, location, blood type, and such," Elliott, now 34, said. "They landed with doctors, nurses, and everything they needed to start trauma surgery on the helicopter—in a sense, bringing the hospital to me."
It was on the helicopter that Elliott—who was placed into a drug-induced coma so that the medical team could treat life-threatening wounds to both lungs, his intestines, and three of his four limbs—had a vision that would change his life.
He describes seeing an orange-like fog that was "thick and almost granular," followed by a "truly empty realm."
"At this point I know I was no longer dreaming," he said. "My sense of things had returned. My cognitive decision-making was back. I began to look around trying to make some sense of where I was. There was no up or down. It wasn't light, nor was it dark. I could try to describe it as being in space, but without stars or planets or anything."
In a moment, he said, he sensed a "turning and finding something that wasn't there before in front of me.
"I was face to face with a light," Elliott said. "As I stood there, things started to become clear. Imagine staring at a lamp coming in from a dark room. At first all you can see is the light, but as your eyes adjust you begin to see things take shape."
The light, he said, was bright like the sun but without burning the eyes.
"I was looking at a being of light and beauty seated on a throne…I felt euphoric emotions mixed with a feeling of being so small. I went to my knees not so much by choice as by knowing what was proper and right. Then He spoke: 'Are you ready?' The words weren't heard with my ears as much as felt in my heart, but as clear as me talking, or words on paper."
Elliott said he was acutely aware of the Creator judging his life.
"God, seated on the throne, ready to look into my life and see my deeds," he said. "Good things, rebellion, misfortune, hate, peace, love. All the good and all the sin in my whole life was a moment from being completely exposed. Like a child ashamed of what he had done, I answered God, 'No.'"
As soon as Elliott said no to God, he awoke from his surgery, the first of many he would have in the coming weeks. Ultimately doctors amputated both of his legs.
"When I was face to face with the throne I felt so small, so little and so weak, and all the worldly things seemed so benign, so lame," he recalled. "The one thing I didn't want to do was to lose that memory…. To lose that would mean I wouldn't be fulfilling the purpose He sent me back for."
With the vision came a new perspective.
"I don't live by faith anymore," Elliott said. "I live by knowing.
"I've been there. I've seen God, I've seen judgment and I don't ever want to be back there and say 'no' again. Next time I'm there I want to be ready. You never know when you are going to die, …when your time is up."
In the foggy days that followed Elliott recalled a prayer he had asked God after watching an evangelist speak to his youth group. A former inmate, the speaker spent 45 minutes regaling the kids about his past, but made only a fleeting mention of Jesus and his redemptive power.
Although disappointed with the speech, the young teen suddenly realized that at least the man had a testimony. A Christian all his life, Elliott believed he lacked his own dramatic story to share with others. So he prayed for God to give him his own testimony.
"God revealed to me this prayer in the hospital and He said, 'I've given you a glimpse of me. Look what I've given you through this incident.' … That gave (me) purpose. Not having legs, I can deal with that, but it became so much more, because not having legs became the end to talking about Jesus and talking about God."
"It's a weird answer to prayer to have God take my legs, but it's OK. I'm happy where I am. That's kind of a tough one to swallow. Even though it was the enemy who put the bomb in the building, it was God who brought me to the place were I am now."
After spending several days in Afghanistan, he was flown to Landstuhl Regional Medical Center in Germany, where surgeons spent nearly a week on additional procedures to prepare Elliott for the long flight to National Naval Medical Center in Bethesda, Maryland. At Bethesda Elliott underwent surgeries almost every other day, as doctors continued to remove tissue that was destroyed by shrapnel or the resulting infections.
"It was those nights and days where I was trying to figure life out again and starting rehabilitation that I questioned God," he said. "I knew I had a purpose. I understood that. There was a reason I was sent back but I didn't quite understand it and I didn't know what it was. It was through my parents, and through my wife, and prayer it started to be revealed to me the divinity of the entire thing."
He admits that he relied heavily on his wife, Samantha, and his parents throughout the long recovery process.
"I was always the strong one" … Elliott said. "But she needed to be strong for me. It was a big role reversal."
A month after arriving to Bethesda, when his wounds were clean enough to suture for good, Elliott asked to be transferred to Naval Medical Center San Diego, where he had attended boot camp.
For 18 months, Elliott's work orders were to heal. That meant routine trips to recreational, occupational and physical therapists, plus seeing doctors who specialized in prosthetics, plastic surgery, dermatology and tissue.
It was through recreational therapy that Elliott discovered monoskiing, which uses a wide ski with boot mounts that face forward. Because the ski can easily be adapted with a seat, many paralympic athletes have become competitive racers. Elliott, an avid snowboarder as a teen, has earned a place on the U.S. Paralympic Alpine National Team and hopes to compete in the 2018 Winter Paralympic Games. In February he earned a silver medal in the giant slalom at the IPC Alpine Skiing World Cup Finals in Aspen, where he trains every winter.
"It was as much an equalizer and confidence booster as it was a therapy," said Elliott.
Although he feels the call of the mountain slopes of Aspen, the retired Marine said he knows God is calling him to much, much more.
"The battle isn't fought on the mountaintop; it's fought in the valley…. You can't sit on the mountain," he said. "You've got to fight in the valley. That's the hardest time because that's where temptation is; all the things that want to drag you down. That's where you are farthest from God, when you are fighting in the valley."
— by Lori Arnold