Country music with a divine message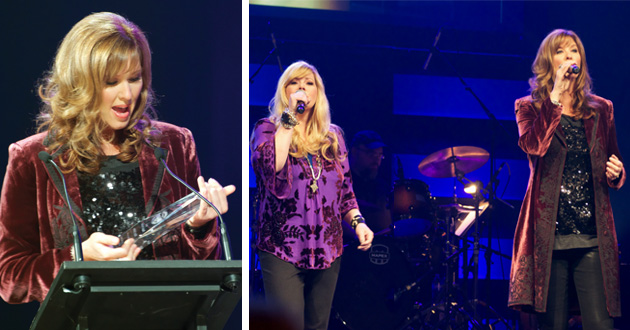 Mary James, a two-time Inspirational Country Music Female Vocalist of the Year Award winner, is up for nomination again, this time for Entertainer of the Year, Female Vocalist of the Year, Music Evangelist, and Inspirational Country Song of the Year.
The 2014 Inspirational Country Music awards will be presented next month in Nashville. James is also scheduled to perform.
Her Song of the Year nomination is for "Strong," the title song for her fourth album, sung with country star Jamie O'Neal. James' style, described as a combination of folk, country, gospel and modern pop, is also apparent on her previous albums: "At His Feet," "Beautiful Savior" and "Truth Cries Out," and her fifth disc, last year's "Comfort and Joy" Christmas CD.
James often appears on stage with her husband, Dan Barker, who plays the acoustic guitar with her band.
The mother of two grown children, James said she depends on Christ to keep her centered as the national demands for her singing and speaking ministry have escalated with each album and award. Her faith journey, she added, is only as strong as her fellowship.
"If I put God in the waiting room of my life, that is where my faith ends up," she said. "Also, I also cannot grow in faith, if I am unwilling to take steps of faith. You have to get out of the boat to experience the possibilities. And oddly, you have to take your eyes off of Jesus, to understand what will happen if you do."
Those steps of faith came early on when James began experiencing severe panic attacks that would come months in advance of an engagement.
"Most people would have quit because it was so intense," she said. "I coped by praying—a lot—seeking counsel, which helped me understand that pride was behind my fear, and deciding that I was not going to be in chains to fear for the rest of my life. Nerves have showed up repeatedly in my performance, but God has always been more powerful."
The rough spots have also helped her to maintain priorities in the fast-based music industry.
"While the world is busy measuring people by their looks and successes, God just wants me to grow in His grace, taking what He has given me and glorifying Him through my attitudes and actions," James said, acknowledging that despite her spiritual growth, she remains cognizant that God is continually at work in her life and she is in it for the duration.
"The Refiner's fire is hot; clay has to be shaped and molded," she said. "Some folks just give up before the masterpiece is complete. Something is always going to come along to try and knock us off track. The enemy does not want us to experience the fullness of God's restoration, so He uses our vulnerabilities to hinder the process.
"God is my anchor and He keeps me on a really short leash. He has done a great job keeping me grounded over the years."
IN CONCERT
Singer-songwriter Mary James already has a full calendar this fall. In addition to half a dozen local events, James will attend the Inspirational Country Music Week events from Nov. 9 to 13, where she will lead a breakout session, host a morning worship service, deliver a keynote message and perform for the annual awards show, where she is also up for four awards.
Oct. 10 to 12: La Jolla United Methodist Church Annual Women's Retreat in Ramona. Worship and keynote messages.
Nov. 8: First United Methodist Church Women's Day Retreat in Mission Valley. Worship and keynote message.
Nov. 29 to 30: The Church at Rancho Bernardo. All weekend worship services.
Dec. 4: Vista Grande Community Church Annual Women's Christmas Dinner in San Diego. Special music and keynote message.
Dec. 5: Windsor Hills Community Church Annual Women's Christmas Event in La Mesa. "A Lamp For Every Corner." Special music and keynote message.
Dec. 12 to 13: 25th Anniversary of Carols by Candlelight in Escondido
Learn more at www.mary-james.com.
Related article: From rejection to redemption | Country artist uses broken past to communicate through words and music