Exercising faith and compassion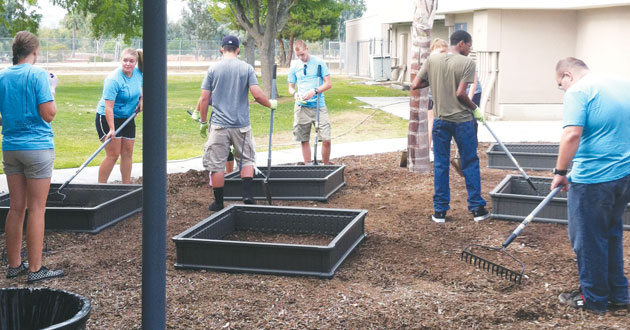 Nearly seven years ago, Pathways Church told its members to stay away from its usual Sunday worship services. The congregation has never been the same.
That Sunday the Santee congregation joined forces with Vision San Diego and its Don't Go to Church, Be the Church campaign. The project, also known as Faith in Action, encouraged churches around the county to use their usual gathering times to serve people in the community.
"There is a calling in all of us to think bigger than our own lives, to be part of something bigger than ourselves, to make a lasting difference in our communities, to answer the challenge given to us by God," said Jeff Atkins, the Faith in Action leader at Pathways.
He said it was a concerted effort to put 1 John 3:11 into practice.
This is the message you heard from the beginning: We should love one another.
"For four hours over 500 volunteers ventured out to serve the Santee community and the city of Santee through 17 projects that included building fences for neighbors, clearing properties of built-up debris, beautifying parkways along the major thoroughfares, painting, weed eating, even the demolition and fill of a pool," Atkins said of the Pathway project.
Not long after the inaugural event, Pathways approached city leaders with a new program proposal called Compassionate Code Enforcement.
Until that point, the standard policy for neighbor-against-neighbor complaints—adopted by cities across the country—had been for Santee officials to send a demand letter to the offending neighbor ordering them to correct the reported code violation.
"This often led to angry responses and uncooperative attitudes from those who needed the most help and, eventually, the city correcting the code violation and filing a lien against the property for the completed work," Atkins said.
With Compassionate Code Enforcement, the city now sends a letter to the neighbor experiencing the code violation and contacts Pathways to help correct the problem.
"A representative of the church contacts the neighbor and offers for Pathways to work 'side by side,' with them to correct the issue," he said. "A work party of volunteers is recruited and a day is planned to complete the job. The neighbor is happy, the volunteers have a great time and often the complaining neighbor joins the team in solving the problem."
The results are much more affirming than the previous policy, Atkins said, adding it's "helping others, bridging relationships and allowing the city to say, 'Case closed!'
Not wanting to leave out the Santee School District, Pathways then approached administrators there to establish a School Beautification Day.
"School districts are an integral part to any community and showing love to our kids and their teachers is something that builds strong support in any community," the church leader said.
At the first event six years ago, Atkins acknowledged, the district was skeptical.
"Then the skepticism turned to uncertainty, to questioning motives, to ultimately a full-blown partnership with the churches in the area and now once a year, six years and counting, School Beautification Day happens the second Saturday before school starts," he said.
For the project, more than 500 volunteers spread out across the city's 10 elementary schools and both high schools to accomplish at least 75 projects. Tasks have included weed eating and mulching of all planter boxes, sweeping walkways and removing built-up cobwebs, cleaning windows, removing gum from bleachers and repainting red curbs.
Larger projects have included the pouring of cement, installing chain link fences and shade structures, paving parking lots and asphalt walkways, making landscaping improvements and upgrading playgrounds. Even 20-ton boulders have been moved.
"The students, families of our kids, and the school employees and teachers start the year with schools looking awesome," Atkins said.
Since there is also a calling to take care of the elderly and the widows, a Handyman Team has been established to care for elderly residents living in senior mobile homes parks around the city. An ad in the Santee Mobilehome Owners Action Committee's newsletter reminds seniors to call Pathways if they have light work, plumbing, electrical, yard work, painting, or cleaning to be done. The team has also upgraded awkward entry steps, replacing them with completed handicap ramps so residents can more easily access their units.
"All this is handled by 18 men who have decided to put action behind their words and reach out to those who need the most help in our community," he said.
Finally, their Faith in Action Team serves single moms, armed forces wives whose husbands are deployed, widows, the handicapped and the sick, by providing meals, yard work, oil changes or brake repairs, transportation to medical appointments, or maybe just companionship and an afternoon of fellowship.
Other Pathways service projects are as simple as its Servant Evangelism ministry which hosts such events as the Absolutely Free Car Wash—No Kidding, where vehicles are washed, windows cleaned and interiors vacuumed, while the service crew refuses to accept a single dime from drivers. Its Diet or Regular Rush Hour Thirst Quencher project involves volunteers who line up at a busy intersection to give away cans of soda, diet or regular, to commuters. Those without home laundry access are blessed through the I Got That Laundromat Outreach, where volunteers feed quarters into washers and dryers at neighborhood laundry outlets.
"Our communities are in need of attention, neighbors in need of support. Government cannot solve all the problems, but churches, the government, the school districts working together can make all the difference in the world," Atkins said. "All these opportunities that have been established are done with one thought in mind: to show God's love for people, expecting nothing in return."
That's Faith in Action, being the hands and feet of Christ, serving those in need and answering the call of God when He said, "Carry each other's burdens, and in this way you fulfill the law of Christ." — Galatians 6:2.