Foundation of hope | Urban ministry teaches character, discipline, life skills to adolescents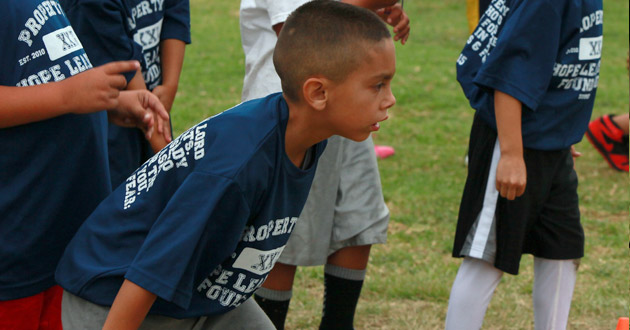 Charles* was well beyond wearing his anger on his sleeve. Expelled from school for fighting and with no place to work out his demons, the 11-year-old had his sights set on joining a gang, one of several entrenched in what was then known as the "Four Corners of Death," the bloodstained intersection of Imperial and Euclid.
His mother, a single parent determined to keep her son's blood from spilling on the streets of Encanto, had different designs. She enrolled him in a baseball camp despite his objections. The camp, an outreach of Hope Leadership Foundation, featured instruction by then-Padres-reliever Heath Bell. While the Major League power pitcher talked technique and skills, he also shared his own struggles with anger and how his Christian faith helped to temper it.
The spiritual pitch scored with Charles.
"This kid turned his life around," said Willie Briscoe, founder of the foundation.
Just one critical moment away from possibly becoming another inner-city statistic, Charles refocused his priorities, transforming himself into an A student who loves science. Now 15, Charles has replaced his pursuit of trouble with baseball, hoping to play the sport at a Northern California college. In the meantime, the high-schooler spends his summers volunteering for Hope Leadership, working with younger versions of himself.
"That kid came back and worked with our young kids this past summer in order to be an example to them because of what had happened to his life," Briscoe said. "Here's a kid who was headed down the wrong road and now he's a top baseball player in high school, a top student."
In the four years since Charles attended that pivotal baseball camp more children are enjoying similar opportunities, as Hope Leadership Foundation has expanded its ministry to include an after school academy offering mentoring, tutoring and other services.
"Now we are seeing those types of stories multiplied by 25 because we have 25 kids in the academy every single day and we are able to pour into them Scripture and influence every single day as opposed to a camp every other month or so," said Briscoe, an athlete who once worked as a sports double for Michael Jordan.
Charles's story is precisely why Briscoe founded Hope Leadership Foundation in the first place. In many ways, Charles's story is Briscoe's. Raised by a single mother, Briscoe was headed on his own dicey path when his sixth-grade teacher instilled much-needed guidance, bridging some of the fatherless gap.
"Growing up in that environment with little resources and without a father is kind of the basis of Hope Leadership Foundation," he said. "I always said if I did something I want to really impact that population. I think it's the heart of God to come in and really minister to the fatherless generations."
A new focus
Briscoe, who was running his own personal training business in North County, started out small, using sport camps as a way to reach inner-city adolescents. He began acquainting himself with San Diego's urban neighborhoods, meeting with community gatekeepers such as pastors already serving in the urban areas, where broken families are often a breeding ground for gangs, abuse, drugs and rampant crime.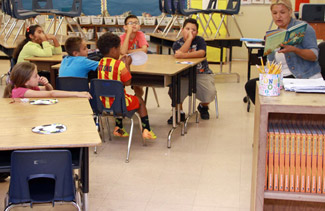 "I got in my car and drove around and found high-crime areas where kids were just hanging out," he said. "I walked from park to park, drove from park to park and handed out fliers at those parks and at those rec centers and to kids walking up and down the street that looked like they might be getting into trouble."
In one park alone, Briscoe found 150 kids lingering in the middle of the day.
That first camp, focused on basketball, drew 50 kids, resulting in 33 children pledging to follow Jesus.
"I thought, 'Wow, I'm on to something. God is at work here,'" he said.
Two weeks later a second camp, this one offering baseball, drew 175, with 100 commitments to follow Christ. Among them was Charles.
"These kids have been dealt a pretty raw deal, things I never had to deal with," Briscoe said. "So we see God doing miracles in our outreaches."
In addition to sports camps, the first phase of Briscoe's ministry included Vacation Bible Schools, backpack drives and Christmas outreaches with toy giveaways. One of the backpack giveaways drew 800 people to Colina Park.
"That was really, in the essence of the Bible, just to kind of give a cup of cold water to introduce ourselves to the neighborhood," the former Point Loma Nazarene basketball player said. "In some of the neighborhoods we try to reach, trust is a very hard thing to come by. We just show up, wash people's feet, give them a cup of cold water and after a season or so of that, they recognize there wasn't a catch to what we were doing. We are just lovin' on them in the name of Jesus."
Early on in establishing the foundation, Briscoe shut down his training business to focus on the ministry full time.
"The Lord told me I had one foot available and one foot out," he said. "I left my business, I left everything with $2,000 in my pocket and started pursuing Hope Leadership Foundation full-time. I poured every ounce of energy I had into Hope Leadership Foundation."
Sports as life
The emphasis on sports, Briscoe said, provides ministry volunteers ample opportunity for teaching moments that instill the characteristics of teamwork, responsibility, selflessness and perseverance.
"There are a lot of things that go on that are easily transferable to the biblical truth, the proverbial truth that we use when we are doing our outreaches," the mentor of children said. "We use those things. Sports are a great vehicle. We use sports as a large net to cast in order to ultimately share the gospel."
That net casting includes the use of professional athletes who easily capture the respect of young, impressionable children. In addition to MLB pitcher Bell, Briscoe has tapped the expertise of numerous professional athletes, including Chantelle Anderson, a retired WNBA player; NFLers Vincent Brown, Ryan Lindey, Marlon McCree and Karl Wilson; and Olympic boxer Chris Byrd.
Briscoe said the celebrity athletes are able to counter the unrealistic glamour of professional sports by sharing their own real-life struggles and the role their own faith has played in creating a stable foundation, especially when dreams may be thwarted.
"(It's) being able to communicate to these kids that may think their answer for getting out of the hood is a Major League Baseball contract or a football contract or whatever," he said.
"When they see those having accomplished it, and recognizing that they are communicating to them that they play for Jesus Christ, that they get up and do what they do all for the glory of Jesus Christ, then I think that really helps set the tone for the future."
Character building
While sports may be the initial appeal, the outreaches go well beyond the confines of the court as volunteers use the opportunity for personal reflection as they work to instill integrity and other valuable traits.
"'OK, you are not on the field any more: What does character mean now? What does discipline mean now? What does making the right choices mean now?' We try to arm them for on- and off-the-field life," he said.
The second phase of Hope Leadership Foundation was implemented with its newly launched King Chavez Academy in Barrio Logan. The after-school program runs from 3 to 6 p.m. weekdays, except Wednesday, when it takes advantage of early release time by offering services from 12:30 to 6 p.m.
"It was always the bullseye when I first started," Briscoe said. "It's all coming from a biblical standpoint. We are seven months into it and God is truly just been blessing that ministry where there is now a waiting list inside of a secular school for a Christ-centered after-school program, which is a miracle in and of itself."
The free academy offers homework assistance, tutoring, snacks, and enrichment programs such as Awana, Good News Clubs and God's Girls mentoring.
"Their job is to work hard and to not squander their opportunities, because another kid is sitting right behind them desiring the seat that they are sitting in," he said.
An eye toward fathers
Even as Briscoe is hoping to expand the academy program, he already has his eyes on the foundation's third phase, a reconciliation component to draw fathers back into their children's lives.
"We are excited about that potential," said Briscoe, who reconciled with his own father about a decade ago and continues to nurture that relationship.
"If there is no way for a kid to connect to their father, then we want to try to do some things around those times for healing. If there is a way to connect to those dads out and start to minister to their lives, even if they are not getting along with the mother they could still be a great dad. We want to start infiltrating those dad's lives with the gospel and with other godly fathers and men who can come around and be a mentor."
Not surprisingly, Briscoe sees sports, especially tournaments, as an effective avenue to bring about reconciliation.
"What we've found is a lot of dads that have very little to do with their kids' lives will show up to watch their kids perform in sports," he said. "So, if they are showing up and loosely involved …we figured we would take advantage of all the leverage we have and if they are going to show up on any level, then we want to start taking advantage of that and build on that."
Briscoe admits the effort is complex and that prayer must be the cornerstone.
"We want to help give them resources to stay engaged, to be fully engaged in their children's lives," he said. "That will be the tricky one, that will be the hard one, and I assume that our success rate will be minimal compared to what we've been able to do with the kids, but one restored family is worth it.
"The most important thing is the emotional, spiritual and physical safety of the kids. I really have a vision of starting to heal some of the wounds of the kids and, in a lot of cases, the fathers as well."
Learn more at www.hopeleadershipfoundation.org.
* Not his real name.