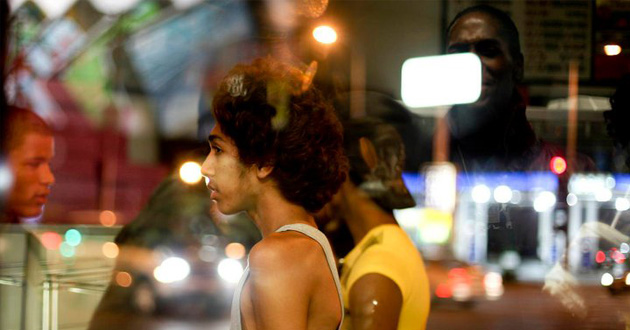 In the shadow of show-biz glitz the homeless dwell while Christian ministries set out to help them.
Movie fans in more than 200 countries this year watched the Oscar ceremonies at Hollywood's Dolby Theatre, steps away from the historic Grauman's Chinese Theatre. That, to the world, is "Hollywood." But the real Hollywood is a densely populated, 3.5-square-mile municipality that draws many homeless people because of numerous free shelters, transitional housing offers, ministries, and food programs in and around the neighborhood.
We followed leaders of two Christian ministries—Antquan Washington of Broken Hearts and Amie Quigley of the Lord's Lighthouse—who have learned over many years that the harvest is plentiful in Hollywood and the volunteers are many, but the work is teeth-grittingly long, slow, and hard, with lasting impact hard to quantify. How to measure the progress of an individual's life? How to tally the small, invisible, but significant battles won in spiritual warfare?
The dingy strip mall at Santa Monica Boulevard and Highland Avenue is a favorite loitering spot for homeless persons, prostitutes, drug-peddlers, and transvestites. "Hollywood" for them is the stench of unwashed bodies and unidentifiable fluids clinging to the grimy walls of a laundromat, a local donut chain, and a 7-Eleven.
A homeless man sifts through garbage on Hollywood's star-lined "Walk of Fame."
But over the past 10 years, this area has also been holy sanctuary, where people from many walks of life gather to read Scripture, pray for one another, and fellowship over pepperoni pizza or donated food. Since its beginning in the fall of 2004, Broken Hearts Ministry has been congregating at that same place every Thursday and every other Friday night to reach the unreached on their own turf.
A typical night draws a cranky, slightly unstable man in military-style camouflage shorts with "White Pride" tattoos stamped on his calves; a frizzy-bearded man with heavy eyeliner, cobalt-blue-painted fingernails, gossamer leopard-print underpants, and cowboy boots; and many others in nonstandard church attire. A petite Latina with inky lipstick and zebra-print tights tucked her already midriff-baring top higher up under her bra, possibly getting ready for a night of service. She wasn't one of the attendees—but she hung around long enough to listen to a prayer.
Co-founder and executive director Antquan Washington leads the Bible study from 10 p.m. till past midnight—prime hours for Hollywood's night prowlers. Washington, a 31-year-old, newly engaged East Palo Alto native, speaks of sin's deceits and Satan's accusations, but always points to Jesus Christ's victory on the cross and the power of prayer. He described Broken Hearts as "a church unleashed into the streets"—and within that messy, grappling process, "lives are getting changed and folks are getting saved." On special nights, he blows up an inflatable pool, fills it with warm water, and baptizes willing souls right there by the donut shop.
Every Thursday night Helen Chavez and her partner Raul Arrieta return to the streets of Hollywood where they once prowled for sex and drugs. They leave the single-unit house in Inglewood that they share with 15 others, walk about a half mile to the bus stop, and take two buses to attend Broken Hearts' weekly Bible study. They've been taking the 90-minute trip for three years to have fellowship and "get closer to God."
Here, Chavez is known as "Big Mama," provider of warm hugs and stern finger-wagging. "Stop cursing, baby," she admonishes one woman, and says to another, "Tell me the truth: You using?" But not long ago Chavez's wild lifestyle earned her another nickname: "Fifty-One-Fifty," after the police code for confining those suspected of psychiatric disorder. She moved out of her home at 17 and bore her first of four illegitimate sons by 18. At 22, she left her house at sundown to prostitute herself at her usual corners in Hollywood—Melrose, Normandie, Kenmore—but stopped when she thought more about the guns sticking out of the glove compartments in the johns' cars.
Then one night in 2004 Washington—at that time a 21-year-old college kid with dreadlocks—invited her to "church." She declined, but he gave her a phone number that she called the night someone raped and impregnated her. She bawled: "I can't take this anymore. I need to get out of here." Washington drove over immediately, picked her up, and helped sign her into a Christian safe house in Hollywood.
Chavez has been coming to the Broken Hearts "church" ever since, and attending three other church services a week. She later met Arrieta at an alcohol and drug counseling class and talked with him about Christ. She recently celebrated her 40th birthday with the Broken Hearts team over chili con queso and cake. Today, she introduces herself as "a housewife, a mother, a woman of God," and says "I would be dead" had Washington not helped her.
Broken Hearts Ministry started from a small team of Biola University students doing street evangelism to female prostitutes, until they realized that the long-limbed dolls they met on the streets weren't women at all. The ministry now partners with local churches and organizations: It emphasizes conversion through "relational evangelism" and then intensive battling against habitual sins, so help doesn't "end with a conversion." Washington knows individuals by name and greets them with a full-sized hug, warning newcomers with a cheerful "Watch out, I'm a hugger!" Even locals who don't join the service recognize and wave at him as they pass by.
Washington and his regulars display a comfortable mix of easy bantering, admiring respect, and honest dialogue. He liberally gives out his number with a promise to be there when needed—and he follows through on his word without trying to hide his personal struggles. The slow result is trust: It's a grueling process of repeating the gospel and praying for the painful healing of emotional and mental scars. Many nights, Washington drives home pounding the roof of his car, screaming in frustration and grief—but then he remembers that "it's the Lord who moves our ministry."
Washington has seen conversion and discipleship with Jonas Washington (no relation), who in 2002 was a homeless 20-year-old shooting up drugs with his gay community on Santa Monica and Highland, until he paused to hear Washington's sermon—and he kept coming, and crashing at Washington's house on cold and rainy nights. Jukka Pawley, a classical violinist, remembers Washington accompanying him to a rehab center as he struggled with drug addiction through 2008. Two years ago ex-teacher Sylvia Sosio had an emergency surgery, lost part of her sight, and lacked both family and home, so Washington allowed her to spend 10 days to recover at his apartment.
All these individuals said they met Washington during a "dark place" in their lives. All today are housed, financially independent, and still in contact with him. Not everybody Washington encounters turns around, but Washington says God with His sheep "tells us to be obedient and available, and then He does the rest."
Amie Quigley directs The Lord's Lighthouse, a 20-year-old homeless ministry of First Presbyterian Church of Hollywood (FPCH). The former actress (Burn, Leo, Oz) began as a floor-sweeping, nametag-passing-out volunteer, then visited the needy in hospitals, held their hands as they drew their last breath, attended their funerals, and comforted their loved ones. Today she's the person mentioned first when homeless individuals say what they like most about the Lord's Lighthouse.
The Sunday before Thanksgiving, more than 50 individuals attended a Bible study and heard one man, Caesar Peters, with dreadlocks tucked under a blue bandana, preach about finding joy and thanksgiving amid trials. Then 150 more joined them for turkey, cornbread stuffing, and pumpkin pie.
Quigley has seen men and women who attend the lunches form friendships around the table, finally accept help, and eventually find housing through partner services. She has helped many learn about Christ, and then sat next to some of them during Sunday services. She has witnessed many first communions and baptisms.
So in 2011, FPCH partnered with about five neighboring churches to provide an eight-week winter shelter. But unlike other winter shelters in the city, which frequently squeeze more than 100 beds into one facility and fill the beds on a first-come, first-served basis, the winter shelter at FPCH limits the list to 25 guests by invitation. Each guest receives full care and attention in the form of warm beds, home-cooked meals, one-on-one case managers, and consistent fellowship in a homey setting. By the end of the eight weeks, about 75 percent of the guests voluntarily accept services and move to permanent housing or a transitional shelter.
On a cool January evening, about 18 individuals lounged at the Lord's Lighthouse building. Some napped curled up on fold-out cots, a few played with their cell phones, and several sat at the dining table, drawing with crayons on the disposable table cloth. The volunteers, usually community groups from local churches, switch out every morning and night, but Quigley is the constant who knows everyone by name and greets them with a friendly "Hey, how are ya? Got some good sleep?"
As the night became darker and both volunteers and guests filled their bellies with meatloaf and Danish salad, the initial shy awkwardness dissolved into an easy camaraderie. One of the guests, boisterous Michael, said grace before dinner and regaled three little boys with his card tricks.
Another guest, brooding Wayne, who tattooed his nose and forehead because he "got sick of" his face, kept mostly to himself. He cracked a smile when people complimented the rainbow-colored spiral he drew. He likes this winter shelter, he said, because it's not as crowded as the other ones, and it's easier for him to make friends. Another guest, Nicki, a transsexual, bristled when a volunteer asked him too many questions, saying, "That makes me uncomfortable. I need some time." But by the end of the night, Nicki was the one instigating the conversation, asking questions about hobbies and favorite cities.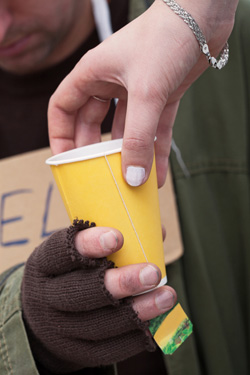 Alex, a 45-year-old, soft-spoken guest with milk-chocolate eyes, said he'd been attending the Sunday lunches at FPCH when Quigley invited him to the winter shelter. He's visited other winter shelters before, sometimes waiting three hours to procure a bed, and described the brawls and fistfights that break out when the shelters run out of blankets and food. "It's hard to connect with people in that kind of setting," he said: "This place feels more like a refuge, where I can ask questions about God. The spiritual counseling really helps." He pointed to Quigley: "If God's your chosen path, then Amie's a great leader."
Discouragement is a wily creature that creeps up on every ministry, especially one that deals with homelessness. Sometimes, encouragement comes in the form of visible testimonies of transformation, but progress often seems invisible and elusive—and spiritual warfare rages not just in the ministry field, but within the ministers themselves.
Quigley has spent many tearful days watching people with whom she's built deep relationships waste away. "I can't be in the flesh for one second," Quigley said: "It has to be in the Holy Spirit. Jesus has be in charge. … There needs to be prayer going on during the program time."
Antquan Washington still remembers his prayer to God before he started his ministry: "May my heart break the way God's heart breaks for His people." His heart has broken many, many times—but he believes God has "definitely shifted the spiritual landscape." The Santa Monica Boulevard and Highland Avenue strip mall still looks sketchy, especially after dark, but even neighbors who don't understand the reality of spiritual warfare say the atmosphere has changed. A Christian couple took over the laundromat and opened it up for free monthly laundry service. An adult bookstore nearby shut down.
"We don't have no fairy dust, no magic beans," Washington concluded: "We just have Jesus, the Holy Spirit, and a Father who loves us like crazy. And that's enough."
— by Sophia Lee & Angela Lu