Just a biscuit and a blanket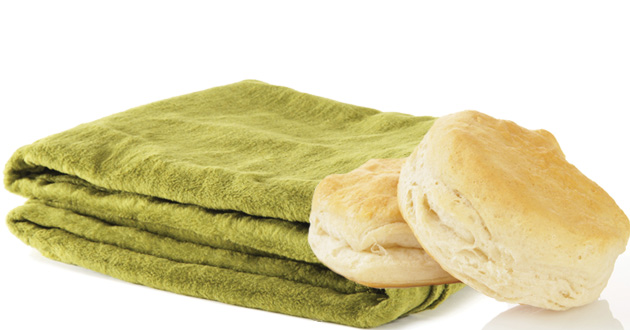 Brittney Hanvey says she doesn't quite know what made her pull over to the side of the road back in January to offer a homeless man a biscuit. But that seemingly small act set off a chain of events that helped transform a life.
Hanvey, a pharmaceutical sales representative, spends many days driving to and from various doctors' offices. Every two weeks she visits the same doctor at Princeton Baptist Medical Center in Birmingham, Ala. During many of her trips to that office, Hanvey spotted the same homeless man on the street visit after visit.
"There was always this same man out there, wearing a raggedy T-shirt and pants," Hanvey recalled. "I was always told not to stop for people by the side of the road, because you couldn't tell if they just wanted drugs."
But, Hanvey said, one frigid January morning she felt compelled to stop and help the man.
"I was taking a doctor some breakfast, so I had some biscuits in my car, and I had a blanket for some reason too," she said. "So I stopped and offered him a biscuit and the blanket, and he took both and asked me if I minded sitting and talking for a minute."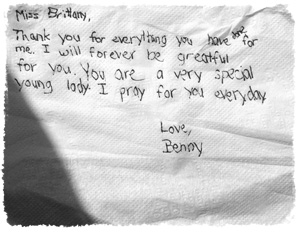 Hanvey sat down and said the man asked her why she'd stopped. She told him it was because he'd looked so cold, and then he began to cry and asked if he could pray for her before she left.
"Instead of praying for himself, he prayed for me: for my family, my future husband," Hanvey said. "I was so touched. He introduced himself as Benny before I left."
Hanvey said after that January day, she continued to drive past Benny from time to time but was always running late and didn't have time to stop again. Then one day, she noticed he was missing from his usual spot.
In late February, she visited Princeton Medical Center on her regular rounds and saw an older man in the doctor's office who looked familiar.
"The man caught me staring at him and said, 'Oh, Miss Brittney, I'm so glad to see you.'" Hanvey said. "It was Benny. I didn't recognize him because he was all cleaned up and everything."
Brittney learned the doctor saw her stop and talk with Benny that cold January day. Her kind gesture moved him to reach out to Benny. He offered Benny a job as his office housekeeper. He's since said Benny has been the best housekeeper the office has ever had.
Praying for patients
"And the doctor told me, 'Before you leave, just notice what he does when patients come in,'" Hanvey recalled.
She watched Benny and noticed that before the doctor came in to visit patients, Benny would walk up to the examining room, put his hand on the door and pray for the person in the room.
When Hanvey returned to the office in mid-March, the nurses were raving about Benny. They'd grown to love him and were helping him re-learn to write because they discovered he hadn't made it past the sixth grade. Before Hanvey left during that visit, Benny gave her a note he'd written for her, which read:
"Thank you for everything you have done for me. I will forever be grateful for you. You are a very special young lady. I pray for you every day."
When Hanvey came by the office for her next visit, she found a yellow rose waiting for her from Benny. The office nurses explained that they'd been talking about what different colors of roses meant and said Benny had insisted on getting a yellow rose for Hanvey.
Stopping to talk
"I kept telling him, 'Benny, I didn't do anything. I just talked to you that one day,'" she said.
"He said, 'No, no — you and God and the doctor have opened so many doors for me.'"
The day after Hanvey received the rose, Benny suffered a heart attack while in the office. He survived, but the incident left him weak, and he had to reduce the number of hours working at the doctor's office. He now lives in a guesthouse at the doctor's home and works a couple of days a week.
Hanvey said she never imagined that her stopping to offer a man a biscuit on a winter day would lead to this, but one thing is for sure: Benny's life is forever changed thanks to Hanvey, and it may be safe to say her life has forever changed thanks to him.
— by Anna Keller | BP
Keller writes for The Alabama Baptist, where this article first appeared.