A legacy of love | Faith, partnership undergird 7-decade marriage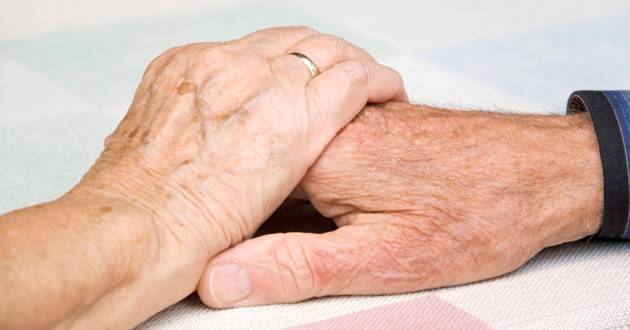 Mitch Sullivan stood outside the shop window, gawking at a large heart-shaped box teeming with chocolates. It had been about six weeks since his girlfriend Ruth ended their 14-month relationship and he was still guarding his own heart, planted squarely on his sleeve. Miles from home, Sullivan, then a welder, was working on the frigid outdoor docks along the Ohio River, about 30 miles from Pittsburgh.
He had loved Ruth even in high school and the thought of living without her was more painful than the bone-chattering bitter cold of his shift work.
"That was the coldest winter I ever spent in my life, welding out there at night along that river," he said, though clearly he was most impacted by his frostbitten heart.
Huddled against the cold, Sullivan continued to stare at the Valentine's box. World War II was still two-plus years from ending and the economy was still lethargic from the aftermath of the Great Depression and the lingering war effort. Ever frugal, Sullivan decided to splurge. He marched inside, laying down two-days' pay for the giant heart. He shipped it home to his former girl with the simple note, "If it's the last thing I ever give you, I hope you remember me by it."
Sullivan continued his hard labor until April when, anticipating the arrival of his draft letter, he quit his job to finish a log cabin he spent the better part of two summers building for the family he envisioned starting with Ruth. Cold winters limited construction time to the warm months, which meant Sullivan had to squeeze in home-building duties during non-work hours. The hours away from Ruth had taken its toll on their relationship, prompting her to end things as a former suitor intensified his overtures to her.
In May, on the eve of leaving for boot camp, Sullivan made a last-ditch effort to win back his girl, pleading his case once more. They could marry at war's end, he promised her. Instead, the couple wed just two months later, after the boot camp grad returned home for leave.
"We were married on the preacher's porch," he said, saying he gave her a Bulova watch with tiny rubies since the church, in those days, frowned on jewelry. There was no reception and only a few small gifts.
"We got married in such a hurry, years later I said, 'Why don't we get a ring?' She said, 'I wondered how long it was going to take you.'''
Today, the watch sits on a bookcase, a testimony to their 71-year union.
"It's long ago given up the ghost," he said of the watch.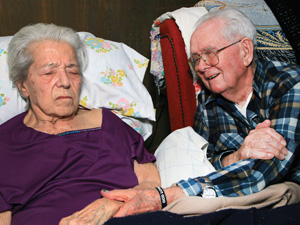 A life well lived
Time has also had its way with the couple. Ruth, 91, spends most of her time in the quiet shadows of Alzheimer's disease, memories and words aloof as she reclines in a chair next to her husband. Mitch, 90, whose own memory recalls dates and times with pinpoint precision, uses a walker to compensate for arthritic hips that try to keep him down, but can't.
"When I was with Ruth, there was a certain feeling that I had that I can't express," he said. "I've had it all my life. I would never have touched Ruth in an inappropriate way, because I knew if I did, I was history."
He becomes animated as he recalls their life together, with many of its highlights chronicled in "The Life of Mitch and Ruth: By the Grace of God," a 64-page manuscript he plunked out on the computer with his index fingers. His conversation is never far away from his sweetheart, as he intently tries to pull her back in.
"Remember Ruth, remember?"
Their romance began in 1941 when he was invited to attend her 18th birthday party. Born 364 days apart, Ruth was the older of the two and had been dating another classmate, someone they both knew from church.
"His father happened to be one of the more prominent members of the local church," Sullivan said. "I don't think he ever bought her an ice cream cone, to tell you the truth!"
"I admired her for a long time but she didn't even pay any attention to me. I guess I was a little bit too young at the time, but I just got my driver's license."
He chalked up his changing fortune to divine timing, and some inside favoritism from his future mother-in-law, who wasn't so keen about her daughter's beau. So mom invited Sullivan to the party instead, the only boy to celebrate Ruth's 18th birthday party. The party was held on Oct. 20, Sullivan's actual birthday, since Ruth's fell on a church night.
"We were both the same age for one day. That happened every year. So she was still 17 and I had just made 17. 'Thank you God, You waited until I got out of 16.' It was the dumbest time of my life," he said, a deep belly laugh rumbling to the surface. "It's a wonder I ever survived it."
Divine providence
It was at the party where Sullivan learned that Ruth and her boyfriend had parted ways.
"I knew that night, right then, that's the girl I want for the rest of my life, and I never looked back," he said, turning to Ruth and tapping her arm.
Not long after they married, Ruth joined Sullivan in the Great Lakes area where he attended pipe-fitting school through the Navy. He worked long hours, getting every other weekend off.
"We really didn't have much time together," he said. "She was working in a restaurant and help was scarce. There was lots of business, lots of sailors coming and going and she caught a cold."
After passing out at home, doctors discovered she had spinal meningitis.
"I was scared to death on that," Sullivan said. "I was with her pretty much the rest of the next two weeks."
Her recovery came, but it was long and slow and, once again, a grateful husband credits God for sparing the love of his life. One of her friends literally crawled through a crowded prayer service to stand in proxy for Ruth.
"She said she had to wiggle between people and got there flat on her knees and said, 'Pastor, just anoint me with oil for Ruth.' The prayers of the church and the (medicine) worked miracles," Sullivan said.
Their only child, Ed, arrived after nine years of marriage, spent mostly waiting for Ruth to regain her strength. But the breach delivery almost killed her.
"She's had her share of pain — haven't you honey?" trying to draw his wife back into the discussion.
Early on in their marriage, after spending nearly three years in the Navy, Sullivan worked for his father and built a bigger house for Ruth. This one was brick, with a sandstone-inset arch around the front door. Life was good.
But they moved to California after Sullivan's father shut down the family trucking and timber business, breaking his son's heart and wounding their relationship.
"I rode the truck with my Dad," Sullivan said. "He was always the greatest. When that happened, it was a turning point I had to accept, that's all."
Starting over
Originally heading to the Los Angeles area in hopes of getting an aerospace job, the Sullivans detoured to San Diego after a chance encounter with an Albuquerque pastor. The couple made an unscheduled overnight stop in New Mexico after they narrowly escaped a head-on crash on a rain-slicked highway. The next morning they attended a church service before heading out. As they visited with the pastor, he assured them there would be more opportunities for the family in San Diego.
The Sullivans headed to San Diego with no contacts, job prospects or a place to park their trailer. Upon arrival Sullivan opened his billfold and pulled out a piece of paper one their Pennsylvania friends gave him on the off chance they found themselves in San Diego. It was the name and number of the man's son. By the next day they had a place to stay and he reported for his new job in Chula Vista. Each promotion and new job brought more adventure and excitement as his work took them to Australia and Hawaii, each time returning to their beloved San Diego.
Sullivan's book chronicles case after case of provision he attributes to the Lord: job upgrades coming out the blue, advanced training and a college degree that took 13 years to get while working full time; homes purchased and sold in perfect timing, illnesses overcome. They often served together leading the junior high students at church, or individually, he offering his engineering skills, she cooked for congregational events and crocheted blankets and robes for those in need.
The engineer attributes it all to their seven-decade practice of tithing.
"God said 'Bring the tithe in and I will bless. I didn't say I'll make your rich,'" Sullivan said emphatically, while once again patting his wife. "He said, 'I will bless.' For me, He's still blessing. She's still right here beside me."
A sudden loss
Their provision has not come without heartache, however. Four years ago, Ed, their only son, died at 58 from a prescription drug interaction. The reaction of two medications paralyzed Ed's throat, and he choked on an Oreo cookie.
"I realized that something wasn't right, but I never dreamed of it being that critical," said Sullivan, who found his son on the floor of his El Cajon condo after not being able to reach him for 24 hours.
"The last time I saw my son was when I looked down and found him dead on the floor," he said. "I called Ruth up there (from the car) and the sirens were blowing."
Though Ed had strayed from his faith as a young man, he found himself again and graduated from what was then Christian Heritage College.
"He was a fine man," his proud dad said. "You just have to say God knows best."
Slipping away
It was about that same time when Sullivan and others in their circle began to notice that Ruth was losing her memory and, though he misses the companionship that bonded them for so many decades—through 13 American presidencies—he said there is some comfort in knowing she can forget.
"It's a blessing in some ways that those memories are erased," he said of Ed's sudden death.
Last summer the couple, who are able to live at home with 24-hour home-health care, got a bitter taste of life without each other when Sullivan was scheduled for hip surgery. Doctors placed Ruth in the same assisted-living center, but not together since she needed more care. They stayed in the center for an extended period until doctors determined he had recovered enough from the surgery. By the time Sullivan was able to lay eyes on his bride each day, it was late morning after he had finished his leg exercises, and Ruth was beside herself. Once he successfully completed his physical therapy there, they were both cleared to return to their Mount Helix area home.
"I said, 'Lord, let us be together and live in our own house,'" he said. "We spent two weeks down there in a nursing facility and, God forbid, I never want to go back. I hope I'll be able to stay out of it. I couldn't handle it. They put me on one end and her on the other."
His comment prompted a rare, decipherable comment from Ruth, the only one of the afternoon.
"Me, too," she said.
— by Lori Arnold