Local teen shows Soles4Souls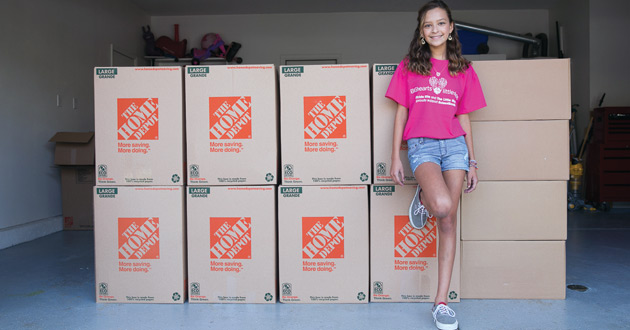 In many ways Tiffany Barbera is like any average Southern Californian middle-schooler. She likes skateboarding and dreams of playing volleyball at Stanford University. She hopes to parlay her love of animals into a career as a zoologist. But as most of her peers spent their summers at the beach or engaging in other recreational activities, the Rancho Bernardo 11-year-old was focused on saving soles—all 2,000 pairs.
"One summer we decided to do something different, something good for the community," said Tiffany, a student at Oak Valley Middle School.
So her family researched a variety of non-profit charities they could support.
"Soles4Souls seemed so simple, but so necessary," Tiffany said. "Made me sad that kids don't have shoes and can't even walk to school."
Founded in 2006, the global anti-poverty group provides shoes and clothing to impoverished communities worldwide.
"I just think about the people that really need these shoes and then I think about how spoiled we are in this community and I really wanted to give back."
So last year, she collected 1,000 pairs of shoes, which her father, Michael, drove up to a collection center in Los Angeles. This year she doubled her goal.
"I wanted to be able to help more people," she said.
Fully expecting to work twice as hard this summer in order to reach her goal, Tiffany was surprised to find help from corporate America.
"The best story that came out of this project is Stride Rite coming to my house and donating $1,000 to me so I can go to donate that money to a special charity," she said. "They arranged for me to get all 2,000 pairs to Soles4Souls. Stride Rite helped me reach even more people. Now more people want to be involved."
FedEx also got on board, shipping all of the shoes to Los Angeles.
Local publicity also fueled donations.
"Since there's so many people supporting me I never understood the magnitude of what I was doing 'til I saw myself in a magazine," she said. "That's when I noticed that I was doing something special and people liked it.
"By putting just a little bit more effort than usual you can get so, so much more in return. I couldn't believe how many shoes I got. Involve as many people as you know. Everyone wants to help, they just don't know how."
Tiffany said she believes it's important that young people understand how difficult many children have it in developing countries.
"(I learned) how many people in the world that don't have shoes, don't have homes," she said.
Even so, the preteen said she believes that individuals do have the ability to make lasting changes.
"It's a great thing doing things for other people and it makes me feel special inside once you do it," Tiffany said. "Even if you're tired (and) want to play with your friends instead of doing your work. But at the end it's all worth it. You can start a spark and make a difference."
Learn more at soles4souls.org.