More than window dressing | Faith helps artist brush away grief after wife's miscarriages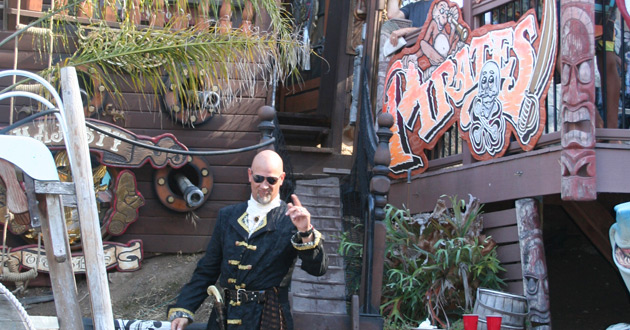 It's hard to conceive of losing a child, but Dan Clarkson and his wife, Amber, lost four babies in five years through miscarriage. Zarchary, at eight months gestation, nearly made it to full-term.
"After we lost our son, I went out in the backyard and I started building and I built a ship," Clarkson said. "I had actually started on a pirate ship before we lost Zachary, so I was already building for that boy. When we lost him I started working really hard and got it finished really quick.
"My neighbors used to peek over the wall at one o'clock in the morning and say 'Dan, are you going to go to sleep?' because I would be out there working. I wouldn't be hammering, but I would be drilling or doing something and they could hear me. Obviously it was devastating to lose that child so, for me, my therapy was to go out and build and work."
While the building project brought some solace, it was faith that provided the moments and pockets that eventually led to the couple's healing.
"I think for Amber and I there were times when we had to press through even when we weren't feeling it, just to remain faithful," he said.
The biblical story of how Jesus raised Lazarus from the dead was particularly comforting for Clarkson, who said he related to the grief of Lazarus' sisters, who chided Christ for not coming to their rescue sooner.
"It showed me the importance of grieving," the El Cajon resident said. "Prior to losing the other babies my wife and I had really not grieved together. We walked on that journey by ourselves. We didn't really enter into each other's grief enough.
"When Jesus approached Mary and Martha he knew that He was going to resurrect Lazarus, bring him back to life, but He didn't pull out the God card and say. 'I'm going to fix all this, just trust me.' The Bible says He entered in their grief and He wept with them. That showed me the importance of giving the proper place to grief. When we don't and we just bury our sadness it's going to come up in other ways."
So the Clarksons clung to each other as he constructed his own ark, of sorts—a cathartic tribute to a father's love and grief. It was the pirate ship that brought another teachable moment, this time coming from a pastor friend who officiated at Zachary's memorial service.
"He said, 'You know Dan, you were working so hard to build this ship for your son, and your son is in heaven and he can't wait for you to come up here and see what your Father has been building for you.'
"By pressing through, God made real beauty out of ashes. Because, for us, we thought we would never be parents."
Unexpected gifts
After enduring five years of grief in the loss of their babies, God ushered in the next five years of joy, bringing the Clarkson four children through infant adoption. Caleb, now 15, arrived first, with fraternal twins Cherish and Aubrey arriving two years later. Jordan, Caleb's biological sister, came a year later.
"I cut the umbilical cords for all of them," their proud papa said.
"It was like drought came before the harvest and during the drought we couldn't see the harvest, but we still kept pressing through. We kept believing.
"He (the Lord) was grieving with us, but the whole time He was with us on the other side going, 'Just wait and see what I have in store for you. You guys have no idea. I'm going to blow your mind.' And He did. They are amazing kids. I can't even tell you. They are actively serving the Lord."
The adoptions not only saved the Clarksons from the heartache of being childless, but they also brought new life to the twins' biological mother after Clarkson asked her what was keeping her from giving her life over to Jesus.
"She said there's too much junk in the trunk. I said, 'Well, tomorrow, speaking of trunks, we're going to drive up here with a vehicle with two car seats in it. We're going to put two baby girls who we don't deserve, that we didn't carry, in the back seat and we're going to drive away. The same trust that we have to have in receiving this gift from you is the same that you have to give to the Lord. Trust Him. You don't deserve it. You haven't earned it but it's a free gift.' That concept made sense to her," he said.
Clarkson said also likes to use the imagery cast by Lou Giglio, pastor and founder of the Passion Movement.
"He talks about (how) the Star-breather and the Star-maker has a desire to know us in a very small and intimate way," Clarkson said. "So as vast as God is, He's also tangible. He makes himself simple enough and easy enough that we can easily take hold of Him. It's not beyond our reach."
Yoked passions
The Clarksons, who have been married for 25 years, met while traveling and performing with the Continental Singers. During his five years with the group, Clarkson visited 36 countries. Today, they still perform together locally as a gospel duo.
"We met singing all over the world," he said, adding that their talents meshed as both enjoyed singing, acting and painting.
His love for singing emerged as a child.
"I used to stand up at the restaurants on the chairs and start singing and I would ask everybody, 'Do you like that song?' It was early on in my growing up that I wanted to commit my music to the Lord and not be singing just for myself."
By the time they met, Clarkson, then living in Fresno, had already logged quite a few years as a sign and window painter, specializing in holiday windows. Early on, Amber helped with the windows until becoming a full-time mommy. Now that their children are older, the whole family helps Clarkson with his "glass canvas" work. His work takes him across Southern California, where he pushes to complete hundreds of window designs during the holiday season alone.
"Ever since I was a kid I remember I was drawing and doodling," he said.
Clarkson also hand carves wood signs for area businesses, recently completing an impressive 15-foot piece for Christian Community Theater's summer production of Les Misérables, for which he also did set design work. His commitment to CCT is not limited to behind the scenes, as the entire family also acts with the troupe, including its popular "Traditions of Christmas" show.
The couple also heads Heritage Christian School's drama department, where Amber teaches high school art.
"Since all of our kids are at Heritage, it was kind of an easy fit for us to do," he said.
A new canvas
Years after building the pirate ship in his Santee backyard, the family relocated to El Cajon eight years ago where Clarkson started all over again.
"We have a brand-new canvas," he said. "We're still working on stuff. It's a work in progress."
The result is a mind-boggling playground for children (and children in adult bodies). A cross between Disneyland, Knott's Berry Farm and New Orleans, the space is replete with a swimming pool, dozens of vignettes, including a fireman's pole and tiki areas with palapas. It's favorite gathering spot for friends and family, and the Clarksons recently hosted a post-production cast party for Les Misérables that included skits and singing.
"My goal would be to please the Lord with what I do, with what I create, and to bring joy to other people when they see something," he said. "I think of our backyard and when we have parties and we have people over; it's exciting to see how the little kids just run around in this big playland. That's fun for me."
The backyard oasis has created a perfect avenue for Clarkson to put to good use his unusual collegiate pairing: a major in mechanical engineering and a minor in music.
"It's two sides of my brain constantly at battle," he said.
Though both sides battle, Clarkson is clearly in tune with his creative side and its power to transform.
"I think artwork and music is an extension of the beauty that God's given to our lives," he said. "I see artwork as a form of praise because when you draw and create you are thanking the Lord because you are describing His creation in art in one form or another. All we are doing is drawing a picture of what God has created. He's the one who has ultimately created the masterpiece. We are just replicating it.
"You know, if the Bible says we are created in God's image, then, if you look at the creativity of every person and how everybody has different creative elements, it must please God because He sees himself in us. Just like when we see our children do something that is really precious and it makes us proud."
— by Lori Arnold