Music news | Audio Adrenaline has a chart topper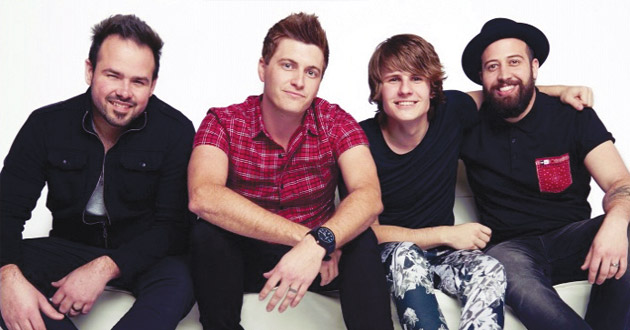 Audio Adrenaline's Sound of the Saints, the band's second album since re-forming in 2012, debuted at No. 1 on Billboard's Top Christian Albums chart after its May 5 release. The Fair Trade Services project also entered the Billboard 200 at No. 69 for the week of May 23.
Adding to the traction was the decision by "MLB Now" to use the album's lead track "Move" for the show's opening theme. The show airs on the MLB Network. Another highlight of Sound of the Saints is the title cut, described as "a foot-stomping, Americana-tinged anthem" co-written by founding member Mark Stuart and frontman Adam Agee, along with Seth Mosley and award-winning singer/songwriter Jared Anderson. www.audioa.com.
'God's Not Dead' roars to Platinum status
Four years after its initial release, The Newsboys' God's Not Dead album, featuring the iconic anthem, "God's Not Dead (Like A Lion)," has been certified Platinum by the Recording Industry Association of America, thanks in part to the success of last year's Pure Flix film by the same name.
The platinum designation is earned for single sales in excess of one million units. The award marks a career milestone for the Grammy-nominated group and is one of the first Platinum single certifications in Christian music this year.
Written by Daniel Bashta, "God's Not Dead" was a multi-week No. 1 hit and helped inspire the blockbuster Pure Flix film of the same name. Both the God's Not Dead album and single earned RIAA Gold certifications last year.
"'God's Not Dead' is among Christian music's most significant songs of the decade," said Mark Lusk, president of Inpop Records, which recorded the album. "Newsboys' impassioned performance of Daniel's powerfully penned statement of Truth is not only a defining song in Inpop's history, but it continues to encourage people around the world to stand for Christ."
The Newsboys have sold more than 8 million units, amassing eight Gold certifications, 33 No. 1 radio hits, four Grammy nominations and multiple Dove Awards. Comprised of lead vocalist Michael Tait, Jody Davis (guitar), Jeff Frankenstein (keys) and Duncan Phillips (drums), the band is nominated for two 2015 Billboard Music Awards, including Top Christian Artist. The band has been performing across the country this spring as part of its God's Not Dead tour. www.newsboys.com.
Pressing forward with music
Sada K., former lead vocalist for Press Play, has debuted her first solo album, Long Story Short. Sada K returns to the Christian music industry four years after a devastating knee injury nearly that temporarily derailed her career.
The album includes the song, "Live Love Laugh," which creatively tells her story.
"I hope the song will encourage people through the life lessons I've learned through my ups and downs," said the artist, who also discovered that both her parents had cancer. "Through all that I've been through I've truly learned that it's important to take a moment and remember what matters the most and never forget to live life to the fullest, walk in love and find joy in something every day."
"Complaining is not an option for me," she said. "I have my private moments, when I cry out to God and have to gather myself, but I know that I have to be strong and that there is something to learn from everything I go through. Helping people, while fulfilling my purpose, is my destiny. God never gives us more than we can bear, and I have learned through this journey, I am a lot stronger than I ever knew." www.sadakmusic.com.