Music score  |  Tour adopts new artist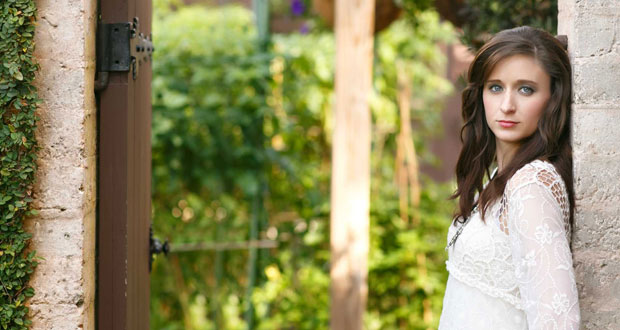 A collection of the latest Christian music news, music videos, new releases, band profiles from Refreshed.
Tour adopts new artist
Singer/songwriter Eva Kroon Pike made her new artist debut Feb. 8 at the Winter Jam 2014 Tour Spectacular during its tour stop at Atlanta's Georgia Dome. Pike, promoting her EP Love Is All About You, shared the event's lineup with Christian music heavyweights Newsboys, Lecrae, Plumb, Tenth Avenue North, Newsong and others.  Nick Hall was the speaker and David Crowder was a special guest.
Adopted into a loving Christian home as a child, Pike is an outspoken advocate for adoption.
"I'm almost speechless at the honor of being a part of Winter Jam," Pike said. "I am completely overwhelmed at this God-sized opportunity and I am grateful to share the stage with some of Christian music's top acts and to participate in the ministry of this amazing tour. It's all such a blessing to me." www.evakroonpike.com
Royal message
The Royal Royal, a Canadian duo featuring brothers, Nathan and Gabriel Finochio, releases its second album, The Return of the King, on March 4 with The Paradigm Collective.
Growing up in a pastor's home, the brothers attended Portland's City Bible Church, where they started writing music influenced by James Taylor, Steely Dan and Stevie Wonder.
"It was nothing serious, just songs that came out of our devotional life," Nathan Finochio said. "I don't think there was ever any intent to write songs for congregations to sing until we met a good friend … Matt Crocker."
The encouragement from that friendship resulted in two albums. The first, Royalty, debuted in October 2012 at No. 15 on the Christian iTunes chart.
The acoustic, pop rock artists, have led worship and created an upbeat style described as the "intersection of new sounds and ancient truths." www.TheRoyalRoyal.com.
Celebrating music
Rend Collective, the Dove Award-nominated band whose members are described as Irish worshippers and modern-day psalmists, is said to have made a recent theological breakthrough as a group: "Seriousness is not a fruit of the Spirit, but joy is." The result is a new approach to music—and life. The first fruits are evidenced in the band's fourth and highly anticipated album, The Art of Celebration, releasing globally from Integrity Music March 17.
"This record is an attempt to reflect something of the irrepressible laughter in the heart of God," said Rend Collective bandleader Gareth Gilkeson.
In keeping with the new vision, even the instruments got an overhaul.
"We use an arsenal of the weird, wonderful, whimsical music toys, our native Irish folk instruments, some good old-fashioned rock 'n' roll guitars, and even some synth-pop inspired elements," band member Chris Llewellyn said. www.rendcollective.com.
Hillsong mixes it up with new album
Hillsong United, never known for playing it by the book, is mixing it up again with its first remix, "White Album," releasing March 4.
Remixed by various mix engineers and musicians, the album features classic songs  like "Hosanna,:" "From the Inside Out" and "The Stand" along with  the more recent hits "Relentless" and "Oceans."
"We haven't changed our focus, which is to honor Christ and give voice to a generation passionate about God; but continuing to create, experiment with and expand on those musical expressions is at the heart of The White Album (Remix Project)," said United's Joel Houston, who added they are hopeful the album will introduce a new generation to songs used by churches the world over for worship. www.hillsong.com/en/united
Chapman visible after hiatus
After a 10-year absence from the music scene, award-winning singer-songwriter and radio and television personality Gary Chapman is making the most of his time after releasing his Merf Music Group album, The Truth in November. The album includes guest appearances by Alison Krauss, John Rich, Tanya Tucker and Rebecca Lynn Howard.
He has done numerous appearances co-hosting SiriusXM's Blue Collar Radio, the official radio home of the Blue Collar Comedy brand, and in February joined his wife, Cassie, on the  TNT reality series "Private Lives of Nashville Wives."
He's also been featured on the Mike Huckabee Show, Bill Martinez Live, The Curtis Report, Drew Marshall Show, On Air with Tony Sweet, CCM Classic, Full Circle, Bold Living, Parent Talk, Christian Connections, On Faith's Edge, Nashville's famed WSM Radio, JCTV's Real Videos and CTN's Bridges and Homekeepers. www.garychapmanmusic.com.
Moving away from 'Slow Suicide'
Three months after releasing his single "Slow Suicide" from his acclaimed sophomore solo album, Proof of Life, Grammy Award-winning artist Scott Stapp—a founding member of the heavy metal band Creed—garnered his first-ever No. 1 Christian radio hit after ascending to the top of Billboard's Christian Rock Indicator radio chart.
Produced by Howard Benson and mixed by Chris Lord-Alge, the story of Proof of Life began at a chilling moment when Stapp realized that for much of his adult life he had been negotiating a "slow suicide."
"For years I was slowly killing myself," Stapp confessed. "Drugs and booze want to kill you instantly, but they're patient and will take their time. The same is true of toxic relationships. I had to start off this story by declaring the most obvious of truths: that I had been torturing and poisoning myself in an attempt to snuff out my soul." www.scottstapp.com.