Music news | Natalie Grant uses film to highlight trafficking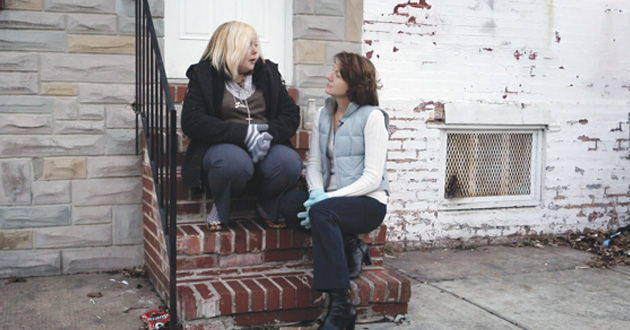 Christian recording artist Natalie Grant has stepped out from behind the mic to produce and narrate "In Plain Sight: Stories of Hope and Freedom," a recently released documentary that highlights the scourge of human trafficking and the modern-day abolitionists who are diligently working to combat the criminal practice.
The 68-minute documentary features interviews with six modern-day abolitionists as they fight sex trafficking across America, plus trafficking survivors, law enforcement officials and court officials.
Although "In Plain Sight" was released on Dec. 23, officials are hoping to further increase awareness of the issue through a series of screenings in January, which is Human Trafficking Prevention Month.
Companion pieces for the documentary, a project of Awaken Media, include the "Hope for Justice" music album and a "31-Day Devotional & Group Study Guide" that is designed to help readers "understand God's heart for the vulnerable and broken in our world."
Grant lends her voice to the album project as she sings "In Christ Alone." Other featured artists include Jeremy Camp, Building 429, All Sons & Daughters, Bard Millard, Big Daddy Weave, Anthony Skinner, Digital Age, Fernando Ortega, Mark Schultz, Page CXVI and Elijah Young. www.inplainsightfilm.com
Bird sings a new tune
Dove-nominated singer/songwriter Misty Edwards was set to release her fourth studio album, Little Bird, on Dec. 29, during the International House of Prayer's annual Onething Conference in Kansas City, Missouri.
The new release reflects a different direction from its predecessor Only a Shadow.
"A lot of worship leaders feel limited and frustrated creatively, but we're called to so much more as Christians, even when it comes to our typical definition of worship," Edwards said, adding "I strongly believe there's a whole group of listeners who won't gravitate towards worship music because they have a taste for a different kind of creativity, and it was in my heart to reach those people."
The album is produced by Forerunner Music, the official record label of the International House of Prayer of Kansas City. www.MistyEdwards.com
Keaggy singled out for his strings
Gospel Music Hall of Famer and guitar virtuoso Phil Keaggy has been named the Greatest Christian Rock Guitarist of All Time by the Classic Christian Rock Zone website.
The title came after a survey of 24,000 fans, plus votes by a "top peer group of Christian rock musicians," Christian rock broadcasters and magazine publishers and site administrators. Together a list of the 100 Greatest Christian Rock Guitarists of All Time was created. In addition, to Keaggy, the top five includes, from No. 2 to No. 5, Rex Carroll, (Whitecross); Tony Palacios, (Guardian); Kerry Livgren (Kansas, AD) and Chris Impellitteri (Impellitteri).
Keaggy's solo career has spanned 40-plus years and has included more than 50 solo albums, both vocal and instrumental, as well as three releases with his band, Glass Harp. Inducted into the GMA Gospel Music Hall of Fame in 2007, Keaggy has earned seven Dove Awards and a Grammy nomination. Rolling Stone magazine has also named him one of the "25 Most Underrated Guitarists," alongside Prince, The Beatles' George Harrison, Kurt Cobain, Neil Young and Fleetwood Mac's Lindsey Buckingham . www.philkeaggy.com
On the horizon:
• Bethel Music's We Will Not Be Shaken CD/DVD is set to release Jan. 27 through Provident Music Distribution. The live album was recorded during an evening of worship on a mountaintop overlooking Shasta Lake north of Redding, where Bethel is based. Featured artists include Brian Johnson, Jenn Johnson, Hunter Thompson, Amanda Cook, Matt Stinton, Kalley Heiligenthal, Hannah McClure, Paul McClure, Jonathan David Helser and Melissa Helser. www.bethelmusic.com
• Rendezvous Music releases Divine Voices: Pastors of Praise, a 12-track collection featuring Gospel hits by some of the country's leading pastors, on Jan. 27. The line-up for the collection includes Donnie McClurkin, Bishop Paul Morton, Pastor Shirley Caesar, Israel Houghton, Hezekiah Walker, Ricky Dillard, Norman Hutchins, Earnest Pugh, Darrell Hines, William Murphy, Jonathan Butler and Pastor Rudy. www.mackavenue.com