New band 6th Day Made creates debut single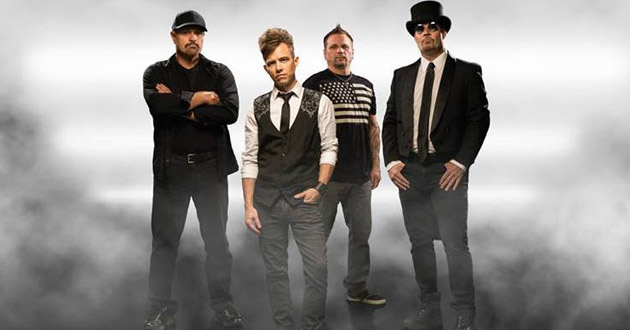 Christian rock band 6th Day Made, whose members have shared the stage with some of the biggest names in the industry, have debuted their breakout single, "The Story of Love."
Guitarist and background vocalist Mark Maggard said the song perfectly underscores the band's mission.
"As we read about Jesus on the cross, we picture it in our mind," Maggard said. "And greater love has no man than this, that a man lay down his life for his friends. It's not a love story; it's the love story. It's the story of love in the highest; it's the story of God's love for us. So it's really an extraordinary experience for us to be a part of the song."
Maggard shares the stage with lead vocalist Jason Eaton, Randy 'Doc' Healy on bass and Jeff Trent on drums. Members of the Michigan-based band have appeared with Newsboys, Jeremy Camp, Hawk Nelson Thousand Foot Krutch and Crowder.
The band's name—which refers to the Genesis passage where on the sixth day, God surveyed all He'd created and saw that it was good—was a suggestion from a fan. When the group heard it, Maggard recalled that they collectively said, "How profound is that?"
The group will take its various musical styles on tour to various music festivals this summer and are in the process of recording a five-song EP that will release this fall.
"We really have a diverse style, from pop to Latino rhythms, along with jazz sensibilities, including swing with rock and reggae mixed in," Maggard said. www.6thdaymade.com
International House of Prayer
Onething Live: Shout Your Name, recorded before 20,000 worshipers at last December's Onething young adult conference at the International House of Prayer of Kansas City, has released.
Focusing on the conference's theme of "Until the fame of Jesus fills the earth," each song from the 11-track project reflects the unique musical and spiritual giftings shared by the worship team at the House of Prayer.
Produced by Forerunner Music, the session featured some of the label's artists, including worship leaders Misty Edwards, Jaye Thomas, Laura Hackett Park, Jonas Park, Jon Thurlow, Justin Rizzo and Ryan Kondo.
"The eternal Love of Jesus is beautifully expressed in these compelling songs," reported newreleasetoday.com.
Since 2002, downtown Kansas City has been transformed each December into a global destination for thousands of fiery worshipers who head to the four-day conference at the Kansas City Convention Center. www.forerunnermusic.com
Flame's Forward
Christian rap artist FLAME released his eighth studio project Forward in July. It features 13 new tracks written by FLAME and showcases a variety of hip-hop styles from bass heavy to contemplative tracks that include "1st Freedom," "Know the Times," "Positively Eternal," "Believe That" and "We Gon' Reign." The collection also features appearances by Dove-nominated Gospel artist Melinda Watts on "Let It Shine," and Mike REAL on "Had Me Flexin.'"
"These songs focus on today's times, both around the world and in America, and how we need to move forward by engaging culture with the Gospel," FLAME, who has also been nominated for Grammy, Dove and Stellar awards. "I had so much on my heart I wanted to communicate through this project. I wanted songs that would provide listeners with hope and encouragement to move forward in the midst of challenges—to remind them that, in Christ, we are all given the power to press on."
FLAME first appeared on the Christian rap/hop-hop scene more than a decade ago and the video of his hit single "Start Over," from the 2013 album Royal Flush, has garnered nearly 2 million YouTube views. www.clearsightmusic.com