Newscaster at home with TV role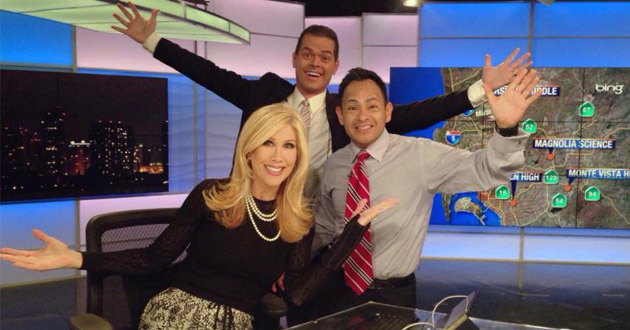 Kimberly Hunt watched with fascination when her father spread out the contents of his briefcase as he tried to make sense out of the investigative pieces of a pending case. As an investigator with the California Highway Patrol, Harry Hunt often brought his work home, a behind-the-scenes pursuit of justice first instilled in him by his own namesake and father, a constable with the Ojai Police Department who was killed in the line of duty when Harry was just 9.
Raised with a legacy of lawmen, Kimberly Hunt decided at age 15 to contribute to the cause, but from a different angle: informing the public about public safety needs.
"We're not first responders by any stretch, but getting out information is helpful," she said. "You become an appendage of first responders."
Just like law enforcement, journalists typically see life from both ends of the spectrum, meaning that anchors have to master the art of the even keel, despite the type of news being delivered.
"With the heinous stories we have to cover—and they are frightening and they are threatening—there is always a flip side. Every time you see the evil in man there is a good side."
Hunt prepared herself for journalism at San Francisco State University. Before graduating she interned at CNN's San Francisco bureau and filled her weekends with radio broadcasting.
After earning her degree Hunt was hired by ABC News to serve as a researcher for World News Tonight anchor Peter Jennings, providing background information for the network's coverage of the 1984 Democratic National Convention. After the convention closed Hunt accepted a position as an associate producer for ABC's Monday Night Football.
Hunt landed her first television news job as a weekday anchor for the CBS affiliate in Monterey, California. A year and a half later she was promoted to evening anchor. In 1987 she moved to San Diego to take the evening co-anchor job with KGTV Channel 10. Except for a five-year stint at KUSI, Hunt has remained a primary anchor for the local ABC affiliate.
During her career, Hunt has covered catastrophic news, including the 2001 terrorist attacks.
"That's something that none of us (journalists) will ever put in a place of being over," she said.
Hunt has also anchored coverage of high-profile murder cases, untimely deaths of community icons, political scandals and a host of natural disasters, including the 2003 and 2007 firestorms. Like many in San Diego, Hunt's family was evacuated during the fires and with 24/7 news coverage, she found herself separated from her daughter, Savannah, for days.
"It hits you at your core when those around you are affected like that." Hunt said. "It's horrific and it's sad, the people affected by it and the people whose lives are changed, and all those outcomes that we report from those things, but then simultaneously there is always the good in man that risks their own life to try to help that person standing next to them."
The heart of San Diego
Although the stories she covers change, Hunt said San Diego's response to them has remained consistent: a community known to rally around those who are suffering or in need.
"You just see that rushing in almost simultaneously as the unthinkable is playing out," she said. "The goodness is rushing in."
In those moments of evil, Hunt said she digs deep to provide an anchor when people need it most. It's only later, off the air, that she will process the news on her own.
"I'm modeling what my dad did in law enforcement," she said. "At the time of the tragedy and you have a job to do, you have a job to do. All of the hurt and the pain and the emotion, as much as you can—I'm not saying it didn't eke out a bit—but, for the most part, in order to do your story as a professional, you have to have a place to put it so you can do your job, because your job is helping people.
"People deserve it. They've turned on the television for some hope or for some guidance. They deserve for me to tell them in a professional manner and not make things worse for them."
Balance at home
As a media mom, Hunt admits that she has struggled throughout her career in creating the proper balance in determining just how much of what she knows and has experienced as a newswoman is appropriate to share with her daughter. That instinct has not waned even though Savannah, now 23, is living and working in New York City.
"I'm thinking of everything. I am so far ahead of her about what could happen, who to be with, who not to be with," she said. "I realize that I need to tell her enough, but then just trust her that she is making the best decisions that she can and then you just have to kind of have a little more peace about it. You can constantly—because of what you do and what you know is possible—drive yourself a little nutty."
Nutty or not, Hunt said her career has never been so rewarding, especially in an era where social media has changed the workload beyond regularly scheduled newcasts.
"It's not, 'Wait until 5 o'clock and I'll tell you,'" she said. "It can be something where you have to find little pockets of time and give yourself a break.
"I love my work. I am doing what I'm passionate about. I feel fortunate to be doing it here and being a part of the community for so long."