Olivia's hope | Parents reflect on loss of young daughter to brain cancer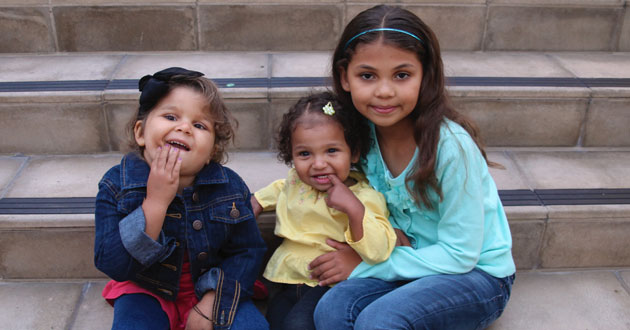 Rachel Hudson was trying hard to concentrate on her breathing and ever-increasing contractions as she and her husband André were about to welcome their third daughter, Avery. But there were persistent distractions that often kept her mind away from the birthing center at Grossmont Hospital in La Mesa, Calif. Their oldest, Amaya, then 5, was about to start school for the first time, while her little sister, Olivia, was undergoing brain cancer treatment at Rady Children's Hospital.
"Olivia was always a very funky, very independent little lady who always knew what she wanted. She was very independent from a very young age. She had her own ideas about how things should go. She was a little feisty. She was a lot of fun."
As baby Avery arrived, the Hudsons were jolted into a new reality, as their newborn developed serious breathing issues, including pneumonia. Papa André said they had only seconds with Avery before she was rushed to the neonatal intensive-care unit.
"It was a little crazy because the circumstances around Avery being born," Rachel said. "She had her own things going on. They wanted to transfer her to Mary Birch but we told them we already have a child at Children's Hospital. I can't imagine going back and forth between two different places."
Over the next 10 days the Hudsons and their immediate family rotated parental duties between the two youngest children—hospitalized on different floors at Rady's—and Amaya, who was spending most of her time at the Ronald McDonald House located adjacent to the hospital.
"It wasn't funny but it was laughable, the amount of trials happening at the same time," André said.
Unlike her older sister, Avery recovered quickly and the most immediate focus returned to Olivia, the young fighter.
"Avery was just with us the whole time," Rachel said." She was pretty quiet and just hung out. It was kind of perfect. She was such an easy baby. She kind of came into her own a little bit later and got a little bit more feisty. It was like she said 'OK, now it's my turn.' When the focus needed to be on Olivia, she was just so easy."
The logistics, Rachel said, helped to provide a much-needed routine for the couple as they tried to live for the moment.
"When you are in a crisis situation you just handle it," the mom said. "What other choice do you really have? You have to get through it somehow. I think all the things we normally worry about you just stop worrying about and you just focus on what's immediately in front of you and handle what's most important and most critical and then you move to the next. At that point there's no place for any of that other stuff. There just isn't. You have to focus on what's most important and get through that immediate thing. It makes you have tunnel vision. It's almost like you are looking at your feet and what's your next step? And that's it."
André, a worship leader at Rock Church East County, admitted he was torn by the needs of his two sick daughters.
"As a father, you have this natural inclination to protect and keep them away from harm," he said. "I just wasn't able to do that. I was having to make decisions where both options or multiple options were all not good ones. So just trying to navigate around that was definitely really tough.
"I came to a point where I had to make a decision about which child I was going to be with. I had to choose Olivia because she's the one I had a relationship with and it was kind of like this other person came in who was also in trouble. You have to determine who you are going to invest your emotions in. I found myself not emotionally investing in the newborn because I just couldn't take so much tragedy at once."
Something's wrong
By the time Avery made her 2011 debut, 2-year-old Olivia had already been hospitalized for a month after being diagnosed with pineoblastoma, a form of pediatric brain cancer. Within days of her diagnosis, surgeons removed a large mass from the center of her brain. Because of the location of the tumor, Olivia was without symptoms for months, giving the tumor free reign before her parents noticed something was wrong.
"It was a perfect storm that was brewing," Rachel said. "So, until it was actually touching a portion of her brain that cause symptoms, we had no idea what was going on."
At first they thought Olivia had the flu, but when her left eye began crossing inward they scheduled an appointment with a specialist, but the soonest she could be seen was several months out.
As they readied for a family barbecue on the Fourth of July weekend, Olivia's symptoms worsened.
"She wasn't really feeling good," Rachel said. "She was really shaky. She didn't want to eat anything. She didn't want to drink anything. We gave her a bath to see if that made her feel better. She just went and laid on the floor. We knew something was just really off."
They took her to Children's Hospital, where Rachel tried to convince the admitting staff that it was more than just the flu.
"I'm not a new mom," she told the triage nurse. "I just don't bring my kids in for a scratch. I'm telling you there is something wrong."
A CAT scan was ordered.
"The nurse comes back after they get the results and she brings somebody with her. She's crying at this point so I knew something was wrong," Rachel said, her own voice trembling at the memory. "That's where her journey with cancer started."
The first of two surgeries was scheduled within days, giving her parents little time to process Olivia's diagnosis.
"We didn't know if she would make it out (of the surgery)," her father said.
André stayed with Olivia while the nurses prepped her for surgery.
"She looked at me and said, 'Daddy, God is great?'" André said. "She posed it as a question. I said, 'Yes sweetheart, God is great.' It was so random and so profound. She was kind of like, 'Don't worry about it, God's got this.' From that point forward she was never physically the same. That was the last time we saw her not damaged."
After that surgery, Olivia lost the ability to speak or swallow, and much of her motor skills, especially on her left side.
Doctors kept the toddler in ICU for a month and then moved her to a regular room for two more months while she was treated with chemotherapy and radiation. Three months after she was admitted, doctors sent Olivia home to continue her recovery.
"She was regaining function and regaining speech and all those things," her momma said. "She was really recovering quite well. She was relearning how to walk and all these different things."
A year into her ordeal Olivia was in remission.
"When kids are young and they have cancer, it's very aggressive," Rachel said. "It's very different from adults, especially with the type of cancer she had. It was very likely it was going to come back."
Olivia was cancer free for just a matter of weeks before returning. By then her treatment options were slim.
"That was the point where we were like 'Oh, we're not coming back from this. We did what we could, but there was a point when we needed to stop treatment because it wasn't working," Rachel said, drawing a deep breath. "We lost our little girl just shy of her 4th birthday."
Clutching faith
While Rachel and André leaned on each other during Olivia's cancer treatment, both said their faith helped each of them to process their anger and grief.
"I actually felt my faith was really, really strong when Olivia was sick," she said. "We just really pressed into God. I felt incredibly close to God at that time. When I questioned Him was when she passed.
"As a Christian it's really easy to say we know that all things work for the good for those who love God. It will work out for the good. But when we can't see the good in a situation, its really hard for that to really resonate with you."
The real struggle, she said, came after Olivia's death.
"I think that was the point where it was really like, 'OK, do I believe what I say I believe or am I just going through the motions?' That's really where I had to evaluate everything that I thought I believed," Rachel said. "There was a time after she passed that I really had to decide which way I was going to go."
André said his relationship with Jesus helped him to navigate dark waters.
"I had some spiritual grounding and I had some understanding of God's character before I went into this," the full-time worship leader said. "I think that was vital, just knowing God's character, knowing that He always provides and seeing his hand through all of it.
"My main prayer wasn't necessarily getting answered but I knew that God was still with us, giving us peace and comfort."
While André said he is grateful for his relationship with Jesus, he said relationship is not enough.
"It's actually deeper than that," he said. "You have a relationship with your barista at Starbucks, but you are not intimate with the barista at Starbucks. God seeks intimacy. It's through intimacy with God where all your peace and comfort come.
"I learned that the human body and the human emotions are both strong and weak at the same time. I feel like God took me probably three weeks to a month past the point that I thought I could take. When I felt I couldn't take it anymore, God took me a month past that point. With God's power we are capable of doing a whole lot more than we think we are."
Passing it on
Determined to turn their grief into a lasting legacy, the Hudsons and their family formed the Olivia Hudson Foundation, which funds research for pediatric cancer. It also provides support for families facing the same journey.
"So many people watched Olivia during her fight with cancer," Rachel said. "She was so strong. She never complained. She was such a sweet little girl. People saw her fight with such strength and grace and she was able to appreciate simple, simple things.
"So many people were touched by that. She had teachers at her preschool that came to know the Lord because of that. A lot of people's faith was strengthened by hear fight."
At the core that faith, her parents said, was relentless hope.
"The big thing with fighting cancer is that you have to have hope," Rachel said. "You can't lose your hope in that situation. I think we always knew from the time she was diagnosed that there was a possibility that she might not make it, but you don't ever allow yourself to go there because you really can't. You have to guard your heart. You have to guard your mind like none other. You can't go there, you can't lose hope, because you need to fight."
— by Lori Arnold
Related story: Building a foundation for others