Painting the town | Window painter makes colorful Christmas splash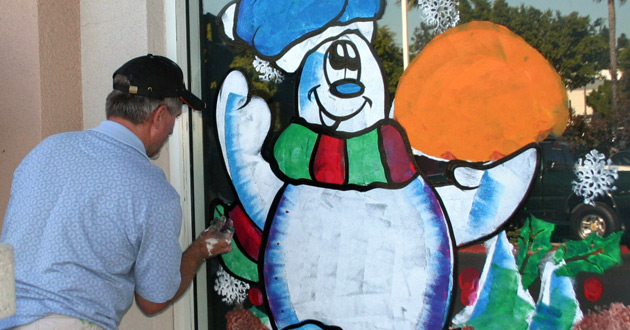 Under the deft hand of Dan Clarkson, proprietor of Dano's Signs Graphics & Designs, Santa Claus gets a ferocious workout surfing, unclogging toilets, rooting for the Chargers, sledding on toothbrushes, delivering pizza, jet-skiing, and line dancing Rockette-style with reindeers.
Santa is not the only one on the move.
Thanks to Clarkson's brush, reindeer are prancing in bikinis, while others hula dance. Frosty the Snowman finds himself encircled by happy children; elves are refinishing furniture. And before Thanksgiving it wasn't uncommon to see turkeys snacking on corn on the cob or yogurt or running with giant cheeseburgers.
Clarkson and his paints have kept Southern California windows in the pink—and red and green and yellow and blue—for nearly 25 years, painting promotional signs and holiday scenes on store-fronts as wreaths, holly, candy canes, snow, trees and ornaments all come to life on these see-through canvases.
He launched the business 35 years ago as a Fresno teen. Always a dabbler in art, his first job came at age 15 while working for his father at an area convalescent hospital.
"There was a woman who did the windows at Christmastime and she left the company. So my dad told me that the 'boss heard you enjoy art and he wants you to paint the windows for Christmas.' I was scared to death. I didn't want to do it so I told my dad, "No.' And my dad told me, 'Yes.'
He created a Currier and Ives-style scene that took about a dozen hours to complete. It featured ice skaters and old-fashioned snowmen.
"It took me forever and then people liked what I did," he said. "Something in my head said I could make money doing this."
He went out and signed up five other businesses. The first was a Radio Shack store.
Each year, he paints hundreds of windows for the holidays for clients that have included Goodwill thrift stores, Sprouts, Trader Joes, Boot Barn, San Diego Chargers, San Diego Padres, CVS/Pharmacy, Coco's Bakery Restaurants, McDonald's, Burger King, KFC, Pizza Hut, El Indio Restaurant, Soapy Joe's Car Wash and Rapid Transmissions.
Clarkson's style is distinct as he tries to tie in the windows to each business while weaving in a sense of motion and humor with each panel. During a recent project at Reed's Hobby Shop, a train store and La Mesa fixture, the artist created a "flying" Santa as he was being pulled behind a train. At the local Goodwill stores, each of the windows boasts white and blue poinsettias with snowflakes that read "Good will to all."
Sometimes the ideas germinate with his wife, Amber, who worked with him before they adopted four children; sometimes they come from the kids, who help from time to time.
"What's expressed in the window is our family and our personality," he said, adding that there is usually a sense of mischievousness in the depictions.
"I enjoy what I do and I look at the work and I have fun with it," he said. "I always try to make something slapstick with what I am doing."
Although Clarkson enjoys painting Nativity scenes they are time-consuming and are less in demand.
"Even if they are Christians, a lot of times they (business owners) have to be calculated as to how much of a statement they make during the Christmas season," he said.
Non-holiday treats
In addition to the windows, Clarkson paints murals and custom signs, with previous clients including Indian Hills Camp, Shadow Mountain Church, New Venture Fellowship, Horizon Christian Fellowship and Sonrise Community Church, where he is a member.
"I do want to make the Lord proud with what I create," he said. "Sometimes it's scary when you take on certain projects that feel a bit overwhelming and a bit bigger than what you think you can accomplish. You say, 'OK Lord, help me get this done.' Then you see the Lord's help in making something happen."
Even with the holiday crunch time that keeps him in high gear for several weeks each winter, Clarkson said he's grateful for the opportunity to support his family with his craft.
"I think that if we can use the tools God gives us and the creativity to bless Him back it has to be pleasing for the Lord. I'm sure there are many people with beautiful gifts that aren't getting to exercise them. For me, every day, to be able to get out and create something is pretty exciting because it's always something new."
Learn more at www.danossignssandiego.com.