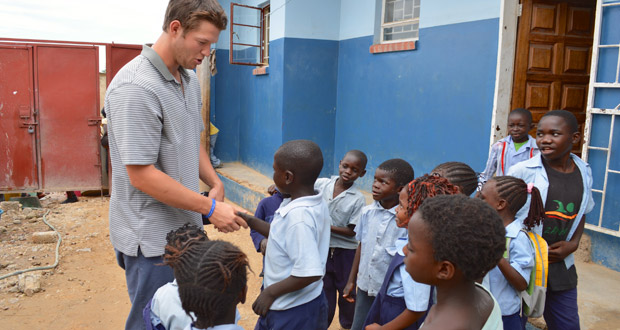 Dodgers' Cy Young winner, wife build home in Africa for at-risk kids
When Los Angeles Dodgers' starting pitcher Clayton Kershaw straddles the mound on game day, his mind is firmly fixed on the strike zone. And with every strikeout the 2011 National League Cy Young winner throws, he's helping his wife Ellen in striking out on her own dream for Africa.
At 23, the Dallas couple is pairing their passions through Kershaw's Challenge to raise money to build Hope's Home, a children's home in Lusaka, Zambia. Through the challenge, launched last year, Kershaw has pledged $100 for each strike out he throws. The project caught on last season with college, high school and Little League players also pledging money based on outs or hits.
The project is one of four funded through the Kershaw Challenge, which last season raised just over $200,000, thanks in part to his league-leading 248 strikeouts. This year, 70 percent of the proceeds will benefit their work in Africa.
"We were completely overwhelmed by the support of people coming alongside of us," Ellen Kershaw said, adding that she is still amazed how far their ministry has already taken them.
"It has been something we never expected to start so early," she said of giving back. "Definitely, I think we always had a dream that at some point we would be giving back in this way. But I think the Lord really laid it on both of our hearts early on in our marriage that Clayton has a platform now, and we don't know how long his baseball career will last, but he always says 'I hope to make a difference in as many lives as I can while I have this platform.'"
Construction on Hope's Home, which will house about a dozen at-risk children, is already under way, and the facility should be ready to occupy sometime in August.
"They will be raised in a normal, empowering environment where these kids really believe they can make a difference in their own culture," Ellen said.
Her heart for Africa emerged in the eighth grade while watching an episode of the Oprah show that was taped in Africa. It was a transformational moment in her young life. Throughout high school as she and Clayton dated and he pursued baseball, Africa was never far from her heart.
'I really believe that was the day the Lord captivated my heart for the kids over there," she said, adding that she visited the country every summer in college while Clayton was in the minor leagues.
"It was such an important part of my life and something Clayton had heard so much about and he had seen the pictures and he knew the stories, but I think until you truly experience it first hand you don't quite understand the magnitude of how much it had changed my life.
"I knew it was important early on in our marriage that he experience that with me, just like I had kind of gotten to see his dream of baseball come to fruition over the years we dated."
So, just a few weeks after their December 2010 wedding, the couple headed to Lusaka, where Ellen introduced her groom to her pint-sized African friends. Among those Clayton met was young Hope, a child who is HIV-positive and had lost both of her parents. Sickly and unsaved, the child was trying to survive on her own. Since then, the little girl and Ellen have created a strong bond.
"She has touched and affected my life in more ways than I can explain," Ellen said.   A vision born Upon their return from Zambia, the Kershaws used their media contacts to share their story.
"It was great for us to raise that awareness, but it got to the point where we said, 'Let's move this into action; let's do something where we feel like we can make a difference through Clayton's platform that he has,'" she said. "But it also gives people a way to come alongside us and join us in our endeavors to make a difference over there."
Funding for this year's campaign will be used to furnish Hope's Home, purchase adjacent farmland where the children can learn to grow and cultivate vegetables, build a chicken coop and create a medical reserve account.
Even as they start their second-year effort with the strike out challenge, the couple is also releasing their first book, "Arise," published by Regal Books. Writing a book was never on their radar, but it became a reality after the publisher contacted them about sharing their vision of ministry.
"It was something Clayton and I really battled with," she said. "We weren't sure. Neither of us felt adequate to write a book. We both felt young and unexperienced and didn't really know the wisdom that we would have to impart to other people in a book. We didn't feel like we had enough life lived to talk about."   Promoting a messsage Eventually, the Kershaws decided doing the book would underscore their message that it's never to early to serve.
"The more we thought about it the more we came to the conclusion that if we were to wait until we were ready, and if we were to wait until we felt our faith was in a good place to preach to others, we probably would never do it," she said.
"I think that's kind of a powerful part of our story, that we don't have it all figured out, and we are still very much learning and we are on a road with the readers who are hopefully reading and feel like they don't quite know where they are in their story yet. But we believe we all can make a difference."   Diamonds and legacies That belief, she said, is what is inspiring them to reach out to their own generation.
"We're young," she said. "We hope we can relate to high school kids—and college kids and kids right out of college—that you don't have to wait until you are established and have this great career or that you are financially secure. You can start giving back at an early age. You can make a difference with what resources that you have. Wherever you are you have a sphere of influence."
For Clayton Kershaw, that sphere includes a baseball diamond, where most of the focus is on numbers.
"There's always going to be younger guys coming up, blowing his stats out of the water or who will win more awards, and I think that that's not the legacy he's wanting to leave," his wife said. "He's not going to have all the best records. But when he leaves baseball he wants to know that he's done much more than left good stats."
Ultimately, Ellen Kershaw said, their mission work is a tangible reflection of their faith, especially in an entertainment venue that is not always receptive to open proclamations of faith.
"We'll be the first ones to say it's not easy," she said. "We know that it is not a great conversation starter sometimes to just preach our faith, but we want to be bold in it. It's something we strive to do every day, and we know it's worth the fight. We're still very much figuring it out and that it's not a piece of cake for us either. But I want the readers to know that it's not something that comes easily or naturally. Hopefully that can encourage them that, wherever they are, it's worth the fight and it's worth being bold about."
For more information, visit www.kershawschallenge.com.