Pursuing people | Serial entrepreneur uses businesses skills to serve inner city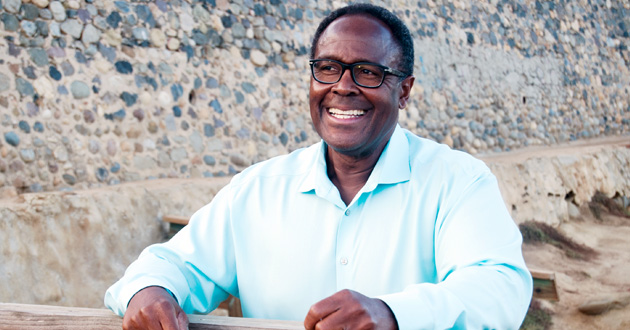 As soon as Estean Lenyoun heard the ding-ding rattle through the service station where 25th Street intersected at Market, he hustled out to greet the driver of the two-door pinkish-gray 1955 Chevy Bel Air—just like his daddy taught him. Boasting crisp jeans, a broad smile and a uniform hat with a bright red star, Estean placed both hands where the window was being lowered by the hand crank.
"How may I help you ma'am?" came the small, helpful voice.
Rising above the driver and attendant was the towering Texaco sign, large enough to dwarf just about anyone, but even more dramatic when you are just 5 and pumping gas that costs 24.9 cents a gallon.
"They would look at you and smile because you were so cute and so little," said Estean, more than a half-century removed from his first business venture at Eli's Texaco, named for his papa. "They would light up. I remember getting little tips of a dime or a quarter."
Even as a child, Estean loved the discipline and structure of working for his dad, heading with him to the station just before 6 a.m. and leaving for school several hours later. His payment came by way of the shop's chocolate bars and soda pop.
"As I got a little older and a little taller, then I could do the windshield because I could reach it," he said, adding that he eventually learned how to open the hoods to survey the radiator and batteries.
Even children, though, outgrow The Three Musketeers.
"One customer asked, 'How much you getting paid?' I looked up at (Dad) and said, 'You mean I'm supposed to be getting paid?' That's when I figured it out. I don't know why it took me so long, because at first it was so much fun."
A student of entrepreneurship, his skills honed in large part by what he absorbed as he watched his father working 16-hour days, Estean quickly negotiated his own salary of 15 cents an hour, despite his dad's sorry arguments that he was providing food, shelter and clothing to the grade-schooler.
"I'm one of your best salesmen out here," he informed the outmatched station owner. "I run hard and work hard.' I talked him into it. He started paying me, and then the whole world changed for me, It was like, 'Wow, this is good money. I can do well here.'"
Recognizing the injustice of the situation, Estean was not content with his new pay schedule so he demanded "retroactive compensation." It wasn't long before his pay escalated to 25 cents an hour.
"I was his best employee," he said. "He taught us to have a phenomenal work ethic. He taught us how to hustle and work hard. Sometimes I actually resented it because I thought he was working me too hard. It was too hard for a little kid to get up at that age and work those kind of hours. That went on all the way to college.
"But I liked the financial independence of being a serial entrepreneur. After a little while I really started to respect the rewards of having those kinds of experiences and that kind of exposure and work ethic and work discipline that provided financial independence and financial security at a very young age."
Before too long, he figured out that he could buy candy in large quantities and sell it to his classmates at a nice mark-up.
By the age of 12, Estean had saved up $500, enough money to buy that same Bel Air that awed him years earlier. Still too young to drive, he loaned his new ride to his older sister until he had his own license.
Pursuing profits
Estean, 64, is still making deals, though now mostly in real estate as director of urban redevelopment for Sudberry Properties and president and CEO of Impact Urban America, a ministry he co-founded in the '90s with NFL great Roosevelt "Rosey" Grier.
Taking advantage of an athletic scholarship to California State University, Long Beach, Estean pursued business with the same meticulous attention to detail he used when washing windshields. IBM took notice and recruited him out of college. He worked in their Office Product Division for a year.
Driven to become a millionaire, Estean chased real estate, working for powerhouses such as Grubb & Ellis Commercial Brokerage Company. While much of the discipline that led to his success came by way of the family tree, a chance encounter at the age of 9 added rage to the equation.
While out and about in the neighborhood with his white Little League teammates the boys stopped to use the bathroom at a local business. Just as Estean was to follow his teammates inside a man stepped in, blocking his path..
"He called me the big n-word and called me things you should never say to a child," he said. "This is the '50s. I can't go in? What are you talking about?"
The man didn't stop with the single insult, As he hovered over Estean, the stranger unleashed a torrent of slurs.
"I remember looking at my friends and they were like, 'We don't know what to say or do,'" Estean said. "It was one of the most humiliating things and life-changing events that I had experienced, not only up until that point, of course, but in my life. I think it was a real paradigm shift for me to realize that in order to be 'equal' you had to be successful."
While racism was still the norm in some parts of San Diego—including laws that prohibited African Americans from buying homes in certain neighborhoods—the bathroom episode plopped the reality inside of Estean's young heart.
"I never forgot it, it was so dramatic and such a horrible experience for a kid like that. I had never been talked to that way or treated that way or even heard that kind of mess. A grown man telling a kid that.
"I realized what mattered is not if you're black or white but green—green like money," he said.
Priority shift
From then on his singular goal was making enough money to distance himself from the limitations he associated with his neighborhood.
"I was struggling so hard to be equal. I couldn't relate to the people in the inner city because I didn't want to be like them," he said. "It sounds like such a shallow statement and it truly is. Not being like the environment from which I grew up was really a statement to say that I wanted more success. I wanted more notoriety, I wanted more opportunities and I wanted a different lifestyle that I didn't feel could be achieved growing up in the culture."
He continued his pattern of purchases, creating an investment portfolio of apartment complexes and property in three states, including 1,200 acres in Park City, Utah.
"Money," he said, "was my God."
But at age 41, Estean went to a meeting featuring a keynote address by former U.S. Senator Bill Armstrong of Colorado, who shared his faith. For the first time in his life, Estean prayed, not to the god of greenbacks, but to the one who cleansed his soul. He asked for forgiveness for his shallow pursuits.
"I figured I had nothing to lose, and as soon as I said that prayer, all hell broke loose," he said. "It was more than a statement. It was this reality that there was this Creator of the Universe, this wonderful God and personal Lord and Savior. That if you asked him into your life, He would give you the opportunities and the desires of your heart, if you truly surrender."
Instead of running away from his past, Estean decided to run back, helping the very communities he shunned. After meeting Greer, who had dedicated his post-football career to community building, he vowed with Grier to work together through Impact Urban America.
"I would connect the dots and he would come up with the meat part of it," Grier said of his partner. "I always try to see what's in the heart of a man: Once you are with a man and you are around them a while their heart will reveal itself.
"Estean is a brilliant man, He wanted to work hard. He's always thinking. He's seeking ways in which he can be helpful to others. I love that about the man. He's honest. He's a visionary. He thinks things through. He can put things together, things that I can't put together."
Changing community
Over the years, their ministry has morphed as the pair has tested various methodologies, including housing programs, practical assistance through clothing and food, life skills development, and church makeovers. At one point, a job skills program they created resulted in 1,000 people on their payroll.
Eventually, Estean said, they realized that bolstering the local economy through community development was the true key to helping maintain employment while keeping the money circulating within the community. So they began focusing on rehabilitation projects involving businesses, churches and city officials in collaborative, transformative projects.
Estean praises his boss, Tom Sudberry, for his commitment to financing many of their ministry projects.
"It's a life-changing experience to be able to watch and to listen and to know and to love a man that loves God so much (and is) willing to share his time and talents, and to help equip and invest in so many people's lives from so many different cultures as a calling," he said.
Also playing a role is Ray Bentley, the senior pastor at Maranatha Chapel, where Estean previously served as an urban pastor.
"We came up with concept of 'ministry heart and business mind,'" Estean said. "If you combine them both then you have something that is very unique. We found that the churches had the ministry equation and the solutions to society's problems, but we found business had a special discipline and an awareness and a skill to be able to recognize the means, methods and ways to accomplish business successes and goals in ways that the ministries didn't have."
Their newest project is Limoncello, a 24-unit dilapidated rehabilitation center in Lemon Grove that has been renovated into studio and one-bedroom apartments for active adults.
"It's really fascinating to see God at work and see what He can do when He's in the deal, because we didn't have the experience," Estean said. "It wasn't us making these numbers happen and providing these opportunities. It was God parting the Red Sea and giving these wonderful people an opportunity to enter into self-sufficiency."
— by Lori Arnold
At a glance
Who: Estean Lenyoun
Occupation: Director of Urban Redevelopment for Sudberry Properties
Ministry: President and CEO of Impact Urban America
Boards: Rosey Grier's Giant Steps Senior Housing, Ken Blanchard's Center for Faith Walk Leadership, San Diego Rescue Mission, The Lincoln Club, Urban Property Solutions
Previous appointments: Urban pastor at Maranatha Chapel in Rancho Bernardo; general managing partner of No Compromise Communities; chairman of Promise Keepers, Pangea Foundation, and World Impact; board member of Maranatha Church and School and Wells Fargo Bank Community Board of Directors.
Personal: Married with two grown sons, one a surgeon, the other in real estate.