Renewed vision | New YFC director seeks to revitalize teen program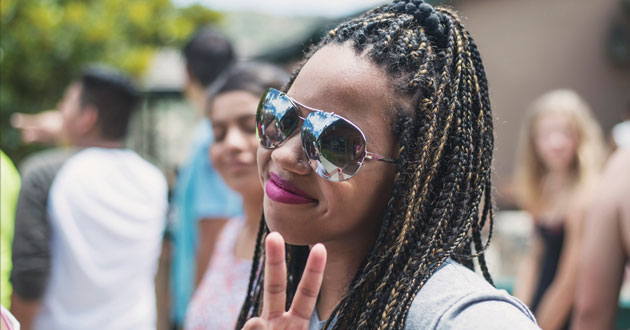 Josh Collier was watching a promotional video, his first created as the new executive director of San Diego Youth for Christ. It featured one of the young teens transformed by the ministry's local outreach.
"The girl in the video says, 'I have a purpose: to inspire, to love, to find kids living the darkness I was and to give them a glimmer of hope,'" Collier, 35, said.
The ministry executive, familiar with the story of transformation, was deeply moved, adding that the teenager "described so clearly what excites me about Youth for Christ ministry."
"Every time I watch that video I get chills when I hear her say that line because every time I see a young person in a tough place, every time I hear about kids dropping out of foster care, or being homeless, or struggling in poverty or addictions, I hear that line and I think, 'Yes, that's what we're about,'" Collier said. "We're going to find every kid living in darkness and give them a glimmer of hope. That's our fight, that's our mission. That's something worth giving my life to."
That life of his changed dramatically over the past year when the Tacoma, Washington native accepted the San Diego post. Last summer he and his wife Latisha relocated their family (Henry is 8, Lucy is 6) to Rancho San Diego.
"I like to say we ended up here because my wife has wanted to move to California or somewhere sunny for a long time, and God really listens to her prayers!" he said.
The transition to San Diego was nearly two years in the making and sparked by an intimate moment during a national YFC conference.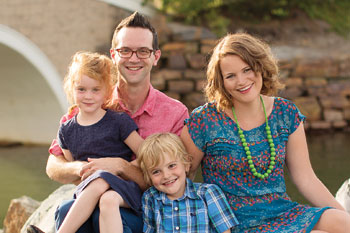 "I was at this conference and I was singing that song "Oceans" with the line, 'Spirit lead me where my trust is without borders, Let me walk upon the waters, Wherever You would call me,' Collier said. "Tears were coming down my face. I was just praying, 'God, I'll do whatever you want me to in life.'"
About nine months later Collier and his wife, sensing God was preparing them for a change, took to their knees.
"We prayed for Him to open something if He wanted us to make a change," he said. "The next day I was at a YFC training here in San Diego, and one of the leaders turned to me and said, 'Josh, what would it take for you to move to San Diego?'"
They spent the next few months in extended prayer and ongoing conversations with the San Diego team.
"We felt increasingly called to San Diego," Collier said. "Part of what excited me about the role in YFC—other than the sun—was the adventure of starting something new, of coming into a place like San Diego where there is incredible opportunity to grow new ministry in a large city."
Collier was first acquainted with Youth for Christ in 2003, when he began volunteering for the organization as a youth leader for a Tacoma church plant. His pastor suggested he contact Youth for Christ.
"I visited my first Campus Life club and I was totally hooked," he said. "I loved the relational focus, the heart for the gospel, and that teens were hearing about Jesus and responding."
He officially joined the staff just months after volunteering.
Finding his own way
Although raised in the church, Collier said it wasn't until he was in high school and being mentored by young adults that his faith became his own.
"(It) just made such a huge difference. That's probably part of what got me on the path toward youth ministry," he said, adding, "I love my parents and they're really great, but I think that as we transition into adulthood we just need these other people to come alongside us and tell us, 'Hey, this is your identity. This is who God made you to be. This is the potential you have because of God's work in your life.'"
Collier said Tacoma and San Diego are surprisingly similar in several key areas.
"Tacoma sounds like a small city, and by comparison it certainly is, but the challenges facing youth are really similar," he said. "Tacoma is also a major sex trafficking hub, has distinct pockets of poverty, youth involved in gangs, drugs, and crime."
San Diego, however, has a significantly larger refugee population.
"You're talking about youth who have come from another culture entirely, and then you have many different groups of those youth, so there's just a lot of different cultures," Collier said.
Under the radar
The youth leader said he was also surprised by the size of San Diego's homeless youth population.
"You know, a lot of people never think about that because you don't really see homeless youth," Collier said. "They fly under the radar. But there's an estimated 2,000 youth literally living on the streets, and that's not counting kids who are couch surfing, living in cars or in shelters. That's just a big number. These are kids made to be loved and cherished, and (yet) so many are just out there on their own. They should be going to school and hanging out with friends and making their parents roll their eyes, but they're out there. Many are alone just trying to find food and shelter and survive."
Collier and his San Diego team are committed to changing that through a series of new initiatives designed to reach out to the region's burgeoning, and often troubled, urban population.
"You know, there's a depth of joy in the eyes of someone who has really been through a lot and come through to the other side, you know, when a person has seen really deep pain and sorrow and then experienced God's redemption."
— by Lori Arnold