San Diego County fair to showcase two Christian music festivals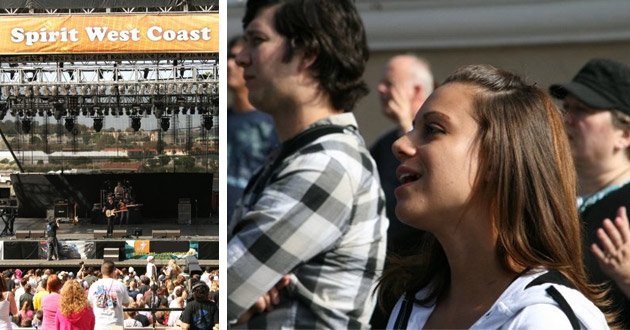 DEL MAR — June is a blockbuster month for Christian music as both the single-day Spirit West Coast and the 11th annual Gospel Days are held at the San Diego County Fair.
First on the schedule is a re-formatted Spirit West Coast which, after a two-year hiatus, moves from a multi-day to single-day event. Set for June 25, the concert features Third Day, Rend Collective, Brandon Heath and The Afters.
Tickets for the concert include fair admission.
Festival founder Jon Robberson said the new format has allowed them to cut structural costs that can be passed on to lower ticket prices.
Prices for the one-day festival are $25 for general admission seats, with reserved seats available starting at $25, up to $150 for VIP floor.
In addition to the San Diego concert, Spirit West Coast is presenting similar concerts in Ontario and Concord on June 12 and June 14, respectively.
Third Day is currently promoting its latest album, Lead Us Back: Songs of Worship. which debuted at No. 20 on the Billboard Top 200, at No. 13 on the SoundScan Top Current Albums Chart, and No.1 on Billboard's Top Christian and Gospel Albums chart in March.
Sharing concert dates with Third Day is Brandon Heath, whose latest album, No Turning Back, released in February, while Rend Collective will head to California fresh off an international tour, with stops in the United Kingdom, Hungary and Switzerland. They were also slated for the Ontario SWC.
Not to be outdone on the foreign field, The Afters appeared in early May at Festival de la Esperanza (Festival of Hope), organized by the Billy Graham Evangelistic Association. Graham's son, Franklin, presented the message, which drew 25,000 over two days.
While Spirit West Coast is entering into a new partnership with the county fair, Gospel Days will mark its 11th appearance there. Produced by Mandate Records, the June 27 Gospel Festival will headline Tamela Mann, Donald Lawrence and as many as two dozen other artists.
This year has proven to be a big year for Mann, whose album Best Days (CD/ Deluxe Edition) was certified gold by the Recording Industry Association of America for selling more than 500,000 copies. The album also won Special Event CD of the Year at the 30th Annual Stellar Gospel Music Awards.
In addition, Mann is awaiting the June 26 broadcast of her spring performance at the White House before President Barak Obama and First Lady Michelle Obama. Mann performed her No. 1, platinum hit "Take Me To The King" at the "The Gospel Tradition: In Performance at the White House." The show will be broadcast at 6 p.m. on PBS.
Known for his eclectic approach to music, Lawrence has excelled as a songwriter, producer, composer, music director and recording artist. His No. 1 hits include "Encourage Yourself," "Back II Eden" and "The Blessing of Abraham." He was also the featured performer in the Lawrence & the Tri-City Singers, which retired in 2006.
Starting at 10 a.m., the gospel festival boasts four stages and, like Spirit West Coast, fair admission is free with concert tickets. Tickets for Gospel Fesitval start at $25.
Learn more at www.sdfair.com.
Also check Spirit West Coast for more information.