Sewing dresses garners income and moments to share her faith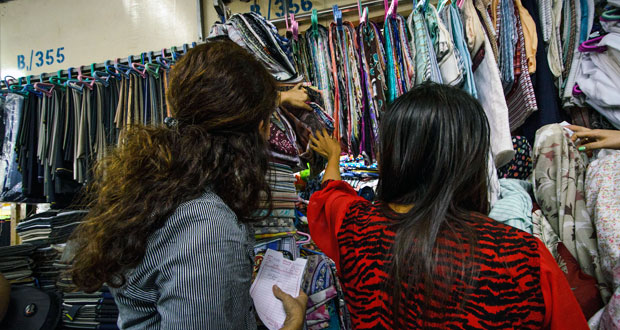 SOUTHEAST ASIA — Uncertainty rocked Vanna Keo* after her husband Kith* accepted Christ. She had never met any Christians before, and now her husband was one.
In supporting her husband, Keo agreed to meet Don and Dayla Patrick*, IMB workers in Southeast Asia for more 15 years. The Patricks were the ones who shared the Gospel with her husband and led him to Christ.
Keo also wanted to see for herself what real Christians were like. Laughing at her perspective at the time, Keo says she met the Patricks "and saw who they were. They did not do any weird or crazy things to us. After that, I didn't have any bad feelings towards them."
A couple of years following her husband's conversion, Keo accepted Christ. Then the family came on hard times when their Muslim community turned against them. Unable to cover their expenses, Kith looked for work aiding several Christian organizations with various projects. But the jobs did not produce much income.
The friendship between Keo and Dayla Patrick continued to grow. Keo talked about ways she could help bring in money. "I considered what I could do since I'm a mother," she says, "and I decided on sewing."
Keo's ability sparked an idea in Patrick's mind. "After Keo sewed for me," Patrick began to see God at work; "I thought, 'Maybe this is something that can help them.'"
Six years later, Keo and Patrick sit on a white tiled floor, poring over new designs for the dresses that sustain Keo's family.
Bold pink and brown designs splay across the ground as Keo holds several strips of brown cloth in her hands. Lines furrow across her forehead as she glances between fabrics before calling Patrick over to help decide which material best complements the pink. Patrick narrows the selection to two designs, leaving the final choice up to Keo.
After selecting a chocolate brown material, Keo clicks on the sewing machine and sets to work cutting, fitting, sewing and tweaking a dress for one of Patrick's daughters to try on for size. Her fingers guide the material through the machine, correcting any misdirection before a mistake results.
The dresses by Keo and, now, her friends are primarily sold in churches across the United States. Susan McPherson*, who lives in Texas and is a longtime customer of Keo's project. McPherson has bought dresses when Patrick sells them in churches during her visits to the United States. Patrick sends the profits directly back to Keo's project.
"The quality is wonderful," McPherson says, "and I loved that I was able to help other mothers across the world by buying a dress from them."
"One of the things I really like about the project," Patrick says, "is it connects women in Southeast Asia who are trying to feed their families, with women in the States, who want to help in a tangible way."
Keo gathers more fabric for a second dress and Patrick helps pick out a bold blue pattern. After finishing it, Keo and Patrick sit on the cool tile in the early evening while the children play and talk about what they have learned during the course of the sewing project.
Keo pauses before looking up and saying, "We had money for once; I had a job. At one point my brother was helping us, and now he is at university. It paid for his university. The project was a way for my family to help themselves during a time of real need."
Patrick recounts that while Keo's husband studied the Bible and set to work on an important ministry project, it was the dresses Keo sold that supported the family until Kith found a steady stream of income.
Keo adds that the dresses have done more than help provide an income for her family. The project has deepened her faith.
"I have experienced the Lord's intervention in my life," she says. Looking at the newly sewn dresses, she continues, "To see answered prayers has helped my faith grow and helped me through difficult struggles."
And Keo's eyes light up as she says, "When they [local customers] come, I can share about Jesus. That is what is important … the opportunity to share my faith I wouldn't normally have in the community."
*Names changed.
— by Evelyn Adamson | BP