Skating it to the Extreme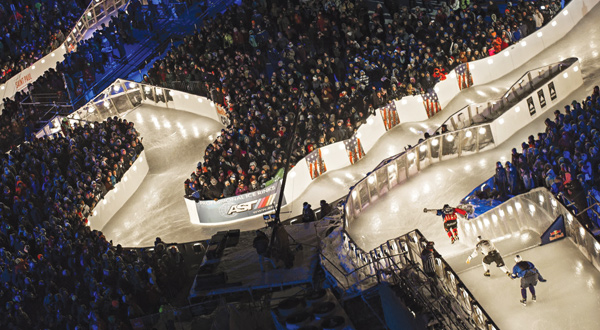 Josh Gabardi digs life on the edge and has a few notched bones—broken wrist, repeated breaks to his collarbone and shoulder blades, separations to both shoulders and a to-the-bone gash of his leg—as his testimony.
In late February he took his passion for extreme sports to a new extreme with an insane new sport called ice cross downhill.
Think of it as a widened Olympic-style luge track with a stunning downward slope. Add a few jumps, steps and mind-bending hairpin turns. Oh, and instead of using the protective cover of a bobsled or the stability of skis for the gravity-defying stunt, athletes simply put on ice skates and race, four at time, to the bottom with speeds exceeding 40 mph.
"I've always been crazy," said Gabardi, a 24-year-old El Cajon resident. "It's always been in my heart and that's a part of God, too, you know, because God puts it in your heart. I've just have always had it in my heart to do something in my life with extreme sports."
After qualifying, Gabardi joined 99 other downhill dynamos to compete in the Feb. 20-22 Ice Cross Downhill World Championship 2014 in St. Paul, Minn., one of a series of four races under the banner of Red Bull Crashed Iced. Much like NASCAR's Sprint Cup, the winners are determined through a point system compiled from each of the races. Gabardi finished tied for 34th, two spots and four-tenths of a second shy of qualifying for the finals.
Austrian Marco Dallago, who entered the St. Paul race as the favorite came through to win in the finals with Canadian Scott Croxall second and local favorite Cameron Naasz third for the U.S. Andrew Bergeson, also from the U.S., took fourth in the four-man final.
Although the sport emerged in Sweden in 2001, the official competition did not take shape until 2010. It is still in its infancy, though this year's competition in Minnesota drew 120,000 fans to watch in the dead of winter. The only permanent track for the sport is in Finland.
Because the tracks must be constructed for each competition, the regional qualifiers were conducted on a flat surface competitors who clocked the fastest times advanced to St. Paul.
As a result, many of those competing, including Gabardi, had never actually experienced the dangers of the downhill course. Gabardi, who decided to broaden his extreme repertoire after watching a race on TV, was not concerned.
To train, the adventure seeker played hockey four times a week, worked out daily at the gym, routinely rode a bike, and rollerbladed at skate parks, while occasionally putting his inline skates to the test on local hills.
"I can skate as good as I can walk," Gabardi said. "When you are a really good skater you have a decent amount of control. It's the same thing with snowboarders like (Olympian) Shaun White who does all the crazy stuff on the half pipe and all that. It looks crazy but is pretty in control."
Gabardi gained his confidence while taking to hockey as a child living in Colorado Springs. He played throughout school, rising to AA and AAA levels, as well as the World Juniors in Idaho. He also enjoys motorcycles, motocross, snowboarding, wakeboarding, surfing and skateboarding.
Inside track
Perhaps the biggest boost to his confidence, though, has come through his personal relationship with Jesus, something instilled in him by his Christian mom, but which he made his own after graduating from Granite Hills High School.
After meeting an atheist and having a deep conversation about the existence of a higher power, Gabardi went after his spiritual pursuits with the same intensity he approached sports.
"I went home and started researching and researching and researching about God," he said. "Watching all kinds of sermons and doing all kinds of stuff. Then I knew—100 percent—that there is a God. I just know for a fact.
"I live my life every day trying to be the very best that I can be and just do the right thing and try to do God's will."
It has been under that divine covering, the extreme athlete said, that he's been most successful in channeling his fears.
"It's really hard to set aside your feelings—fear being the biggest one—because most people are scared to do a lot of these things and when you get scared that's normally when you get hurt," Gabardi said. "When you are doing any kind of extreme sport, it's about keeping your body calm and just knowing that you can do it. I found out that trusting God has helped me with that."
Living it large
While Gabardi said that he openly shares his faith within the extreme world—which by its nature is self-wardly focused as athletes feast on pushing personal limits and individual improvement—he prefers to let his actions do most of the communicating.
"For me I've given my life to God and I let God guide my life and I trust God to not let me get extremely hurt," said Gabardi, who owns Perfect Image, a small mobile detailing business. "I also trust him to give me the skills and the talent and everything to get me on the course and do the best that I can do. Just having that faith makes it a lot easier, for me, to do extreme sports and know that God is watching over me."
That trust proved critical when he helped his mother through a series of significant trials including his parents' divorce, her unexpected unemployment and loss of the family home.
"We went through a rough time," he said. "Now that I'm a born-again Christian I don't ever question my faith. I always know that even if it's not what I want done and or what I want in my life, I know that God is doing it for a reason, though you may not know it at the time."
When Gabardi finds himself in those seasons he marvels in the symbiotic blessing of testing self in the midst of creation, whether it's glistening mountain slopes, the massive kettle called an ocean, wide open roads or frozen canals: The created one tackling the handiwork of the Creator.
"The way that everything works is so beautiful and amazing," he said. "When you look at all of this there has to be a Creator. It's like a phone or TV or … you look at anything like that, there is a creator behind that; and the same thing with the earth. You look at the earth and you just know that there is a Creator behind all of this and it's just incredible."
— by Lori Arnold