The smartest man I ever met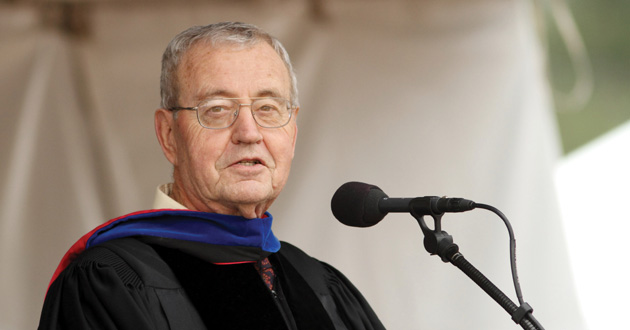 The smartest man I ever met died last year.
I still can't believe he is gone. Daily I think of him, talk to God about him, and live a life of gratefulness because of him. Seventy-seven years he lived on this earth, but it wasn't long enough for me.
Dallas Willard was my doctoral professor at Fuller Theological Seminary on the subject of "Spirituality and Ministry"—a lackluster title to be sure, but a fairly typical one for graduate school. Our required reading focused on the classics of Christian spirituality. Whether the authors were Catholic, Orthodox, Anglican, or Protestant; ancient or new; male or female—we were exposed to nearly all of the thought leaders and practitioners on spirituality.
Naturally, some may think I call Dallas the smartest man I ever met because of his academic qualifications—they are certainly impressive. He held a Ph.D, specializing in epistemology (how it is that we know what we know). For nearly fifty years Dallas taught at USC where he was voted Outstanding Faculty Member by the student senate. But that is not why I call Dallas Willard the smartest man I ever met.
I call Dallas Willard the smartest man I ever met because I know no other human being whose IQ and I Do were so integrated with the ways of Jesus Christ, the icon of servant leadership (Mark 10:45).
As the Book of Common Prayer so eloquently puts it, the "thoughts, words, and deeds" are what we need to confess as fallen creatures. But in the case of Dallas Willard, he had less profane "thoughts, words, and deeds" of any person I have ever met.
The role of a servant leader
I have always believed that the role of a servant leader is to inspire, equip, and encourage those we influence for God's vision in a world that God loves.
Like Robert Greenleaf (who coined the phrase servant leadership), I believe that a leader must be a servant first, then a leader. Further, servant leaders must leave the ones they are serving better off emotionally, physically, spiritually, or psychologically for having had encountered them.
There are three dimensions of servant leadership which Dallas Willard lived out that profoundly changed my life as a professor, pastor, parent, personal coach—and as a person. In fact, these three dimensions are necessary for all who seek to serve for the sake of others and not themselves.
1.  All great servant leaders inspire greatness.
Most leaders inspire greatness in others through their stirring words. After all these years I am still moved when I read the words or see the video of Martin Luther King's speech, "I Have a Dream." A profound sermon or a thought-provoking speech often compels us to be more or do more. Through the spoken or written word, we are motivated to think bigger and live with greater purpose—to be a better person, a more effective servant leader, or a more obedient follower of Jesus.
There are other leaders though who inspire greatness beyond their words. More than their melodious voice, their timely gestures, or their artistic way of storytelling—they simply model themselves after the powerful words that so deeply resonate within us. Their daily lives are a living, breathing demonstration of the richness and weight of their words. They live and speak what is true.
We find ourselves marked by the authenticity of their statements and completely won over by the conviction by which they live. Those of this caliber inspire greatness in others because their words and actions align. Their thoughts are deep, and they convey wisdom—not with superiority—but with kind justice toward others and great responsibility toward God. They have an instinctive clarity for what is truly important in life. They are mindful and intuitive about what really needs to change to make this world a better place. Nelson Mandela comes to my mind. So does Mahatma Gandhi. More than their words alone, their lives stir greatness in others. In the same way, Dallas Willard inspired others to make an impact with their lives. The famous mega-pastors like John Ortberg to best-selling authors on spirituality like Richard Foster to influential theologians like J.P. Moreland or Gary Black, Jr. were impacted by Dallas' generous lifestyle as a servant leader.
2.  All great servant leaders are humble teachers.
I don't believe anyone can truly be a servant leader without humility. Arrogant teachers may provide knowledge to their students, but rarely wisdom. Humility is a lack of egotism without respect to one's attainments. Humility is the honest appraisal of one's gifting, without competitive comparisons to others, but with full recognition that God is the Provider. In essence, humility (like the word "meekness") is personal power under control.
What made Dallas such a gifted and humble teacher was that he was a seeker of truth and knowledge; a servant to His Lord for the benefit of others; and a sage for all those willing to hear and learn how to "live on earth as it is in heaven." Dallas incarnated what he imparted.
Todd Hunter, now a Bishop in the Anglican Church of North America, was at one time President of the fast growing Vineyard denomination in the late 1990s and early 2000s. Todd wanted to help their pastors deal with the confusion that post-modernity can provoke on such important questions as: "What is truth?" and "How can we know that we know?"
Todd contacted Dallas Willard, widely recognized as one of the leading epistemological scholars in the United States, and asked him if he would be willing to address the question, "How do we know what we know?" for his pastors.
They discussed the great questions of life. They talked about how all systems of thought will have to answer key critical questions if we are to take life seriously.
Though Todd is a national teacher to many, he was a student when Dallas taught. It was from that moment that Todd Hunter began to move from a Gospel that advocates sin management to a Gospel that reflects the Kingdom of God. Todd will tell you that it was the humility of Dallas, even more than his brilliant mind, which encouraged him to model his life after Dallas—because Dallas modeled his life after Jesus.
3.  All great servant leaders are compassionate encouragers.
Dallas had a way of making you feel like you were at that very moment, the most important person in the world. His impressive intellect could make any pastor nervous and the give-and-take of good conversation difficult, but this was Dallas. His gentle demeanor was consistent with his remarkable listening skills and warm eye-contact. He genuinely cared about you as a person.
Dallas knew I was serving as Senior Pastor of a southern California church. Although the church was healthier than ever in its hundred-year history, I was physically tired and, at times, experiencing spiritual burnout. The numbers were growing, the people seemed responsive, but I was wondering if the church was really making disciples of Jesus for the world or just better church members in the parish. After five and a half years there, I was wondering if I was the problem or could I still be an instrument for a solution that God could use.
As we talked, it didn't take long for Dallas to get to my heart. My tears flowed freely. Dallas touched my hand and looked me in the eyes. His words were encouraging and refreshing water to a dry soul. I was truly nourished by them. I knew I was called to stay at that ministry and continue on. It was as if Jesus Himself told me that He was pleased with my ministry. No exaggeration—the burnout totally evaporated in that moment.
I have had several conversations with Dallas at more casual settings, over meals and in front of other friends. He encouraged me always, with a touch, a look, or a voice that expressed, "I believe in you."
I knew I was not alone. I knew many who would call Dallas a dear friend simply because he was available to listen, love, and pray.
The Passing of a Great Servant Leader, Dallas Willard
Dallas often described death simply as a "transition from one room in the house to another." He had even surmised that it may be a while before he realized that he himself had died. On May 8, 2013, the Servant Leader who inspired, equipped, and encouraged hundreds of thousands in his seventy-seven years was about to move permanently to another room.
Hardly able to speak in his final moments, Dallas managed to utter his last two words: "Thank you." I am told by those who were there that they were unsure what he was grateful for. Of course, there was much to be thankful for. Was it his wife Jane? His family? His life? No one knows for sure. However, it would not surprise me that this humble servant leader who taught me more about how to live than any other person on earth was simply responding to Jesus in Heaven when our Lord said, "Well done, good and faithful servant. Enter in the joy of your Master." (Matthew 25:23) It would be just like Dallas as he entered the Heavenly gates to humbly say to the words of Jesus, "Thank you."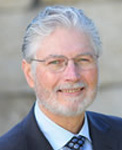 — by Dr. Tony Baron
Baron is the director of Azusa Pacific Seminary in San Diego and an Associate Professor of Christian Leadership and Formation. He is the Executive Director of the Ken Blanchard Center for Transformative Leadership.