Waiting for Maggie: Couple overcomes infertility through adoption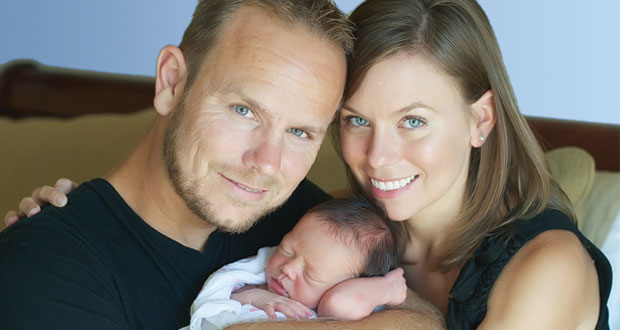 The phone rang and Rebekah Kennedy braced herself for the message on the other end. Three years of near-monthly turbulence, ongoing processing sessions with a therapist, and spiritual wrangling with her Creator led her to this moment.
With the receiver expectantly to her ear, Rebekah heard the all-too-familiar refrain: Motherhood eluded—again.
"I felt that hope had died," Rebekah said of their failed in vitro fertilization treatment.
Her next comment, though, prompted an audio double-take.
"That was a good thing!" she said. "I felt crushed and defeated. I just wanted to give up. The good thing was, though, that I was able to express my feelings and pour them out to God. I didn't feel like I had to hide them. I truly believe that God met me then; when I was brutally honest and held up my hands in surrender."
For Rebekah and her pastor husband, Shawn, the three-year journey through infertility stretched them as never before.
"For a while I lost sight of God's goodness and I felt utterly defeated," she said.
As the couple tried desperately to make sense of their inability to conceive, they spent time with a Christian therapist, read books—and the Bible—together, and prayed.
"It took me a little while, but I regained sight of God's goodness and held tight to that," she said. "My hope is in Christ's ultimate goodness and plan. It is my hope to bring Him glory in all circumstances."
One of the things Rebekah learned to do was approach God openly about her pain.
"I felt very little emotion or anger towards God, but was simply overcome with sadness," she said, adding that their counselor helped them to understand that their God was big enough to handle anger.
"I decided that that summer I would focus on feeling and expressing my emotions toward God and the whole situation," Rebekah said, adding that the Psalms became a constant companion. "It was hard, because my tendency is to push those feelings down until they blow up in my face. It was very helpful to explore them."
Shawn, community pastor at Existence Church, was sorting out his own emotions, learning how to balance the very public profile of being a pastor with the intensely personal need for self-protection.
"It certainly is a challenge discerning when to share and when to hold back," he said. "Overall, I think we did pretty good. As for coping with personal pain, I have a series of very close friends inside and outside the church who I go to for support."
During the process, Shawn said he clung to Romans 8:28, even as he used his own pain to minister to others.
"Mind ninjas work their magic when you least expect it," he said, adding, "Without my faith it would have been hard to see the good that God was working in my disappointment."
His wife agreed.
"We really feel that God is in the business of redemption and that our story would turn out better than we could have expected, even if it wasn't how we pictured it," Rebekah said. "We just had to trust him to write our story.
Looking to adoption
That openness to God led the Kennedys to open adoption, a process in which the birth mom remains a part of the baby's new family long after legal proceedings are finalized.
"I don't think we would have come to adoption with an open heart if not for going through the grieving process well," Rebekah said. "Of course, grieving isn't a one-time event. We will grieve in different ways for the rest of our life; but the majority of the sadness has passed."
Having worked through much of the grief, the Kennedys eagerly pursued the future.
"A few months before we put in our application, both Shawn and I felt that the Lord had guided us to open adoption and would use it to bring redemption in our lives, our child's life, and her birth mom's life," Rebekah said. "We were nervous but excited by the opportunity."
Nearly a year ago, the Kennedys filed an application with the Adoption Center of San Diego. They prepared, physically and emotionally, to bring home their first child together.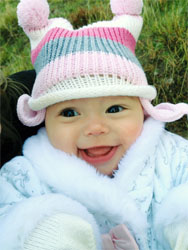 "Some people aren't comfortable preparing or celebrating before an adopted child arrives because of the fear of a failed adoption," she said. "Shawn and I talked about that. It is a real possibility. In fact, we know several families that experienced that heartache. We decided, though, that infertility had already robed us of so much joy we were going to march forward and embrace the excitement."
In April, just weeks after filing their application, they were matched with a birth mother and attended an ultrasound appointment. Their daughter Maggie was born in July.
"We are so grateful to have been there when she was born," her adoptive mother said. "We took her home two days later."
From crisis to joy
Sarah Jensen, who has served as director of the Adoption Center of San Diego since 1993, sees similar redemptive stories unfold every year.
"There is joy in adoption," said Jensen, a Christian. "Everyone that we work with is in crisis, adopting parents and birth parents. Yet through faith, courage and love they walk an unknown path called open adoption and everyone is blessed—especially the child."
Even after 20-plus years in the field, Jensen said she is still amazed at the resilience of birth mothers.
"These women make the most loving sacrifice I can imagine and they should be honored," she said. "Yet most birth mothers I know are met with scorn. How could she 'give up' her baby?"
The sacrifice is not lost on the Kennedys, who just spent their first Christmas as parents and remain in contact with Maggie's birth mom.
"I don't think I, or we, would have had such a successful adoption experience if I hadn't been able to surrender my feelings and experience to the Lord," Rebekah said.
Paying it forward
With their grief and uncertainty now tempered by giggles and coos, the Kennedys are finally in a place where their redemption story offers tangible truth to others.
"It was my hope that in sharing our joy the congregation could see how God was taking the broken pieces of our life and making a beautiful picture," Shawn said. "He could do it for them, too!
"Adoption has definitely made me more sensitive to people who are experiencing grief in various ways. I can enter into their experience and provide real encouragement, now that I have tasted it myself."
— by Lori Arnold