Grace embraced: San Diegans take Jesus to Malawi's poor, find He's already there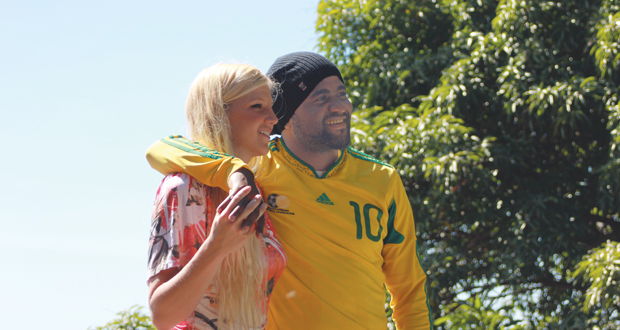 Noel Musicha stood along the tiny wall inside Humphrey Mvula's bedroom in a poverty-rich village in Malawi. With sleeping quarters no bigger than an average American walk-in closet, Musicha tried not to encroach upon three mats, one for each of the Mvula brothers.
As Musicha's eyes adjusted to the darkness, they fell upon a wall covered with glossy-magazine articles that Mvula had clipped of his favorite soccer players. The pages—boasting headlines such as "Big Expectations," "Seek and Destroy," "Thinking Big" and "Lost?"—did more than hide the imperfections of the hand-crafted clay bricks and mortar that occasionally cast sunlight into the cave-like, but quite clean  home.
They were a testimony to Mvula's dreams.
"Yeah, to me, they have special meaning—these posters. … They encourage me to continue with my career of soccer," Mvula told his guest, adding that he hoped to go to college, play soccer professionally and one day have his own story featured on crisp, bright pages.
The spiritual connotations of the magazine headlines were not lost on Musicha, whose eyes came to rest on a story about former South African player Arthur Zwane. Above the text, bold-faced words screamed "Don't Write Me Off."
"That was moving, because that's what we do as people," said Musicha, a Malawi native who now lives in San Diego. "We have this tendency to look at people and when, in our own eyes, they look hopeless, we say, 'Ahh, what can the person become?'
"I was moved by the imagery of that (poster). I think it was a reminder from God to me on how I view people, what I view as an image of God in people and what it looks like to be able to stand with people and say, 'The things that you are dreaming about are real.  Let's pursue those.'"
Moments before visiting the home, as the pair walked the dusty red clay dirt to get to Mvula's house, the young man told Musicha he loved his home village of Chinsapo, outside of Malawi's capitol city of Lilongwe.
"I like everything from here because I don't even mind how poor I am, how poor are my friends or how rich (they are)," Mvula said. "I just care about my future."
His comments reflect a way of life in Malawi, a concept known as umuthu, which translates "'No one does life alone.'"
"You not only see community, you feel community."
Awakened to the young man's reality— birthed in the heart, but suspended by his life's station—Musicha became determined to set Mvula on a path to capture his dreams by capitalizing on community.
"His hopes and his dreams didn't seem very consistent with the place where he was coming from. I was given a much different platform than Mvula was," said Musicha, who grew up in a privileged Malawi neighborhood. "And for a moment I started thinking, 'Man, he has all these incredible dreams. He has gifts to be able to pursue those dreams, but he wouldn't be able to just because the platform is not there for him. Thinking about him and thinking about all the other kids who are kind of in the same scenario, who are just stuck in this grip of poverty, that really shook me up."
The chance encounter—orchestrated in a way only God can do—set in motion a pledge by Musicha that he would never take for granted another person's story.
"I promised him, personally, that I was going to make sure that at least the dream he had of going to college was going to be a reality, at least as much that was dependent on me," Musicha said.
"I didn't even know how it was possible for us to be able to make that happen financially, but I just knew that it was not going to be possible anymore for me to worry about my monthly bread when Mvula was worrying about his daily bread. I thought there was something broken there. Something was wrong."
• • •
Musicha, though raised in a better neighborhood than Mvula, shared many of the same dreams. Their most common interest was soccer. In order to pursue his dream of playing professionally, though, Musicha's parents insisted he earn a college degree, so Musicha enrolled at San Diego Christian College, which recruited him because of his soccer skills.
While at the college, Musicha earned a bachelor's degree in communications and biblical studies. Later he earned a master's degree in public administration and organizational leadership. It was at San Diego Christian College where Musicha met his wife, Melissa. After marrying in the States, the couple traveled to Malawi in 2007 where his family hosted a second marriage ceremony for the couple.
While there, the couple met two dozen or so children who were playing soccer. Both where touched by the needs they saw.
"Something just grabbed us," he said.
Responding to God's leading, the couple used the honeymoon cash they received from his relatives to invest in a village center and made arrangements to host eight soccer clinics and a tournament the following year. They returned to San Diego, but left part of their hearts in the southeast African nation.
The following year they returned to his homeland, this time with a small team from Flood Church. When they arrived, they discovered the community had mobilized around the center project and was thriving. Five women and two men had jumped into the effort despite their lack of formal training. Someone else had donated land to be used for a community farm.
The Musichas and their team expanded the effort by offering eight soccer clinics and tournaments in various villages near Musicha's childhood home. In each neighborhood they were swarmed by hundreds of children young and old.
In one community the American visitors were greeted with a spontaneous concert featuring a child fingering pretend keys on an abandoned tire, while his peers provided their own syncopated sound with a stick violin and drumsticks from the stalks of dried weeds. Their song was accented by the muted rhythm of field soccer.
Each child had big potential, even bigger dreams, but few resources.
"Despite their circumstances they live life so incredible, with unparalleled joy," Musicha said.
Because they planned to minister in one community and then move on to the next Musicha said he believed their ability to truly touch the people would be limited.
"It doesn't quite work that way because when you've seen people, especially young people who do have dreams but the dreams are about to robbed out of them because of poverty, you look at those people in the eyes, sincerely, your life doesn't just move on. You don't 'just do another clinic tomorrow," because a story has broken your heart, you know?"
• • •
It was on a vacant lot that they discovered Mvula, who drenched the dusty playing field with his passion for soccer.
"It wasn't just about the way he played the game," Musicha said.  "He was exceptional in the way that he played the game. There was something about the grace in which he carried himself."
Mvula's field antics landed him the tournament MVP trophy and inspired the Musichas to launch the Chisomo Idea, a multifaceted ministry that uses soccer, youth development seminars, tutoring, mentoring, after-school learning centers, scholar-athlete initiatives, micro loans and other outreaches to build communities. Chisomo translates to grace.
Scrapping together funds from family and friends, Musicha was able to keep his word to Mvula who is now in his second year in college. Two to three times a week he returns to his village where he serves the community by coaching, mentoring and tutoring.
"It is really amazing to see," Musicha said.
The giving spirit has far exceeded Mvula's own sphere of influence as Chisomo Idea has worked to draw young Malawian adults of privilege into servanthood in their country.
"We have tons of college mentors flocking to us to work for free because they want to make a difference in their own country," Musicha said. "We have created a culture where giving back without expecting anything in return is the norm.
"As volunteers we are driven by the radical love and grace of Jesus Christ, who continues to transform our hearts to understand His passion for people and see His beauty in culture," Musicha said. "His love compels us to care and serve the people He has created regardless of their race, gender, or religion"
It requires, he said, a commitment to intentional living that is centered on helping others to understand the magnitude of God's love.
"It is our desire that those who encounter The Chisomo Idea may experience the freedom of truly knowing their creator as He pulls them into the turbulence of His story," he said. "Living lives of impact to know Him and make Him known is the primal essence of our movement."
— by Lori Arnold