Ian Kennedy: Pitching with a purpose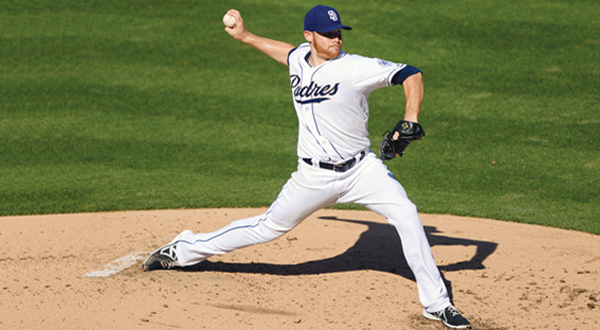 It wasn't quite the bottom of the ninth with bases loaded, but for Ian Kennedy, it was close. The 22-year-old Southern California native stood on the mound at Yankee Stadium in September 2007 in the midst of yet another pennant race. It was the right-hander's major league debut and his new teammates, Yankee superstars Robinson Cano, Derek Jeter and Alex Rodriquez, had his back in the infield.
Between each warm-up pitch catcher Jose Molina tossed the ball to first base where Cano followed the customary "around-the-horn" tradition until third baseman Rodriquez tossed it back to the rookie starter.
"I was watching that happen," Kennedy said. "I was like, 'I just got the ball from A-Rod, who got the ball from Jeter, who got the ball from Cano. I'm (deep breath) 'OK.' There were little moments like that. The first inning I didn't feel my body. You don't feel your arm. You don't feel your leg."
It was there—in the house that Ruth built, the home field of the most storied franchise in Major League Baseball, the park that hosted the most playoff games in history, where fans and the media will claim you as king one day and relegate you to rat status the next—that Kennedy relished the childhood dream of millions of young boys.
"I think it would have been different if it wasn't at Yankee Stadium," he said.
Kennedy, just 15 months after being drafted to wear the legendary pinstripes, responded by throwing just six pitches to end the first inning. By the third inning, the hurler said, it was just another game. Kennedy went on to win the game, pitching seven innings and allowing just one earned run.
"It's everything you think as a kid you feel it should be in the major leagues," Kennedy said. "It's a pretty amazing feeling. It's indescribable."
But baseball, like the April weather ushering in each season, is fickle and though the following season found Kennedy on the Opening Day roster, he was soon back in the minors after several bad starts.
It is enough to crush any spirit.
"This is why I love baseball, because I feel if I had a normal desk job or a normal job I wouldn't have these constant tests of my faith, the constant tests of my flesh," said Kennedy, who is now in the starting rotation for the San Diego Padres. "I just feel like God is trying to chisel some of the things the world brings upon us. Baseball has a lot of it, a lot of ups and downs."
•••
Growing up in Garden Grove, Kennedy said he was always drawn to baseball. Though he enjoyed other sports and tried them at different seasons, he always returned to the stick and the sphere.
"It was something that was a part of me, just like any other kids who wanted to play baseball," he said.
Sports took priority over church, even though Kennedy's mother was raised Catholic. But in high school, after the family moved to Huntington Beach, Kennedy took an interest in reading the Bible.
"I didn't know what I was praying, who I was praying to or what I was praying about," the athlete said.
Kennedy sought out his mother for guidance. Petrified that she had fallen short on her responsibility for his spiritual heritage, she immediately sought out a church and they began attending together.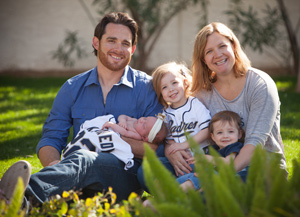 "She'll describe it as she failed as a mom not to raise her kids to know about Jesus," Kennedy said.
Throughout high school Kennedy attended Bible studies and other spiritual endeavors as the calendar allowed. Increasingly, he was fielding queries from colleges and major league scouts.
"All I paid attention to was trying to go to college, trying to go to college, and then you find out from professional teams that you could be a major league pitcher one day," he said. "It was like, 'Really? You think that? I just wanted to go to college.'"
He got his wish, enrolling at the University of Southern California where Kennedy's cache strengthened as he garnered impressive strikeout stats and was twice named to the U.S. National Team. He was also named Pitcher of the Year for what was then the Pac-10 conference before being drafted by the Yankees in 2006 and heading to the minors.
His prospects were not just improving on the field, either. Just weeks before the start of spring training in 2007, Kennedy became engaged to Allison Jaskowiak, a basketball player for USC. The couple wed later that fall.
"For me, getting engaged, that's really when I wanted to follow Jesus and put Him in my heart," Kennedy said. "It became my life and lifestyle. I didn't really change much of my lifestyle in high school."
•••
While his lifestyle didn't change much in high school, it certainly did in the Bigs. Newly married and fired up with this faith, leading Bible studies and going on off-season mission trips, Kennedy was surprised to find himself struggling in 2008. Until that season, his baseball success had come with minimal effort.
"There were times when I was thinking, 'God, why are you doing this to me? I felt like I should be closer to you now than ever and why are you doing this, testing His plan for us?'"
He called home, where Allison helped him to process.
"I actually cried," he said. "We prayed and I asked for release. 'God, I don't want baseball to be everything in my life. I want you take this from me.'"
It was a transformational moment that helped Kennedy the following year when faced with yet another professional disappointment: an aneurysm in his pitching arm.
"That year, now looking back on it, I was holding baseball so tight that I didn't want to let it go," Kennedy said. "I made it to the big leagues. This is what I wanted as a kid. This is what I had a passion for. This is what I felt like: God, he made me to play baseball."
After that night, his outlook on baseball was never the same.
"From then on I viewed it as a tool to share my faith," he said. "In 2008 I was in the minor leagues but I was still having fun."
So when he was diagnosed with the aneurysm, Kennedy approached it as a blip even though it resulted in surgery and several months of recovery.
"There are so many things we can't explain in our life," he said, adding that Allison was instrumental in helping him with the physical and emotional recovery.
"People who don't love Jesus and who don't understand God, they don't understand the feeling that when you do pray and it's an intense prayer or something like that, you just feel as though this giant weight has been lifted off of your shoulders."
After an off-season trade to the Arizona Diamondbacks in late 2009, and bolstered by his realigned priorities, Kennedy was able to establish himself as a major league pitcher and in 2011 regained the form that made his Yankee debut so memorable.
Named as Opening Day pitcher that year, Kennedy and his teammates lifted the team from its last-place finish the previous year into the playoffs. Though the team lost the divisional series, Kennedy, the Game One starter, placed fourth in the coveted Cy Young Award balloting as a result of winning 21 games during the season.
"It's incredible the people we get to meet, the platform that we have. I don't know how guys do it that don't love Jesus," said Kennedy, who lives in Scottsdale where Allison cares for their three daughters, Nora, 2, Renee, 1, and newborn, Lydia. "If I didn't have God to have that interaction with or God to lay a lot of my problems on Him …"
Last July he was traded to the Padres where he started 10 games and logged a 4-2 record. Now, on the eve of spring training in Peoria, just miles from his desert home, Kennedy is eager to start his first full season with the Friars.
"I'm really excited," he said. "It's nice to get a couple of months with a team before you start for a season. At least I know people before spring training starts. I feel like we've got a good team if everybody can stay healthy. That's the main thing. I've always felt the Padres have a good team, but guys get hurt all the time."
•••
The move to San Diego also helps to put some distance between him and a throwing incident last June that landed Kennedy a 10-game suspension after hitting Dodgers Pitcher Zack Greinke in the shoulder with a retaliatory pitch. The move prompted a bench-clearing brawl. Kennedy said the pitch—part of the traditional gamemanship players use to pay back opponents for actions against a teammate—was not aimed at his head, a major taboo.
"I would never do that," Kennedy said.
The incident drew deep criticism from Dodgers players who said the punishment was not enough. After seeking advice from his mentor, Diamondback Chaplain Brian Hommel, Kennedy took to heart his close friend's words.
"He said, 'You need to understand who you are playing for,'" said Kennedy, who offered up an apology to in an effort "to clear the air for me and my testimony."
The entire episode drove home to Kennedy, though, the importance of how you carry yourself.
"We play a sport and people are watching us," he said. "People are looking at us and examining what we do as people. The same thing happens as a Christians. People do the same thing when they know you are a Christian. They want to watch us more and pick us apart. The same thing with athletes—especially if you are a Christian athlete.
"You constantly have got to show and represent God and how he has worked in your life. There has to be some proof. It can't just be talk."
— by Lori Arnold