Push Back: Disabled mentor honored for 26 years of youth ministry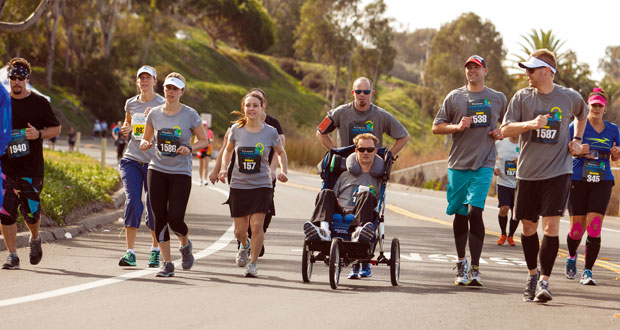 Don Talley, still in the early days of ministry with Youth for Christ, stood on the stage where he had just shared his story. The church's youth pastor joined him there and, as he stood next to Talley's frail 5-foot, 11-inch, 100-pound frame, the pastor asked permission to pray for the ministry leader. Talley—weak in physical strength, but strong in Spirit—readily accepted the offer.
"He began to pray and the next thing I know I've got 40 high school teenagers kind of surrounding me on the stage and they were all praying," the youth worker said. "They were all praying for God to heal me."
Ever since he was diagnosed with a rare neuromuscular disorder as a toddler, prayers for healing were a routine part of Talley's life. Raised in the church with his youth pastor father and mother, Talley was rarely outside the covering of prayer by the adults in his life. As a young teen, when he adopted his parents' faith as his own, the prayers only intensified.
So there he stood, yet again, his head bowed awaiting his gift from God.
"I thought, really God, is this it? Is this the moment that the struggle is going to be taken away and I will be able to do so much more? Is this the moment where it changes for me?"
His spirit was buoyed by expectation.
"I kid you not, I hear this small voice in my soul that says, 'Yeah, I'm going to heal you. I'm going to heal you from the need of being healed.'"
The reality, Talley learned that day, is that healing comes in all forms and rarely how we expect it.
"It was that moment that I just began to say 'OK.' God will give me so much more and His design for my life is so much more than I could ever imagine. Can He heal me? Absolutely, but do I need to pursue that? No, I don't.
"That was a moment when I realized that God wanted to do so much more in me and through me in the midst of the circumstance that I was in. When I began to embrace all of that and embrace the weakness and embrace the struggle, I think is really when my availability and willingness to put myself out there for the sake of Christ, that it really began to take off."
• • •
Like his father, Talley had a heart for youth, but he was also realistic. Diagnosed with non-progressive congenital fiber-type disproportion as a child, Talley's muscles were extraordinarily weak. His chest muscles were so deteriorated that his lung capacity was routinely recorded at just 48 percent, making him vulnerable to lung ailments. Pneumonia, for instance, could prove fatal.
"I was told that would be it," Talley said of a possible pneumonia diagnosis. "I would never be able to come back from that."
A trademark of the disorder is low weight. He also lives in constant, but varied, pain. His voice, at times, registers barely above a whisper.
His symptoms were hardly a recipe for keeping up with active, boisterous teens.
"I didn't feel like I was that typical youth worker who could go and meet some kids and go skiing or snowboarding or play volleyball and be as active as they are," Talley said. "So I was really concerned that that I wouldn't be able to connect with kids very well.
"I began to see that having those abilities would be one way to connect, but just serving and loving kids and being with them and creating memories with them (is another) way. I think was God showing me that He can use even our weaknesses and our struggle and even the things we want to change in ourselves. In my case, those are the very things he wanted me to use."
Talley started his work with the North County Youth for Christ in 1988, which was his neighborhood as a child growing up at Emmanuel Faith Community Church where his dad served on staff. Within three years he was promoted to executive director of YFC's North San Diego chapter, serving the communities of Poway, Rancho Bernardo and Solano Beach, among others.
As he followed the Lord's leading, the students responded. Prowess on the ski slopes and waves, he discovered, was not necessarily a prerequisite to youth ministry in Southern California.
"He engaged us and talked to us on a very personal level," said Brad Ashwell, a former student who later worked alongside Talley for YFC. "But he was never the guy to get down on us. When we messed up or we made a mistake he was always there. He never scolded us or anything but just talked to us like a person. It was through all those years of interacting with him that the mentor part became more like a friend.
"You see past the physical ailments that he was born with and you don't see that anymore, just because he's that personable, that approachable. The disabilities just disappear."
Ashwell said Talley's self-deprecating humor and calm demeanor spoke to him even when he wasn't willing to accept his mentor's evangelistic messages.
"I was actually one of the kids that when he started to talk about a relationship with God I would tune him out," he said. "I would say, 'OK, that's not for me, that's not for me."
Over time, Ashwell dropped his guardedness and, after his mother was diagnosed with cancer, Ashwell eventually claimed Talley's faith as his own.
"That's when it really started appealing to me; it was those personal struggles in my life and knowing and hearing him in the past talk (about how) you can have this open relationship with God. That's when it all started coming together."
Two decades later, Talley, the father of two daughters, is still inspiring youth as he travels the United States and abroad as senior director of ministry expansion for YFC, a role in which he mobilizes, trains, speaks to and coaches young people and leaders of young people.
From his home in Castle Rock, Colo., near the ministry's national headquarters, Talley traveled 70,000 miles on behalf of YFC last year.
• • •
Talley earned more frequent flier miles the weekend of Jan. 18, when he returned home to San Diego for a marathon benefiting his ministry.
To mark Talley's 26th anniversary with Youth for Christ, a team of eight former students, including Ashwell, created the Run with Don campaign in which they pushed their former youth leader in a wheelchair along the 26.2-miles of the Carlsbad Marathon, held Jan. 19.
"He pushed us and now it's time for us to push back," said Ashwell, saying the goal was to raise money and awareness for YFC.
"In high school he pushed us and he challenged us to live for God and to live a lifestyle that focused on our character, our confidence, our responsibility and our faith. He challenged us as high school kids, he pushed us to become better. This is our chance to push back and to help him further his ministry to keep providing opportunities for high school kids like he did for us."
Talley said that he was surprised by the gesture, but not by the heart behind it.
"These are people who are now wanting to invest back into the ministry so that kids in different parts of the country would have leaders like me who would invest in them," their mentor said.
Talley arrived in San Diego several days in advance of the marathon to rest and prepare, and planned to travel back to Colorado after giving his body a day to recover. His schedule included trips to Chicago and Baltimore over the two weeks following the marathon.
Despite his busy schedule, there was never a doubt Talley would participate.
"Let's bring visibility to the fact that there are thousands of YFC leaders, volunteers and employed staff, around this country that are intentionally investing in kids, just like I did with them," he said. "My role in the movement today is to inspire and to equip more leaders to work with more kids than they ever have before.
"It's more about us pushing the mission of Youth for Christ forward, to raise a little bit of money for YFC to equip more leaders. I don't think I would want to put myself through this physically if it was just about a tribute."
• • •
There is no way of knowing how Talley's body will respond to the demands of the marathon. Though he rode in the wheelchair, there is little doubt his bones and compromised muscles absorbed each jarring bump along the course. But playing it safe, though, has never been a viable option for a man who routinely sacrifices his body to reach teens.
When he waivers in that conviction, Talley said he clings to the "mystery of the 52 percent"—that portion of his lung capacity that is now lost and without which his astonished doctors can't fathom how he not only lives, but also thrives.
Tally relies heavily on Acts 17:25 which says God "himself gives everyone life and breath and everything else."
"I think with every breath, God brings the other 52," he said. "That is so true with every part of our lives. When you really think about it, how can we ever out-bring, outdo, out-give God? He will always ask me to bring everything I can to the table: how he has crafted me, my gifts and my abilities and my strength—and my weaknesses. He wants everything on the table, but when you count it all out it's just 48 percent and He will always bring more."
— by Lori Arnold