Strength in suffering  |  Child's painful journey teaches family about grace and patience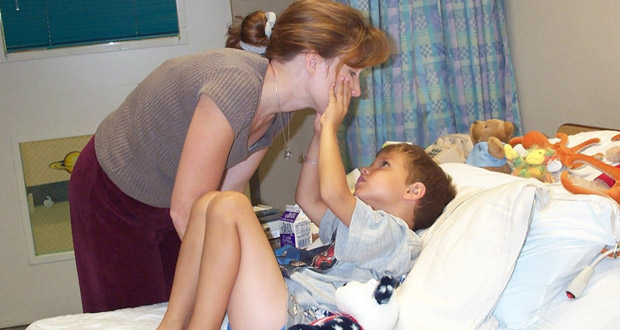 Laurie Spiering was well-versed in the behavior of boys by the time her fifth son, Riley, arrived, so years later when the kindergartener came home from school and began taking afternoon naps, she became suspicious.
"I found a bump behind his ear which felt like a cyst," she said. "We were doing a staycation in San Diego and one thing led to another. With the Lord's prompting we took him to the pediatrician immediately."
The doctor's body language and his order of an emergency blood test confirmed their fears.
"When the call came in from the doctor that next morning I promptly put the phone down and ran for my husband," she said. "I normally would have spoken to him but I just knew in my gut this call had to be for my husband."
Not only was her husband, Robin, an internal medicine physician, he was a two-time cancer survivor. Riley, the doctor announced, had acute myeloid leukemia.
"Hearing the news that your youngest son of age 6 has cancer is devastating and shocking," Laurie said. "I knew what was coming.
"In a way my caregiving experience with my husband helped me to know from experience that chemo will be harsh, but for a greater good. In lots of ways, I realized later, the hard chemo journey with my husband was preparation for what was to come with my sweet, young 6-year-old. I was stronger to handle the first chemo bag being hung in the ICU the first night we arrived for Riley."
Although well-seasoned when it came to the procedural expectations of cancer, the emotional reality of a 6-year-old coping with a life-threatening disease created an unexpected fog.
"During the early stages of diagnosis it felt like we had been in an accident and stuck in the hospital for weeks," she said. "It is the dazed phase as I felt unable to focus on life that was swirling around us, and ours had just hit a Mack truck head-on, unable to move. After a few years it didn't get any easier, but the Lord provided the strength to get through each step and hard hurdle that Riley had to get over."
Her biggest fear was not the possibility of losing Riley, but having to witness his perpetual suffering.
"I didn't fear death for him, although my mother's heart felt we didn't have much time with him early on in the journey," she said. "Man gave him a 50 percent chance, but my husband (told) us that with God it is 100 percent, here or in Heaven."
Young grace
Even though her son's body was constantly under attack—if not by the disease then by the treatment designed to suppress it—Laurie said it was often Riley who gave them support.
"He always took the suffering with such grace and did not have a spirit of complaining in any way," she said. "He was an example to us all."
Leave it to a pain-plagued child to teach his mom about patience in the midst of suffering.
"(He had) great faith and trust in His Savior," Laurie said. "Riley said, 'I have no anxiety at all! I am joyous to be here with you or in Heaven.'"
Riley's illness also taught his mom to trust her instincts when it came to advocating on his behalf. Throughout the ordeal, she carefully maintained journals which provided beneficial not only to herself, but to the doctors and nurses.
In addition to the medical staff at Children's Hospital, the Spierings were often blessed by a large network of people who chipped in as needed.
"When Riley was first diagnosed the other boys were 15, 13, 11 and 9, tender ages that needed a lot of attention," she said. "We had an incredible Christian school body that supported us in every area. The teachers helped meet the boys' needs at school and anything else we needed done. Two of the teachers made lunches for our kids for two years straight."
Even with their help, Laurie admits that she often struggled with the tensions of serving her large family and meeting Riley's persistent medical needs.
"I was torn inside when so much time was needed to spend on all of Riley's care and that the other boys were not getting my full attention," she said. "It is hard enough to spread yourself with five boys under normal circumstances."
Accepting help
Laurie admits that accepting help was not always easy.
"Let others help you when they offer," she said. "I can't do everything myself and it's OK to let others help you. I myself am a great helper and those kinds of personalities have a hard time when the tables are reversed, (when they're) receiving the help."
A much easier proposition for her Laurie, she said, was trusting God, especially when it came to the intangible elements of their journey.
"Without a relationship and trust in our Lord and Savior to see you through and give you strength I don't see how 'getting through' would've worked out on our own strength," she said. "With God ALL things are possible and He provides strength in the exact dose He sees fit to dispense it to you, daily and moment by moment."
It was that trust, she added, that allowed her to turn Riley's fate over to his Maker.
"Near the end stages, when he was suffering quite a bit, daily I pleaded with God to please take him home or heal him completely so he would not suffer anymore," his mom said. "God chose to heal him in Heaven."
He answered her prayer in August 2010 when the disease finally took his life at age 12.
Just as they had done as they fought together for Riley's life, the Spierings turned to each other in their grief. A key to working through that pain was developing a plan to honor Riley. While many families turn to scholarships or foundations to keep their loved one's memory alive, the Spierings developed a unique, but symbolic approach by launching RileyCare Ambulance Services.
Serving others
Much of their attention in the almost four years since Riley's death has been focused on the business enterprise, which donates 10 percent of its profits to pediatric cancer research and other foundations committed to patients with life-threatening diseases. While it has helped with the grief, Laurie acknowledges that is a long process that they are working through together.
"Grief can't be scheduled and given a time slot," she said. "Grief comes at unexpected times and is brought on by a smell, song, or touch of a loved one who is also grieving. Each family member grieves in the stages at different times and each one cannot judge the other for being in a certain stage or not. (Riley) enriched each one of our lives greatly."
— by Lori Arnold